Fans Have Spotted This *Major* Change In Paul Hollywood's 'GBBO' Handshakes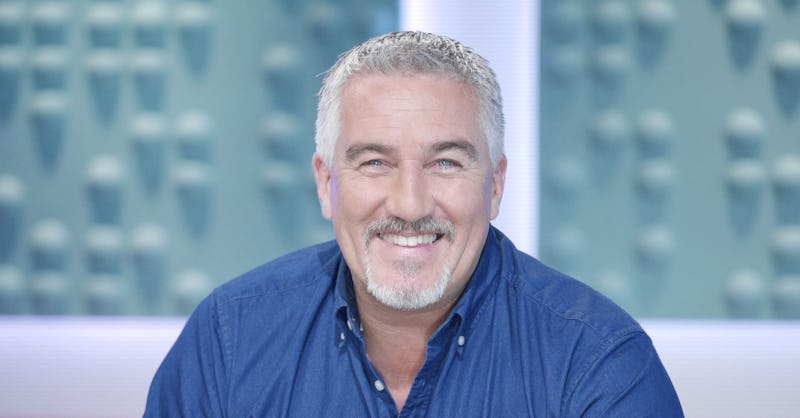 Steve Meddle/Shutterstock
There's one thing all Great British Bake off contestants dream of. No, it's not a soggy bottomless cake or a perfect technical — it's a handshake from revered longstanding judge, Paul Hollywood. His handshakes were once the stuff of folklore and fairytales; they were rarely given out, if at all. But GBBO fans have noticed he's been getting a little generous with the Hollywood handshake this series. Perhaps, a little too generous as some fans now think that Paul Hollywood's Great British Bake Off handshakes are losing their value. I know.
If you recall, the prestigious Hollywood handshake used to be reserved for only the very best baking, and was rarely seen more than a handful of times over the course of an entire series. These days though, the veteran has been handing them out willy-nilly, sometimes more than once an episode.
This isn't a new thing, either. Remember last year, when he gave three in pudding week? "Three handshakes. That's a personal best for you," said a clearly dumbfounded Noel Fielding at the time.
However, diehard stans believe the problem has gotten worse this series. Some viewers are even branding the situation "Paul's reckless handshake inflation", while others have commented that the value of Hollywood's handshakes has plummeted as hard as the pound post-Brexit vote.
Bake Off once described the handshakes as "rarer than a unicorn riding a flying pig," in a tweet which referenced the 2015 series when beloved contestant Tamal Ray received a well-deserved shake. So how did things get so bad? So bad in fact, that The Radio Times is taking a poll to see if fans agree that Paul should simmer down with all the shaking.
Perhaps the level of baking has improved dramatically to the point where Hollywood feels anything other than a handshake would be an insult. Or maybe the judge has just become fed up with being the mean guy and wants to showcase his friendlier and warmer alter-ego.
I have contacted Channel 4 for comment on this situation. As of yet, I've heard no word back, but I shall keep you posted as a matter of urgency. What I can tell you however, is that it seems as though this was not something Hollywood had planned.
In an interview promoting the new series, Hollywood was asked about the infamous handshakes, to which he replied: "I don't know when the Hollywood Handshake really started, I shook a baker's hand once to say well done, and it's followed on from there. It's normally given out when they are pretty much perfect.
This series I have had moments when I have given out three in a challenge, and I have given one out in a Showstopper. Even Prue now says 'go on, give them a Hollywood Handshake', but I won't unless I feel they have really earned it."
Hmm...
While fans firmly believe Hollywood has single-handedly (get it?) devalued the once highly respected handshake, this season's bakers still believe in the power of it. Contestant Jon Jenkins recently told interviewers during a pre-series conversation that "The Hollywood handshake is always something to aim for."
Well, I'm glad someone still believes in its power.