Paul Scheer Picks The Best 'Bachelor' Series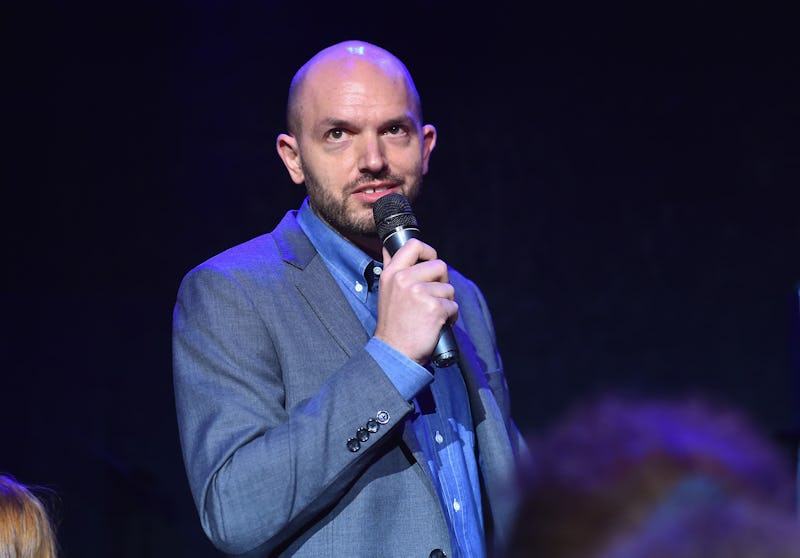 Alberto E. Rodriguez/Getty Images
As any member of Bachelor Nation knows, The Bachelor is an institution. It's spawned spinoffs like The Bachelorette — soon to feature Rachel Lindsay as the first black Bachelorette — and Bachelor In Paradise — soon to feature a kooky cast of people trying to fall in love in a short amount of time. But what's the best Bachelor series of them all? According to Drive Share actor and huge Bachelor fan Paul Scheer, the answer is Bachelor In Paradise. No, really. So much for the first being the best, right guys?
On this week's episode of Will You Accept This Podcast?, Bustle's Senior Entertainment Editor Kelsea Stahler and Romper's Senior News and Entertainment Editor Allison Piwowarski get into a knockdown drag-out polite debate with Scheer about which Bachelor series is the best of them all. "If you want to get in[to the Bachelor], get in on Paradise," Scheer boldly states. And he would know a thing or two about getting involved. After all, he and other celebs like Sarah Silverman spearheaded The Big Hundred, a social media campaign designed to promote civic engagement.
But the virtues of the Bachelor in Paradise aren't the only things discussed on this week's episode. Stahler and Piwowarski also raise the eternal question of whether or not Nick Viall has a future in improv acting. Personally speaking, I can't see it, because Nick has a certain problem with a little thing called enunciating. But, hey, our Bachelor can definitely think on his feet and has had to do so several times over the course of the season, I guess. I just can't stop thinking about that cringe-worthy moment in Week 2 where the women had to improvise a breakup with Nick, and Liz got way, way too real.
But Scheer has an explanation for why Nick didn't get to shine during that improv moment:
"Don't do fights. Don't fight, because there's nothing there. All the scenes were fight scenes with people who were not improvisers... It's all women breaking up with him. He was very passive in it... It was a flawed, flawed game."
So, essentially, if you're upset that Bachelor In Paradise beats the Bachelor as far as amazing series go, you can at least rest assured that Nick Viall might be coming to an improv theater near you sometime soon. As long as no one's breaking up with him on the stage.