This Video Of Pete Davidson Revealing His Favorite 'Sweetener' Songs Will Make You Swoon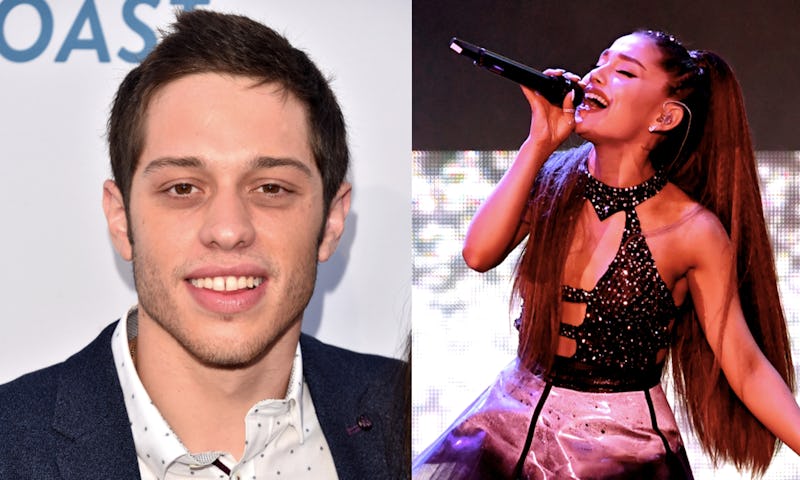 Alberto E. Rodriguez/Getty Images Entertainment/Getty Images; Kevin Winter/Getty Images Entertainment/Getty Images
With five days to go ahead of Sweetener's Aug. 17 release, the internet is buzzing with anticipation. Unfortunately, fans will have to hold off 'til Friday to actually listen to the new record, but, in a video posted to Instagram Saturday night, Pete Davidson revealed his favorite songs from Sweetener, Ariana Grande's new album. So, while they're waiting on the real thing, at least Grande's followers have Davidson to get them sufficiently pumped up about his fiancé's forthcoming round of bangers.
What does Davidson think of the Sweetener tracks? As he told Grande in Saturday's video, point-blank, he thinks "they're all sick." That being said, the notoriously crass Saturday Night Live comedian still has a couple of favorites.
"My top five?" Davidson asks at the beginning of Grande's Instagram video, before promptly rattling off his picks in order — starting with his most favorite. What's that? Davidson's first choice is one most of Grande's fans have probably heard before. "'God Is A Woman,'" he said, before segueing into a series of explanations for his answer that were pretty explicit, and hilariously random, like, "That slaps hard." (Those who'd like to dissect Davidson's exact turns of phrase for themselves can do so by watching the full video on Grande's IG account and below, but fair warning, there are lots of expletives.)
But, even if we're not totally hip to the exact meaning behind Davidson's unique euphemisms, his generally excited, supportive demeanor in the clip makes it pretty clear that his words are ones of praise, and nothing more. Those who follow the pair on social media know these comments come after another sweet IG video from last month, which saw Davidson looking especially enamored while watching Grande film the "God Is a Woman" music video. Suffice to say, it sounds like he's been a fan of the empowering pop anthem for quite some time.
Plus, let's not forget that crude comedy is kind of Davidson's wheelhouse. And Grande, for her part, seemed entirely amused by it in Saturday's video. So, while his fiancé giggled from the passenger's seat, Davidson proceeded to name the remaining four tracks in his Sweetener top-five. He said,
"That and then my song which is called 'Pete,' which is pretty sick. And then I'll go 'R.E.M.' And then I would go 'Sweetener' because it's just very happy and very fun. And 'Better Off' because it's sick."
Three weeks ago, Grande shared a couple of her favorite Sweetener tracks with fans on social media, too. Fans who remember this particular Instagram exchange might also remember that it began with a couple of digs from Grande's fans, some of whom were hating on the singer's choice to name one of the record's headlining tracks after Davidson.
On July 19, Grande shared a photo to Sweetener's official Instagram account, which included the titles of three tracks off her new album — "Pete Davidson," "Goodnight N Go," and "Better Off." It seems these songs are all special to Grande.
"These three [songs] are really beautiful," she wrote, commenting on the IG post. "I know I said I don't have favorites, but these and 'R.E.M.' are really up there." So, as far as Grande and Davidson's Sweetener shortlist is concerned, it sounds like there's quite a bit of overlap. And while it's not totally shocking that they've got similar taste in Grande-helmed musical goodness, it's still pretty sweet. Grande's fans will just have to wait until Friday to see how their own personal Sweetener favorites measure up.