Ariana Grande Defended Naming A Song After Pete Davidson With Nothing But Positivity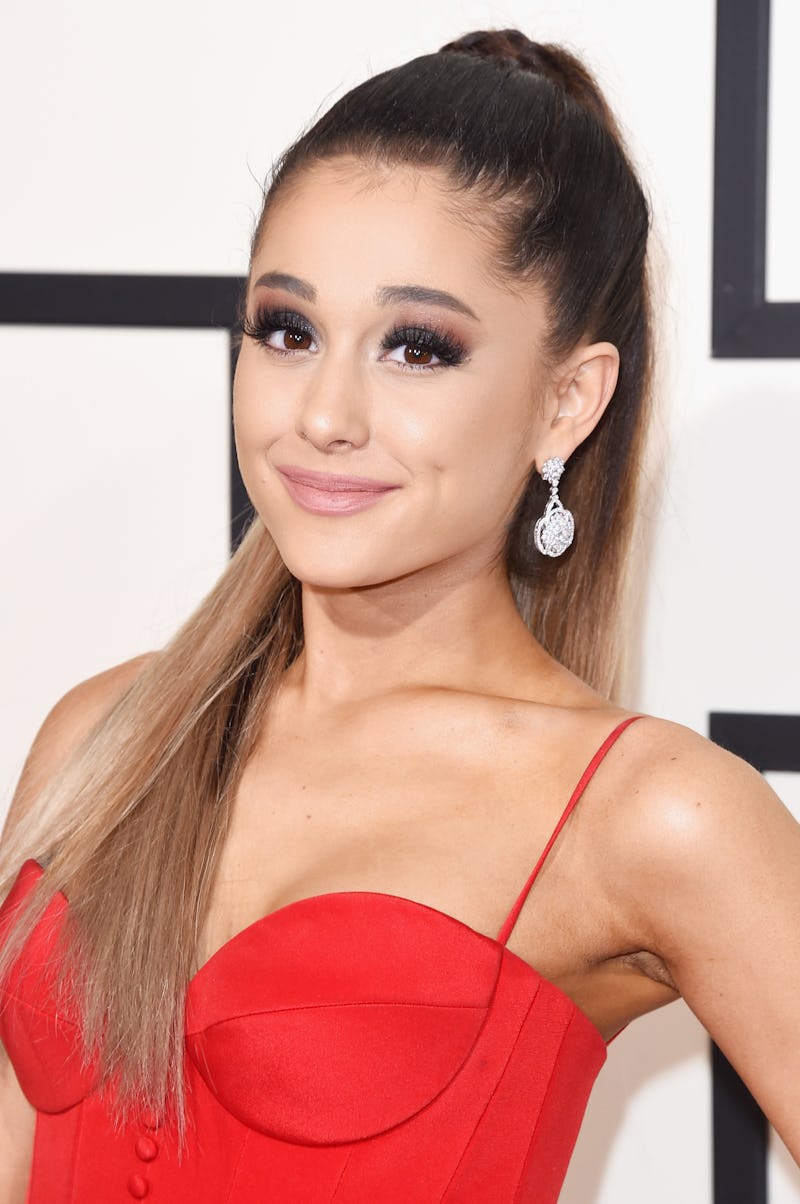 Jason Merritt/Getty Images Entertainment/Getty Images
If you don't have anything nice to say, then don't say anything at all. Unfortunately, that's easier said than done. Ariana Grande defended her song named "Pete," because those with negative opinions just can't keep quiet. On Wednesday, Grande's Instagram account for her upcoming album, Sweetener, posted a photo listing three track titles, including one named after her fiancé, Pete Davidson. Well, some fans didn't take kindly to her titling a song after the man she's marrying.
According to Us Weekly, one Instagram user said it was ridiculous for the 25-year-old to find inspiration in Davidson, especially since they haven't been together that long. Well, Grande gave the perfect response. Not only was she her typically honest self, but rather than feeding into the hate, she responded in the most positive way.
The singer wrote:
He's my fiancé. This is my album. I'm an honest and emotional artist and human being and if my openness in my work isn't for you, that's OK, I won't be offended. Still wishing y'all all the love in the world.
Many people could've argued in return, but not Grande. She chose to be her uplifting self and focus on telling the person it's OK if they don't like the title or how vulnerable she is in her music. She even wished them "all the love in the world." Talk about taking the high road.
Then, the "No Tears Left to Cry" artist went on to praise herself and the amazing music she's recorded. "P.S. These three [songs] are really beautiful," she wrote. "I know I said I don't have favorites, but these and 'R.E.M.' are really up there. Have a great night."
When the news of their engagement first broke in June, there were a lot of less-than-positive individuals. For many, Grande and Davidson's relationship seemed too fast, especially after they both had recently come out of serious relationships.
On May 10, Grande announced her breakup with Mac Miller after almost two years together. On May 16, Davidson confirmed his breakup with Cazzie David, who he was with for two years. Soon after both of their splits, romance rumors surrounded Grande and the Saturday Night Live star. Before fans could even wrap their minds around them dating, they were engaged, which Davidson confirmed on June 20 during a Tonight Show Starring Jimmy Fallon appearance.
Far too often Grande has to defend herself, her life, and her choices. For example, on May 23, the singer stood up for herself after fans implied she was to blame for Miller's arrest in May. According to TMZ, the rapper was arrested on charges of allegedly driving under the influence and an alleged hit-and-run. (At the time, Bustle reached out to Miller's agent for comment on the arrest, but did not receive a response at the time of request.)
"How absurd that you minimize female self-respect and self-worth by saying someone should stay in a toxic relationship because he wrote an album about them," she wrote on Twitter. "I am not a babysitter or a mother and no woman should feel that they need to be. I have cared for him and tried to support his sobriety & prayed for his balance for years (and always will of course) but shaming/blaming women for a man's inability to keep his shit together is a very major problem. let's please stop doing that." (Bustle previously reached out to Mac Miller's agent regarding the claims in Grande's tweet, but did not receive a response.)
Even after news broke of Justin Bieber and Hailey Baldwin's engagement and people said they were moving too fast, Grande came to their defense. (At the time, Bustle reached out to Grande's rep for comment, but did not receive an immediate response.) As reported by Us Weekly on July 8, it all started when a fan tweeted, "First Ariana get engaged to Pete Davison and now Justin Bieber to Hailey Bladwin [sic] the devil works hard but Scooter Braun works harder."
According to a screenshot provided by an Instagram fan account called "peteandariana," Grande supposedly responded,
You do realize we are human beings who love and have lives ...... right ....? And that Scooter is a wonderful human being too who cares first n foremost ab [sic] our health and happiness? Love is lit. Sh*t happens. I hope to god it happens to you too. U deserve it.
Once again, Grande defended herself, all while wishing the person well. That's just who she is. Fans may think they know Grande and her life, but only she knows the truth. It's unfortunate so many people come for her, but Grande continues to confront the haters and come out on top in the process.