Pete Davidson Watching Ariana Grande Film "God Is A Woman" Is Proof That Love Is Real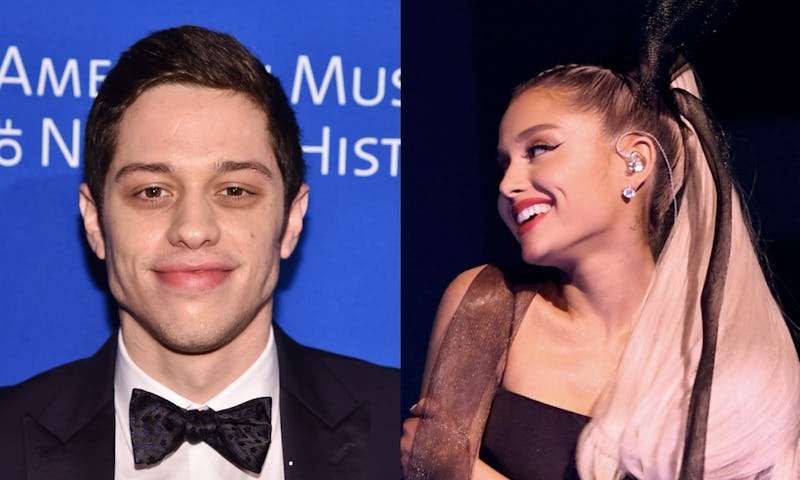 Michael Loccisano/Getty Images Entertainment/Getty Images; Kevin Winter/Getty Images Entertainment/Getty Images
The love story that is Grandson just keeps getting sweeter. On Saturday, July 14, Ariana Grande shared a video of Pete Davidson watching her film "God Is a Women," and her fiancé is clearly smitten. The clip, which Grande shared to Instagram, shows her friends and family looking on during the filming of the music video. Davidson appears to be totally awestruck, and even does a huge gulp at the beginning of the clip. Grande shared a sneak preview of the behind-the-scenes moment on Thursday, writing "cutie on set" with an engagement ring emoji. In the full video, it's clear the clip was taken while the project was being filmed, and that Davidson is totally captivated by the "No Tears Left to Cry" singer.
Grande captioned the post:
"omg now that the songs out i can show u this whole clip sjsksksjsjs that face".
Davidson wasn't the only person whose jaw dropped after seeing the music video, which was released a few hours after the song. The video features the "No Tears Left To Cry" singer dancing on a globe and superimposed on a variety of iconic images, including Michelangelo's Sistine Chapel ceiling. It was directed by Dave Meyers, and notably features Madonna reading Samuel L. Jackson's Ezekiel 25:17 speech from Pulp Fiction. The video is filled with plenty of other surprises, including some screaming groundhogs and a sequence where she shuts down a group of men hurling insults.
Grande shared plenty of "God Is a Woman" clips on Instagram, but this post shows how in love she is with her soon-to-be husband. The two have been active on social media since making their relationship Instagram-official in late May. Grande started their social media spree by sharing a picture of the two, writing "i thought u into my life woah ! look at my mind." Davidson also shared a pic of the two wearing Harry Potter costumes, and captioned the photo: "the chamber of secrets has been opened."
In June, Grande and Davidson appeared to take their relationship to the next level, with multiple sources reporting the couple had gotten engaged. According to People, the couple wasn't trying to hide the news. "It's a recent engagement. They're just two people who found love quickly and make each other happy all the time," an unnamed source told the publication. "They both started talking about it this past weekend. It's nothing they've been hiding." The singer was spotted wearing a ring during a performance at the iHeartRadio and 102.7 KIISFM's Wango Tango concert in Los Angeles, and Davidson confirmed the news during an appearance on The Tonight Show With Jimmy Fallon.
Grande and Davidson have known each other since the singer appeared on SNL in 2016, but the exact timeline of their whirlwind romance is not yet clear. In May, Grande announced her split from rapper Mac Miller, and Davidson confirmed his relationship with Cazzie David had ended after two years of dating. The pop star and comedian were together for at least a month before dropping the big news to the public, and they haven't kept their relationship a secret since.
While the singer has shared plenty of loving posts for her boyfriend, he's been pretty active on social media as well. On Grande's birthday, her fiancé shared several sweet messages on Instagram for the star. The first post, which showed Davidson backstage with the singer, read: "happy birthday to the most precious angel on earth! you're my favorite person that ever existed :) i love you sm." He also shared a second picture, writing: "one more for the queen. words can't express what a real f------ treasure this one is."
On Saturday, the SNL star revealed that he'd gifted his father's NYFD pendant to Grande. Davidson's father was a Staten Island firefighter, and passed away during the September 11, 2001 attack on the World Trade Center in New York City. His father's badge number was 8418, which both stars have tattoos of. Davidson even shut down critics in the comments, writing: "For ur information that's not just some girl, that's my fiancé[e]. She's the greatest person I know. I gave it to her because she has my heart and that is the most precious thing I own. My dad would be so happy and love her so much."
It's clear that these two are committed to each, whether that means offering support on social media or showing appreciation for each other's work.