All The Best Memes Of Pete Davidson's Epic 'SNL' Drag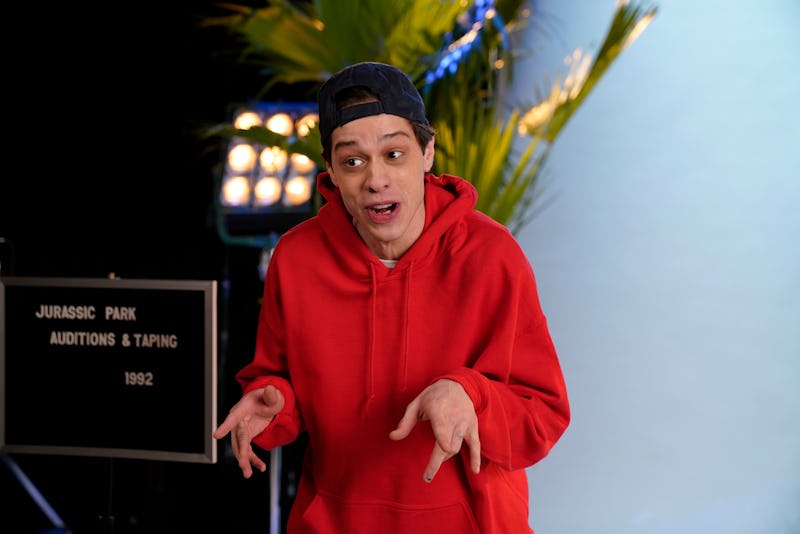 NBC/NBCUniversal/Getty Images
With Mama Ru acting as host, you had to know this was coming. RuPaul gave Pete Davidson a drag makeover on SNL's Feb. 8 episode, and the meme-makers wasted no time using images of Davidson in drag for material you'll surely be seeing on your social media timelines for the foreseeable future. OK, so it wasn't technically Davidson himself undergoing the transformation; it was his recurring character Chad, whom Ru had dubbed "the future of drag." (You may remember Chad from when he romanced J.Lo in a Dec. 2019 sketch.)
"There's a queen inside of you, Chad. All she needs is the crown, get my gist?" hinted the enamored RuPaul's Drag Race host. (Pause for apathetic Chad's joke about something the sounds like gist.) "Time to get to work, b*tch."
And get to werk, they did. Ru's first lesson for Chad was how to master "the tuck." Only poor, unfazed Chad missed her "junk goes in the trunk" instruction. "Oh, Chad, you have to tape it down and back, not up and front... That said, you have a magnificent penis," she complimented him. (More evidence to accompany those BDE theories?) Then, of course, came "the look" and a full face-beat, courtesy of Mama Ru.
The grand finale: Chad "lip sync'ed for his life" before his attempt to "sissy his walk" went terribly awry. It was all good though, he never wanted to be the greatest drag queen in the world anyway. As Ru concluded, "Some horses were born to run wild."
And some sketches were born to launch a thousand memes. First came the stages of processing the sight itself of Davidson all Ru'd out. One Twitter user addressed the elephant in the room, simply writing that "we need to talk about pete davidson in drag."
For some tweeters, the first stage was that of shock. "I would've never expected to see Pete Davidson in drag," wrote one user. Added another, "omg I'm dead." Some commenters were more direct than others about their feelings, with one user pointedly adding, "pete davidson in drag scares me."
Much to the surprise of many, however, Davidson's character — with all the maturity and charm of someone who can't help but play with his "chicken cutlet" bra padding — actually turned out to be something we never knew we wanted. The "whole 2020 mood" we didn't know we needed, if you will.
In fact, some SNL viewers thought the look actually suited Davidson. One tweeter even opined that he looked "badder than most" women, while another gushed that "Davidson in drag is EVERYTHING."
The raves, of course, could be owed to him getting his drag makeover from the hands of RuPaul herself. The creative (if not a bit confused) vision even added a new baby Yoda meme to the canon.
Chad's drag look also inspired comparisons to some other famous faces. While several users thought Davidson's character resembled Camila Cabello, post-transformation, others were reminded of past Drag Race competitors, such as Morgan McMichaels and Jasmine Masters.
Some even tried to put themselves in Davidson's designer shoes, with one fan imagining the comedian's reaction to finding out he's doing "the drag segment" and "figuring out how he's going to tuck all that trunk."
Whatever his or your thoughts may be — and whether you want to un-see it or not — Chad was the next drag icon, if only for a few brief moments. So if Ru were to ever ask him again if he's done drag, his answer will no longer be, "No, just weed and pills."