Pete Davidson Opened Up About Feeling Suicidal For His Fans — Here's Why That Matters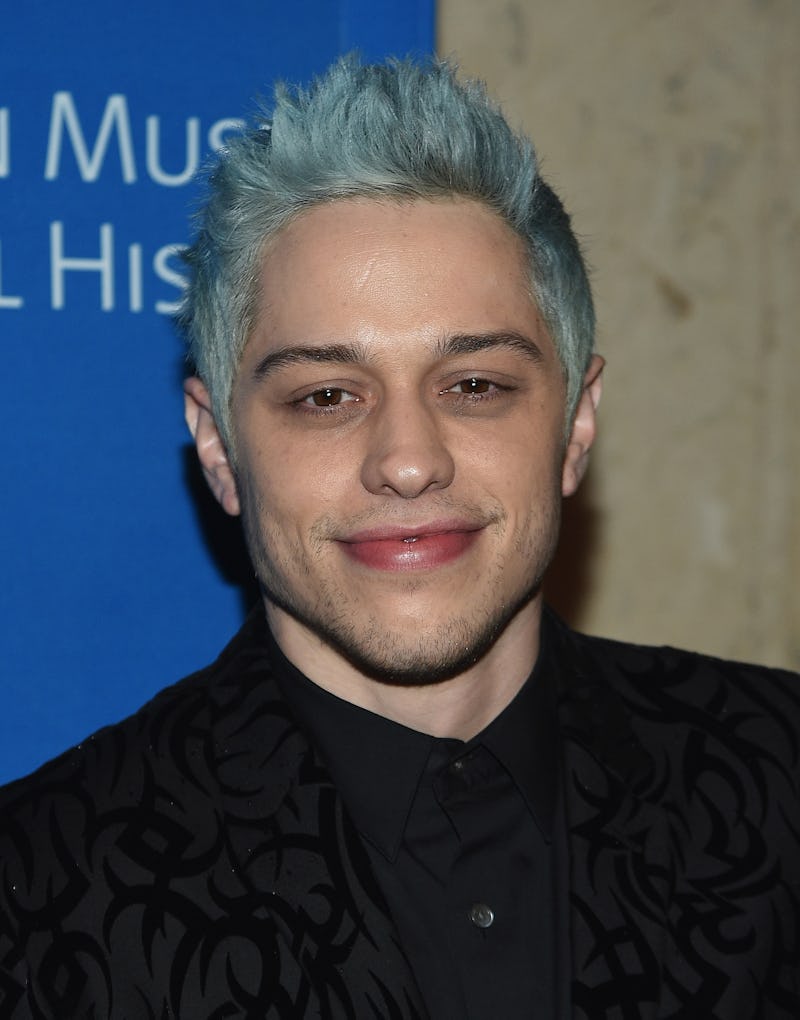 Dimitrios Kambouris/Getty Images Entertainment/Getty Images
SNL star Pete Davidson opened up to fans earlier this week in an Instagram post about his mental health. On Monday, Dec. 3, the comedian, who recently underwent a highly publicized split from ex-fiancé Ariana Grande, wrote a vulnerable and honest account about his experiences being bullied online and in the public in the past few months, alongside coping with his borderline personality disorder (BPD) and suicidal thoughts. Grande has since responded via Instagram Stories, requesting fans to be "gentler" with Davidson and others online.
Aside from a recent post promoting his new movie, Big Time Adolescence, Davidson has been notably absent on his Instagram account since a post from Jul. 18. His new statement, published in hopes of "help[ing] bring awareness" to his 2.5 million followers, helps shine a light to his many fans and the general public on the often taboo subject of suicide. His post helps destigmatize the topic of suicide and suicidal thoughts, which experts say can help educate fans if they're ever in similar situations.
"I've spoken about BPD and being suicidal publicly only in the hopes that it will help bring awareness and help kids like myself who don't want to be on this earth," Davidson wrote. "I just want you guys to know. No matter how hard the internet or anyone tries to make me kill myself. I won't. I'm upset I even have to say this."
This isn't the first time Davidson has used social media to publicly discuss his mental health. Last May, when rumors were swirling about his and Grande's then-budding relationship and how his borderline personality disorder might affect his romantic relationships, Davidson explained in an Instagram Story: "i just think it's f*cked up to stigmatize people as crazy and say that they are unable to do stuff that anyone can do. it's not their fault and it's the wrong way for people to look at things," Davidson wrote. He also explained how seeking treatment for his mental illness "changed [his] life for the better."
Davidson's comments in both cases are examples of a recent trend — in the past few years, celebrities have become more vocal about dealing with issues including mental health, substance use, and suicide. Suicide in particular is the second-leading cause of death for people aged between 10 and 34, and the tenth leading cause of death overall for Americans in 2016, according to the National Institute of Mental Health.
New York-based psychologist and teen expert Dr. Scyatta Wallace tells Bustle that one of the major issues in managing mental health is getting people to seek treatment in the first place.
"People in the public eye, whether they're celebrities or just successful people, opening up about their mental health issues helps normalize the experiences that people have," Dr. Wallace says. Celebrities describing their own experiences with mental health can potentially help fans "identify what they may be going through and get help as a result."
She adds that celebrities speaking about mental health helps "elevate the message," explaining how the media has become something like a "super peer," influencing an individual's decisions in a similar way to how they might trust a friend.
"With teenagers and young adults, they really trust and connect with their friends more so than parents and family members," Dr. Wallace explains. The media is such a prominent aspect of so many people's lives today that young people often turn to it for advice, forging strong connections to social media. "Celebrities are on social media so much that it's become part of that connection," she adds.
In general, Dr. Wallace says that the stigma around mental health has decreased, and that it has a lot to do with "so many celebrities not only stating that they have these issues, but also describing how treatment has helped them."
In his May post, Davidson stated, "mental illness is not a joke...for all those struggling i want you to know that i love you and i understand you and it is going to be okay." Hopefully, celebrities who continue to use their platforms to frankly discuss mental health and treatment will continue to spread some much-needed empathy and understanding on the topic, to fans and haters alike.
If you or someone you know is experiencing suicidal thoughts, call the National Suicide Prevention Hotline at 1-800-273-8255 or text HOME to the Crisis Text Line at 741741. You can also reach out to the Trans Lifeline at 877-565-8860 or the Trevor Lifeline at 1-866-488-7386, or to your local suicide crisis center.