Photos From The Ariana Grande Concert In Manchester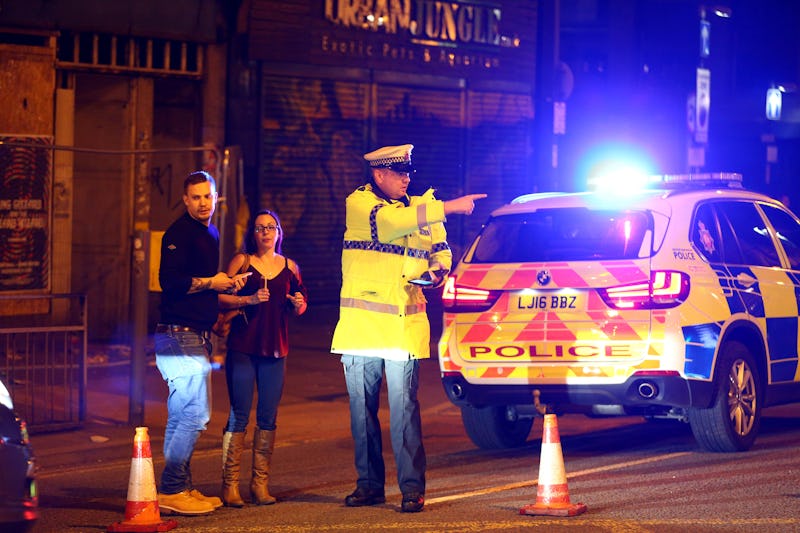 Dave Thompson/Getty Images News/Getty Images
On May 22, audience members reported hearing at least two explosions during an Ariana Grande concert at the Manchester Arena in Manchester, England. The Greater Manchester Police later confirmed in a statement to Twitter that there have been "a number of confirmed fatalities and others injured in the incident." According to Billboard, reps for Grande have confirmed that the singer is "OK," but police have confirmed that there was at least one explosion at Manchester Arena. The photos from the concert show just how chaotic and scary the situation is.
"Emergency services are currently responding to reports of an explosion at Manchester Arena," the statement on the @gmpolice Twitter account on May 22. The Guardian has reported that an explosion occurred at 10:30 p.m. local time and British Transport police officers are also responding to the scene. Many concertgoers, as well as journalists, took to social media to share eyewitness reports, observations, and photos from the aftermath of the incident, wherein NBC News has confirmed at least 20 people were killed.
The photos show that it is a scary and chaotic scene after the concert. Multiple videos show concert-goers fleeing the scene while police attempt to guide them to safety.
Buzzfeed reported that police and emergency responders were quick to show up to the scene and cordoned off the affected area around Manchester Arena to ostensibly preserve the crime scene while helping civilians get to safety.
Buzzfeed additionally reported that there was an ensuing confusion among those fleeing the Manchester Arena and were hoping to get home safely. Unfortunately, the trains were not running out of Manchester at the time.
At time of reporting, word is being spread through the news and social media that this incident is currently being treated as a serious, serious incident. , a BBC News correspondent Daniel Sandford sent out a tweet stating the North West Counter Terrorism Unit was "treating the #ManchesterArena as a possible terrorist incident."
More details will be reported as they emerge. The investigation is in the beginning stages, so there will no doubt be plenty more information to digest once authorities are able to process the scene.
Here are some ways you can help.