Chance the Rapper's Daughter Is Too Adorable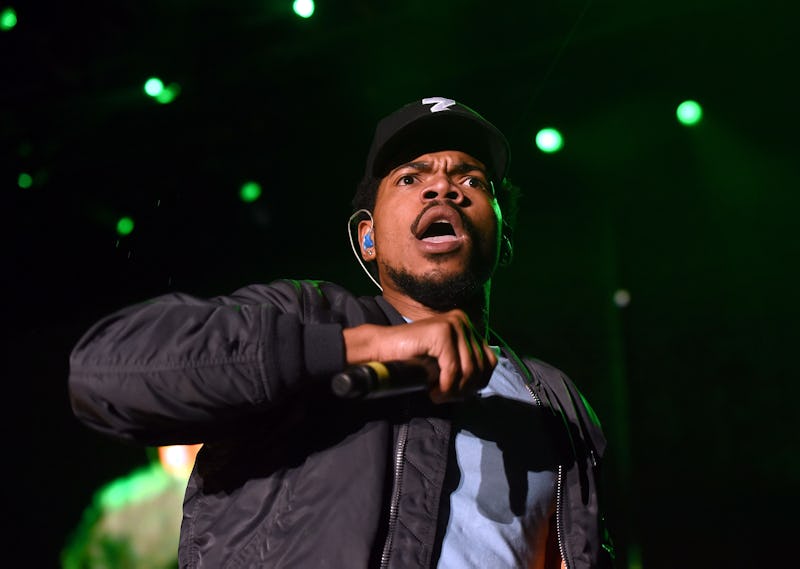 Kevin Winter/Getty Images Entertainment/Getty Images
"My daughter just like Sia / You can't see her." That was what Chance the Rapper had to say about his little girl and the likelihood fans would be getting a peek at her on Kanye West's "Ultralight Beam." The Chicago rapper's had a change of heart, though, since dropping that verse. Now, photos of Chance the Rapper's daughter are all over his Instagram feed. After the calendar flipped to 2017, Chance — real name, Chancelor Bennett — introduced his baby girl to the world with a whole slew of photos, including one that showed her hanging out with the Obamas. After seeing the adorable shot of Kensli, you can't blame him for walking back his previous statements on the matter.
It also shouldn't be much of a surprise that he ended up sharing photos of his bundle of joy. When Chance, who's nominated for Best New Artist at the 2017 Grammys, announced the birth of his daughter on Instagram in September 2015, he wrote that he "wanted to make a a grandiose and poetic statement" he thought it would be "more appropriate and fatherly" to ask for privacy as he got settled into his role as dad.
What is clear now is that the rapper is a total dad who can't help but post photos and videos of his daughter.
1. Making Her Instagram Debut
"This is the girl who reintroduced me to God," Chance wrote in his daughter's introduction to social media. "She's the woman who reminded me how to be a man, and taught me how to love."
Chance said that his little lion cub is "everything I am but much better." He also shared his future plans for his little girl: "I can't wait for her to one day help the world the way she has helped me." No pressure, Kensli.
2. Meeting The Obamas
At 15 months, Kensli was already rubbing elbows with then President Barack Obama and First Lady Michelle Obama. "Look up Kensli, say cheese!" Chance captioned the shot.
3. Showing Off Her Musical Chops
Perhaps Chance's daughter is going to follow in his footsteps, since she's already playing the harmonica.
4. Making Her Daddy Cry
Chance the Rapper can't deny he has a soft spot for his little girl. In the caption of a video he posted where Kensli's babbling to the camera, Chance talked about how sad it is to be on the road without her. He also used this post to thank Kensli's mom and his own mom "for making all things possible."
5. Taking A Family Photo
Chance shared a black and white family photo of him holding his girlfriend Kirsten Corley and her holding their little girl. "No matter what we are," he wrote. "We're always family."
6. Father-Daughter Bonding Time
Chance posted a photo of him holding his little girl while wearing his Versace slippers. "Take me back," he wrote.
7. Chance's "Old Lady"
Kensli wears a pair of glasses that are clearly a little too mature for her in a cute video that has her playing an old lady who just needs you to get her newspaper for her.
8. Getting Turnt
Chance better watch out, it seems his little girl has got some moves.
9. Daddy Daughter Fashion Show
It's not really about what they're wearing in this video, in Chance's opinion it's just about showing how adorable they look. Can't argue there.
Whatever sweet thing Kensli does next, you better bet Chance the Rapper is going to post it. With all that cuteness, can you really blame him?