Drake Supported Serena Williams At Wimbledon & Fans Had SO Many Feelings About It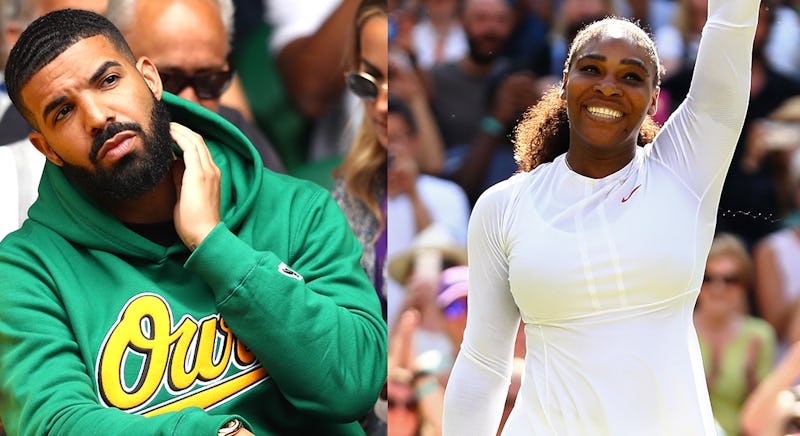 Michael Steele/Getty Images Entertainment/Getty Images; Michael Steele/Getty Images Sport/Getty Images
Despite their past rumored relationship, photos of Drake supporting Serena Williams during her Wimbledon quarterfinals match surfaced on Tuesday, July 10, proving that he still remains a really big fan of the tennis superstar. Although it's certainly great to see that Drake still has a lot of love for Williams' game, it seems that fans had mixed emotions about the rapper's appearance at the match.
While watching from home, many were quick to notice the Toronto-born entertainer decked out in a green hoodie as he looked on while Williams advanced to the 2018 Wimbledon semifinals when she defeated Italy's Camila Giorgi on July 10. The 36-year-old athlete eventually won against Giorgi after coming from a set down and will now compete against Julia Goerges at the Thursday, July 12 semi-final. Although there were many famous faces in the crowd for Day 8 of the match, including Justin Timberlake and Jessica Biel, Drake's appearance, undoubtedly, caused the most stir due to rumors that he and the tennis star had dated in the past. It wasn't long before people took to social media to chime in on Drake presence, which many referred to as a "curse" and their reactions are purely priceless.
Drake and Williams' speculated romantic history dates back to August 2015 when they were reportedly spotted "making out" at a restaurant in Cincinnati a few hours after Williams won the WTA Tournament and photos of the moment were shared by TMZ. According to The Post Game, the pair were also reportedly linked in 2011 after photos emerged of Williams and Drake playing tennis. At the time, it was unclear if the photos were romantic in nature or just a friendly hangout. In a November cover story for Complex later that year, Drake was asked about his relationship with Williams. He shared,
"I really, really love and care for Serena Williams. She's incredible. That's someone I'm proud to say I know. She's definitely in my life and I'm in her life. It's great to watch her play tennis. Very impressive."
If Drake's reactions to Williams' Wimbledon showdown are any indication, it appears that the rapper thinks that Williams is still the cream of the crop when it comes to tennis. His myriad facial expressions just about tell it all as he goes from angry, concerned, sad, then happy all within a matter of moments during the match.
The moment wasn't Drake's first show of support for Williams during competition as ET points out that many fans blamed Drake for her upsetting loss to Roberta Vinci at the U.S. Open in September 2011 for which he was also present. Williams told Glamour in 2016 that it was unfair to blame the rapper for her loss on the court:
I don't think that was fair. I'm the one who's playing, who's making mistakes or making winners. I'm not one to blame anyone else for anything. And I don't think anyone else should either. I played a really good opponent that day. And I wasn't at my best.
Williams' participation in this year's Wimbledon event marks her return to the London-based competition since she and her husband, Reddit co-founder, Alexis Ohanian welcomed their baby girl Alexis Olympia Ohanian Jr. in September 2017. The 36-year-old tennis star won her first major tennis match after the 16-month hiatus at the French Open on Tuesday, May 29, proving to the world, once again, that she remains one of the greatest athletes to ever play the sport. In fact, Williams has just about dominated the industry for more than a decade.
The Women's Tennis Association (WTA) ranked her world No. 1 in singles on eight separate occasions between 2002 and 2017. Williams also holds the most Grand Slam titles in singles, doubles, and mixed doubles combined amongst current players. She has been widely been regarded to be one of the best players in the game.
Despite dropping recently his highly-anticipated fifth studio album Scorpion on Friday, June 29, Drake managed to take some time out of his busy schedule to support Williams' latest Wimbledon appearance and show the world that the whole "curse" thing has no basis.