'Game Of Thrones' Star Emilia Clarke Went To A Beyonce Concert & The Photos Are Flawless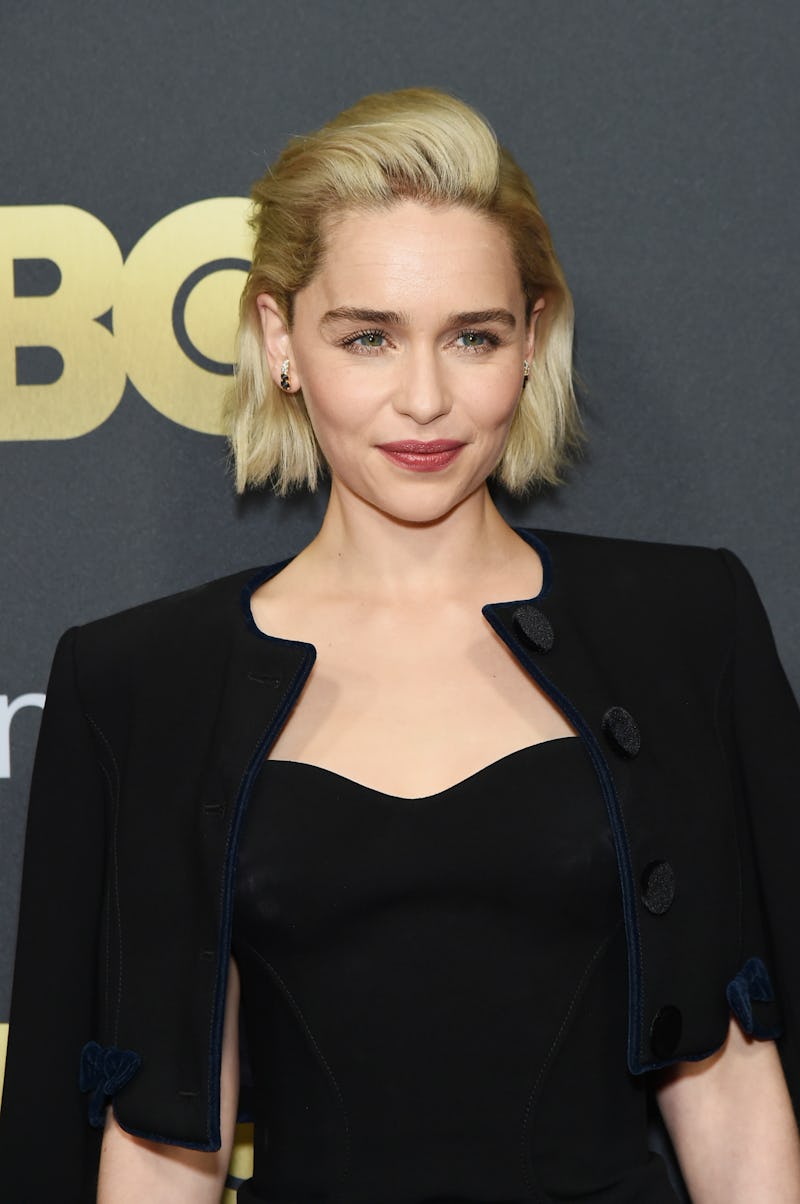 Mike Coppola/Getty Images Entertainment/Getty Images
It turns out the Dragon Queen will pledge her allegiance to another queen after all — Queen Bey. As reported by Elle, on Friday, June 15, Emilia Clarke attended a Beyoncé concert in Manchester, England with her Solo co-star and friend Phoebe Waller-Bridge, as well as her pal and fellow actor Lola Frears. The Game of Thrones star wasn't shy about expressing her love for the singer on Instagram, where she declared the outing the best night of her life.
Knowing that Clarke is a proud member of the Beyhive is exciting — who doesn't love seeing one queen admiring another? But the best part of the evening may be the hijinks that the actor and her friends got up to when they weren't watching Beyoncé do her thing onstage with her husband Jay-Z. The trio of stars had way too much fun with a Bey cardboard cut-out, and in the process, they took some hilarious pictures that deserve to be preserved forever. Come on, it's not everyday that Daenerys Targaryen and Beyoncé take a photo together (and yes, it still counts even though the real singer was a bit too busy to take a proper picture).
Clarke captioned her photo of her and the cut-out Beyoncé with the amount of enthusiasm that the artist deserves. She wrote,
FYI ITS ALL ABOUT BEY. Bare witness to the end of the best night of my life. #otrtour2018 #beyandjayforever #meandthiscutoutforeverandeverandever #bringbeytoworkday? #planescrew @beyonce #headswag
Her joy is real and super contagious.
Truly that was just the start of the Queen Bey cut-out fun. In a video, Clarke and Fleabag and Killing Eve creator Waller-Bridge are mucking about in the bathroom. The Game of Thrones star tells her friend that they have to go, at which point Waller-Bridge exits a bathroom stall with the cut-out in tow. "Sorry, we're having a bit of a night," she says to the camera.
How much do you want to be part of Clarke's crew now? These ladies not only know how to have fun, they also have exquisite taste in music. And they're clearly not afraid to run around a stadium with a life-size cardboard Beyoncé, which is definitely a plus.
Their escapades only escalated from there. Clarke's longtime pal, Frears, had to get in on the action too, and she did not disappoint. In addition to being an actor herself, Frears is also Clarke's writing partner. In a 2017 interview with The Wrap, the Game of Thrones actor revealed that she and Frears are writing a comedy together. When asked why they went for comedy, she explained,
"Because we're funny! [Laughs] My girl Lola and I, we just crack each other up. She's an incredible writer. We went to drama school together. It had to be a comedy. This is the most joyous, easiest thing I've ever done. We're in the middle of it and it's wonderful. We'll see what happens. It's just good to stoke as many fires as possible."
Clarke wasn't exaggerating when she touted their sense of humor. Frears shared her own photo with Clarke and Bey, and the caption says it all. The actor wrote,
"Came for Bey. Not leaving without her."
The fact that this sentiment is accompanied by an image of Clarke and Frears looking intensely at the camera as they haul cardboard Bey away only makes it all the more perfect.
All kidding aside, Clarke's devotion to Beyoncé is clear. Not only did she declare the evening the best of her life, she also bought tour swag, and quite possibly brought her own cut-out. Clarke went full fangirl for the singer, and it's fantastic.
Daenerys is officially a member of the Beyhive and it feels so good. Now, if the Game of Thrones producers can just work "Run the World (Girls)" into the Season 8 score somehow, everything will be perfect.