Wow, Jenna's 'BiP' Engagement Ring Is SO Pretty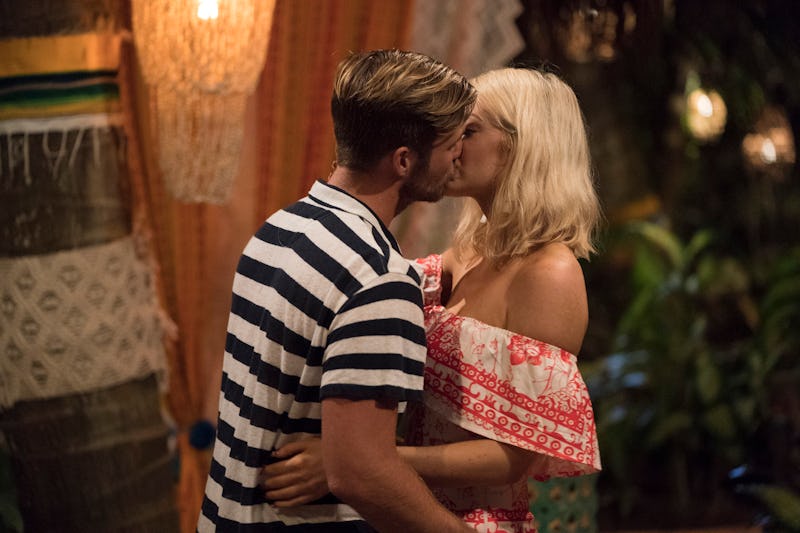 Paul Hebert/ABC
You kind of can't help but love Jordan and Jenna this season on Bachelor in Paradise. For all the jabs people threw at Jordan during his outrageous and controversial tenure on Becca's season of The Bachelorette, he's proven himself in more ways than one in Paradise. And even though Jenna wasn't the most featured character during Arie's season of The Bachelor, she has certainly made a splash in Mexico. Now that the couple seems more solid than ever, they're taking the next step, and we've got photos of Jenna & Jordan's engagement ring ready for you to ogle. Turns out, all his talk about the finer things in life, from sea salt hair spray to haute couture, wasn't total BS. Jenna's Neil Lane ring is stunning, whether or not you're into diamonds.
Jordan and Jenna were definitely not without drama throughout the entirety of their romp in Mexico. Though they immediately were drawn to one another, Jenna briefly had a flirtation with Benoit, and David also attempted to woo her. Neither of these things sat well with Jordan, and at times, he flew a little off the handle, putting Jenna off even further. But he quickly apologized for his angry outbursts, and they got on track pretty quickly after that.
And during the finale, Jordan shared some sweet words with her before dropping to one knee. "Since you walked into Paradise I thought you were the prettiest girl in the world," he said. "You've taught me to believe in love at first sight. Fighting for you was the most confident thing I've ever done … You've truly made me the lucky one and I can't wait to build a family and make all of your dreams come true. I'm a one gal type of guy, and that one girl for me is you." He then pulled out the ring, and boy, is it pretty.
Even before the finale, fans were speculating that Jordan and Jenna would make the move to tie the knot. "Jordan and Jenna [will get engaged] because I believe it when he says he's never felt this way before," wrote one Reddit user, iamjustjenna. "And because Jenna loves how Jordan makes her feel about herself."
And in the first half of Monday night's finale, they actually went on a date that hinted at things to come. Jordan and Jenna took part in an engagement photoshoot, complete with tuxedos and a wedding dress. Whew. If that isn't foreshadowing, then I really don't know what is.
Jenna was skeptical of the whole thing at first (understandable, given that their relationship is newer than the gallon of almond milk in my fridge), but as with all things, once she talked with Jordan a little bit about it, she calmed down and seemed way more willing to entertain the idea of an engagement. After they got engaged during Tuesday's hour, it was clear from social media that they've got people rooting them on as they proceed with the relationship after cameras stop rolling.
Jordan and Jenna are living proof that you might not always be able to predict who will pair up in Paradise. They've surprised fans in more ways than one, but they seem really and truly obsessed with each other. It's basically the happiest ending possible, and hopefully it continues long after cameras stop rolling.