Karlie Kloss Shared Snapshots From When She Revealed Her Engagement To Friends & Family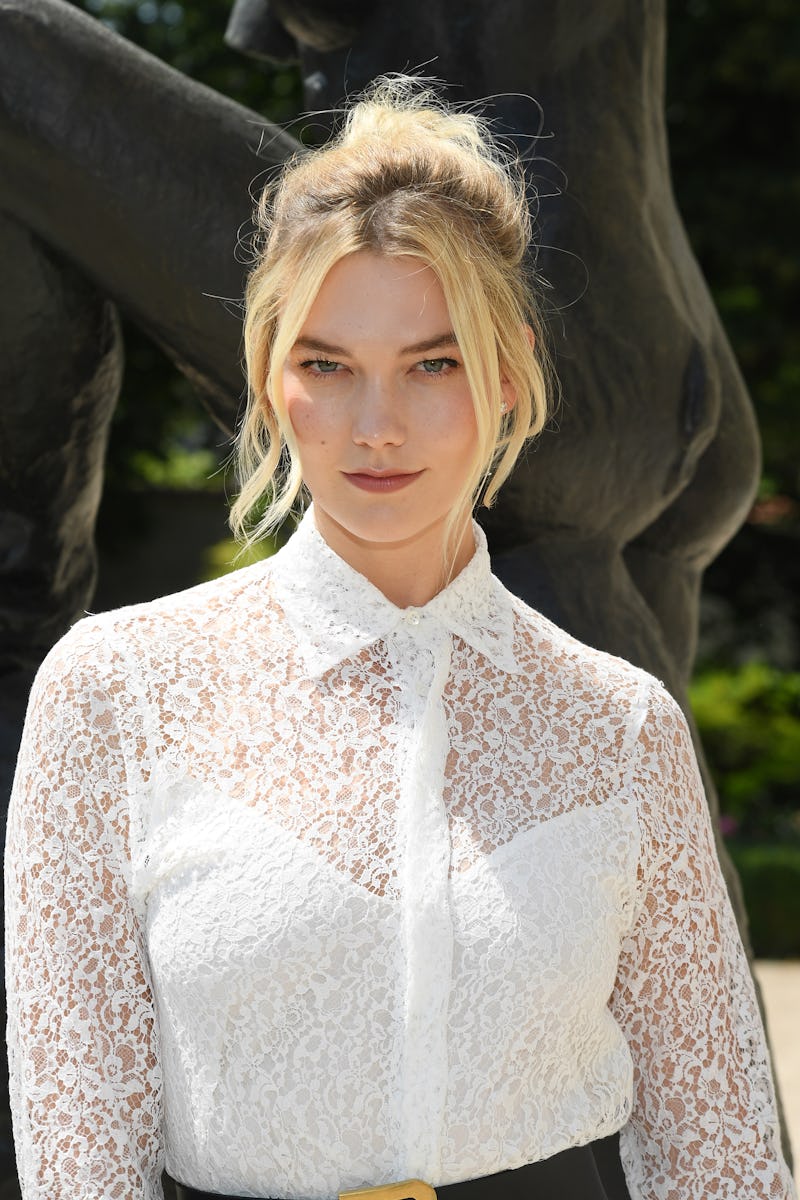 Pascal Le Segretain/Getty Images Entertainment/Getty Images
When two people get engaged, everyone will want to hear about it. And if Karlie Kloss's Instagram Stories are any indication, sharing the big news is one of the best parts. Photos of Kloss sharing her engagement with family and friends will make fans so excited for what's ahead for the supermodel and her fiancé, Joshua Kushner.
In a set of photos on Instagram Stories, Kloss shared windows into what it was like for her to show off her engagement ring to her mom, sisters, grandma, and friends. Those friends included Serena Williams, her childhood best friend Davis Petrash, and even Princess Beatrice of York. (The model might have caused a small bit of royal drama with that last one — she tagged what appears to be Beatrice's private account in the photo, according to People.)
Everyone Kloss is FaceTiming in the screenshots looks delighted over the news. Petrash and Princess Beatrice have the perfect open-mouthed surprised faces, while Williams is absolutely beaming from ear to ear. Kloss and Kushner clearly have plenty of people who are thrilled to be celebrating in their union. If weddings are a time for family and friends to witness two people's commitment to each other, it looks like these two will have a ton of support on the big day.
Karlie Kloss/Instagram Story
Kloss announced her engagement on Tuesday, sharing a selfie photo of her and Kushner. And based on her words, it sounds like these two are definitely life partners. She wrote in the Instagram caption,
"I love you more than I have words to express. Josh, you're my best friend and my soulmate. I can't wait for forever together. Yes a million times over 💍"
Kushner, meanwhile, shared an image of Kloss on his own Instagram account, adding the simple caption "fiancée ❤️."
Kloss and Kushner's love story is years in the making. The two of them started dating in 2012, when she started bringing him to industry events, like the Victoria's Secret Fashion Show's afterparty. They may not seem to have much in common professionally, but it looks like Kushner and Kloss really were made for each other. People also reported that Kloss converted to Judaism last month, which may have been a hint to fans that the couple was planning on getting more serious.
Karlie Kloss/Instagram Story
In addition to the outpouring of support from fans, other celebrities commented on Kloss' Instagram post. "Congrats y'all!" Reese Witherspoon commented, along with an engagement ring, champagne, and heart emoji. "Chills! So happy for you," wrote Yara Shahidi. Fellow models Hailey Baldwin, Amber Valletta, Miranda Kerr, Candice Swanepoel, Ashley Graham, Irina Shayk, Adriana Lima, Joan Smalls, Lily Aldridge, Cindy Crawford, Heidi Klum, and Christy Turlington Burns also shared messages of congratulations in the comments.
Ivanka Trump also congratulated Kloss and Kushner on their engagement. She and Kloss will be sisters in law after the wedding, since she's married to Jared Kushner, Joshua's brother. Ivanka wrote in her comment to Kloss that she'll be "blessed to have you as a sister."
Kloss and Trump may not agree on many political issues — Kloss shared a hashtag supporting Hillary Clinton during the 2016 presidential election, and Joshua Kushner attended the Women's March. But it looks like despite their differences, Trump is embracing her brother-in-law, and future sister-in-law, as part of the family, adding her name to the list of people thrilled about the engagement news.