These Pics Of Lala At Cannes Will Blow 'Vanderpump Rules' Fans Minds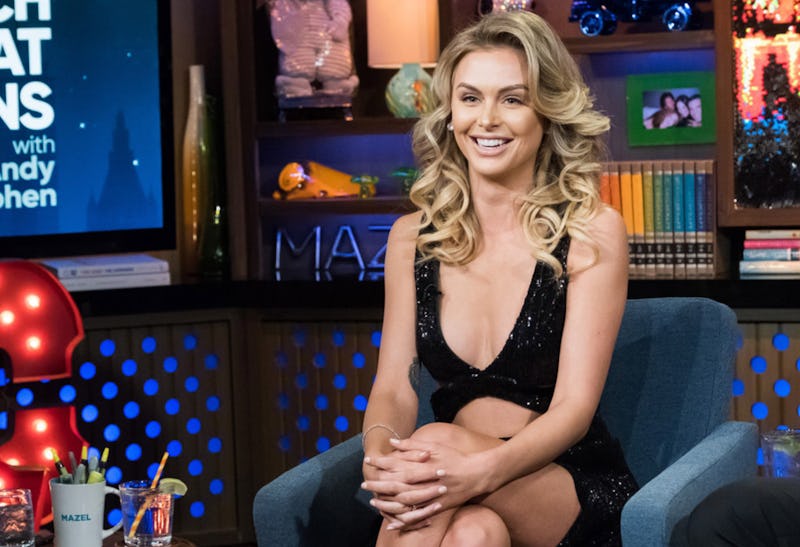 Charles Sykes/Bravo
A Vanderpump Rules star is at arguably the most prestigious film festival on the planet and it could not feel more right. On Tuesday, May 15, Variety shared a video of Lala Kent at the Cannes screening of Solo: A Star Wars Story. And in the video, she is standing with 50 Cent and John Travolta. Why is Lala from Vanderpump Rules at the 2018 Cannes Film Festival, you ask? And how did Lala, 50 Cent, and Travolta end up palling around on a red carpet together? Here is the short and sweet answer: They are all connected to Pump Rules enigma and established film producer Randall Emmett.
Emmett, aka "My Man," and Lala have been dating for the last two years, but only went public with their relationship earlier this year. Though he has never actually appeared on Pump Rules, Emmett is a major part of The Real Housewives of Beverly Hills spin-off. He has been mentioned in several im-pasta-sioned arguments between DJ James Kennedy and Lala; his private jet — er, the PJ — has become a Pump Rules star in its own right; and he apparently gives Martin Scorsese all of the latest and greatest Pump Rules gossip. (May we never let go of the Pump Rules Season 6 reunion moment when Lala told the rest of the Pump cast that Scorsese is a fan of the show.)
So, what brings this Vander-couple to Cannes? Showbiz, baby. Emmett is one of the producers of John Gotti biopic Gotti, which premiered at the festival this year. Here's Lala, Emmett, 50 Cent, Travolta, Kevin Connolly, and Kelly Preston at the aforementioned Solo screening.
And wouldn't you know it, Gotti just so happens to be what brings Travolta, Kelly Preston, and Kevin Connolly to Cannes, too. Real-life husband and wife Travolta and Preston play John and Victoria Gotti, and Connolly is the movie's director. 50 Cent is not in Gotti, but he and Emmett have worked together on a number of projects, including TV series Power, feature film Escape Plan, and direct-to-video drama All Things Fall Apart.
So, there you have it. Lala is Emmett's Cannes date, 50 Cent is Emmett's Cannes buddy, Travolta and Preston are Emmett's Cannes stars, and Connolly is Emmett's Cannes director. That is how Lala, 50 Cent, Travolta, Emmett, Preston, and Connolly all wound up on the Cannes red carpet together.
Yes, you better believe Scheana Marie's oft-referenced forearm tattoo comes to mind.
Naturally, the Pump Rules fandom is so thrilled to see the "Boy" singer bring the Sexy Unique Heat to Cannes.
Never stop putting that Coachella dream out in the universe.
Oh, man. If Lala had to miss Cannes for the reunion, that would've been a serious bummer. And if Lala had to miss the reunion for Cannes? Another serious bummer. However, if Lala Skyped in from France to offer up commentary in between screenings while the rest of the cast filmed the reunion in Los Angeles, that would be kind of incredible.
Stick that in your baby bottle.
Lala has been generous enough to document her Cannes adventure on Instagram. Here she is with Emmett:
Here she is by the water:
Here's Lala, 50 Cent, and Emmett on their way to the Gotti premiere:
Just two and a half years ago, she was one of the supporting characters on Pump Rules who was (temporarily) banned from Watch What Happens Live. And now she's a Pump Rules superstar who has the coveted reunion chair right next to Andy Cohen, the artist behind a song that hit number one on the iTunes electronic chart, and a Cannes Film Festival attendee. She's really doing it. May she never stop giving them Lala.