Canned Pickle Juice Exists & You Need It For Your Brunch Cocktails, STAT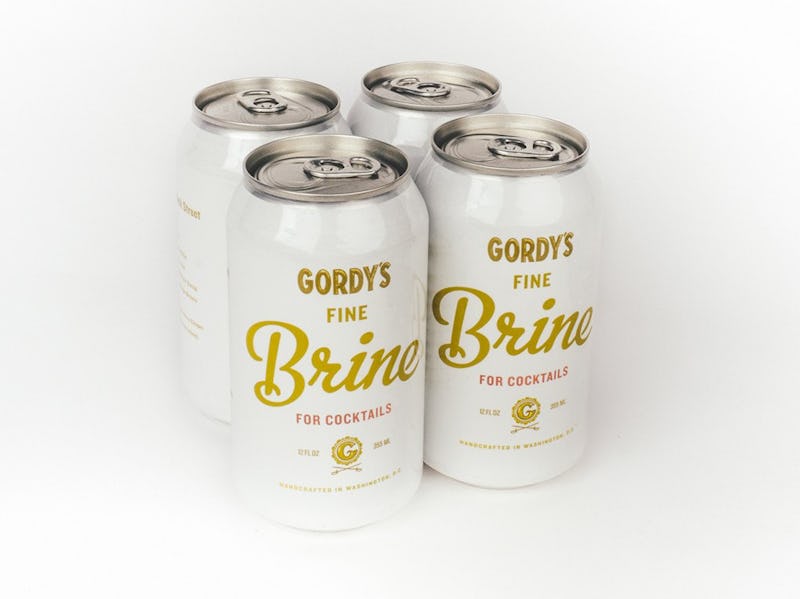 Gordy's
Happy hour is hardly what it used to be. When you and your squad go out for drinks at the end of a work week, chances are you'll have no shortage of creative beverage options. Everyone's favorite hipster seltzer LaCroix is now the star at some bars, and rosé, the millennial pink wine of choice, is remixing old classics (care for a pink cider?). But an unexpected flavor seems to have entered the beverage world, and it might just polarize your drinking team. If fruity drinks are your go-to, but you're searching for something a little more offbeat, you're going to want to check out this canned pickle brine for cocktails. Before you ask, cucumbers are indeed a vegetable.
Brine is basically a culinary term for salty water — like, really salty water. According to Food52, the solution was originally used to preserve meat in an era when refrigeration was less reliable, making fresh food more susceptible to rotting and contamination. Nowadays, it is primarily used in the United States for less pragmatic reasons. Brining meat, for instance, is thought to make it more flavorful and tender. But before you get too freaked out, rest assured there is no meat in the cans of pickle brine, it's akin to the liquid you find in a jar of pickles.
The cans of salty goodness are the work of Washington, DC-based craft pickle shop Gordy's Pickle Jar. Apart from classic cucumber pickles, Gordy's also crafts other gourmet salty snacks like bloody mary mix and jalepeños (they serve the jalapeños at a restaurant where I work on weekends sometimes; they're excellent). But drinking pickles? It's not actually as unheard of as you may think.
Fast food chain Sonic, known for offering an abundance of different slush drinks, was one of the first to hop aboard the recent pickle resurgence. A few weeks ago America's Drive-In announced the addition of a pickle slush to its menu, which features favorites like blue coconut and cherry limeade. It was described by Food & Wine's Maria Yagoda as "sweet and tangy" and "surprisingly delicious."
But, Sonic's slush is (literally) kid stuff compared to Gordy's concoction. Gordy's has one recommended pairing: alcohol. The Fine Brine is specifically being marketed for use in cocktails, and is described on the company's website as possessing a flavor that is the "perfect balance of salty, tangy, and sweet." Gordy's refrains from offering suggestions for a specific pairing for the brine, but does suggest it be served chilled.
If you want to work up to a pickly cocktail (it can be daunting for some) you're in luck. Unconventional pickle-themed treats are IN. Start your pickle journey by switching out onion dip for pickle dip next time you snack on some potato chips. It's the same concept just with a vinegary spin. Ditching the dairy? Snag some pickled Brussels sprouts, or shpickles, rather, from gourmet snack company Brooklyn Whatever. Life imitates art, and in this case the art being imitated is a bit from the eccentric sketch comedy show Portlandia.
In a world full of people with sweet teeth (tooths?) it is the rare person who prefers the saltier side of life (or a menu). In 2018, outrageous saccharine edibles are everywhere, and sugar is the muse of many manufacturers. Think about the last time you went in a makeup store; how many products did you see named for desserts? In this past week alone Bustle has covered Beauty Bakerie's Cake Mix Foundation and a new hair trend inspired by Butterbeer. Sugar is associated with indulgence and desirability, but the value of a salty surprise is overdue for its time to shine, with a little help from a can of brine.
Grab a six-pack of Gordy's Fine Brine for $16 on the company's website.