These 'Game Of Thrones' Characters Have Changed So Much Since Season 1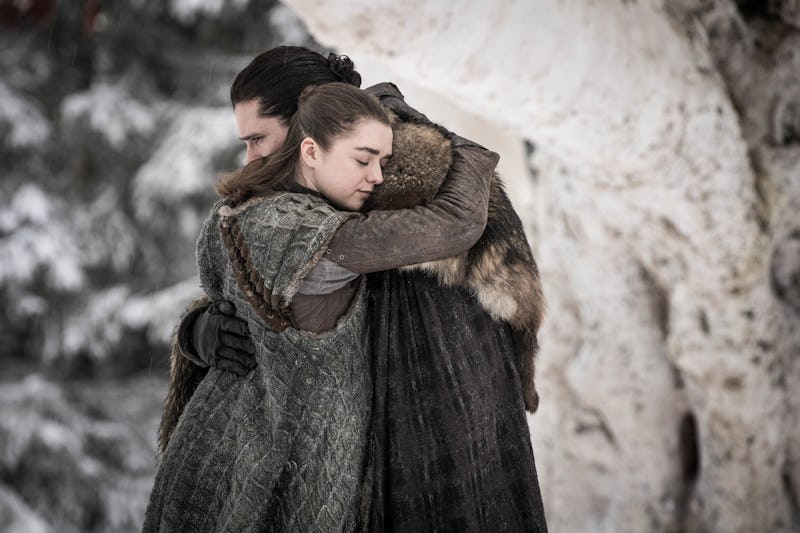 Helen Sloan/HBO
Game of Thrones' characters have been through a lot in the eight years since the show premiered. Not only have countless individuals died (like seriously, countless), but people have changed allegiances, appearances, and even houses as they prepare for the inevitable winter. Still, it's a bit shocking to look at the Game of Thrones characters then and now and see how far they've come.
Not only has the Stark family been slimmed down by four members (well, six if you include Robb's wife and baby) since the pilot, but its remaining four have been to hell and back (quite literally, in Jon's case). The same could be said of the other remaining characters in Game of Thrones. All men must die, as the Greyjoys are so fond of saying, and plenty of people have done just that. But in the eight years since the HBO series has been on the air, many of the actors have grown up before our eyes (most notably, Bran, Arya, and Sansa).
Plus, plenty of characters have undergone serious evolutions, from Jaime's change of heart (and loss of a limb) to Daenerys' transformation from Khal Drogo's terrified child bride into the Mother of Dragons herself. Here are all of the remaining Game of Thrones characters, with their before and after photos side-by-side, in case the finale season has you feeling a little nostalgic.
HOUSE STARK