Pinkberry Launched An Aquaman Frozen Yogurt & The Flavor Is Fitting For The Hero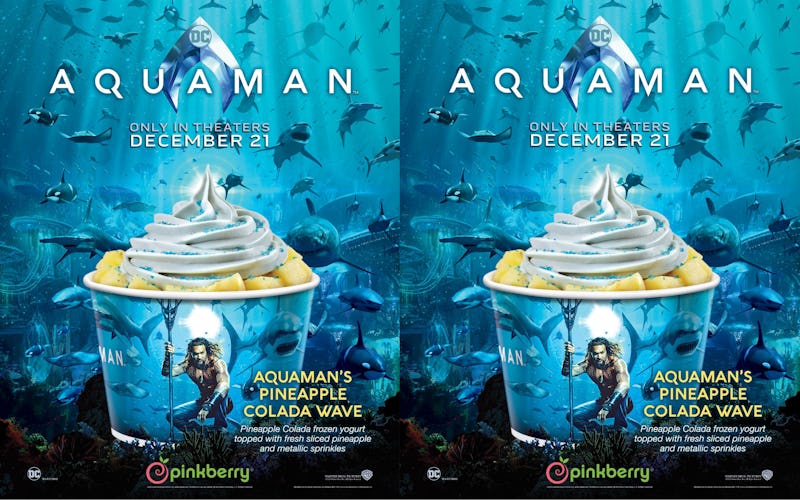 Pinkberry
After what feels like forever, the Aquaman movie is about to be released. And, along with it, Pinkberry is also introducing Aquaman frozen yogurt, as reported by Chew Boom. If this all sounds very summery for something happening during the holiday season, hold on to your trident because it's about to get even summery-er.
The new Pinkberry flavor in honor of the film is called Pineapple Colada. It's pale blue and is one of the chain's tart flavors. Pinkberry is also offering a special sundae (is it a sundae if it's made of pale blue frozen yogurt and fruit?) called Aquaman's Pineapple Colada Wave that combines the new flavor with fresh pineapple pieces and shimmery blue and silver sprinkles. (I guess "Aquaman's Blue Wave" was already taken.) The Pineapple Colada yogurt and the special combo are both available now through January 4 at participating stores, and Aquaman the movie hits theaters on December 21.
It seems Pineapple Colada is replacing tiramisu as Pinkberry's limited edition flavor. In September, the shop started offering tiramisu flavored ice cream as part of their Pinkbee ice cream line. It was removed from the menu on November 15, the day before the Aquaman flavor was released.
While the new addition is blue and superhero-themed, Pinkberry already offers some similar fruity flavors on their regular menu. Piña Colada is already on the list, as are Pineapple and Coconut Milk Coconut. So, even if you don't make it in time for Pineapple Colada or it's not at your Pinkberry location, there are still some related options to choose from.
A pineapple and coconut frozen yogurt paired with a movie about the ocean seems more like something that should be happening in August rather than in November and December, but the movie was supposed to be released a little earlier. Aquaman originally had an October 5 release date, according to Deadline, but it was pushed back. That at least would have been a little less strange feeling than a Christmas weekend release. But, since you can't really pair a movie about an aquatic superhero as seamlessly with, say, an Advent calendar, as you can with frozen yogurt, the Pinkberry collab still adds up. If you live somewhere cold, just make sure you dress warmly when you enjoy your cold dessert and water-themed film.
After a long wait, the trailer for Aquaman was released back in July during San Diego Comic-Con, and shows Jason Momoa's Aquaman and Amber Heard's Mera exploring the underwater kingdom of Atlantis, taking on Aquaman's half-brother Orm (Patrick Wilson), and jumping out of an airplane without parachutes. While this is the first Aquaman feature, it's not the first time Momoa is taking on the role. He also played the character in Batman v Superman: Dawn of Justice and Justice League.
It won't be long now until superhero fans can see how Aquaman fairs out on his own. Until then, enjoy your turkey, stuffing, candy canes, hot tea, and blue frozen yogurt with pineapple chunks and sprinkles.