The 'Aquaman' Trailer Is Finally Here & It Is Seriously GORGEOUS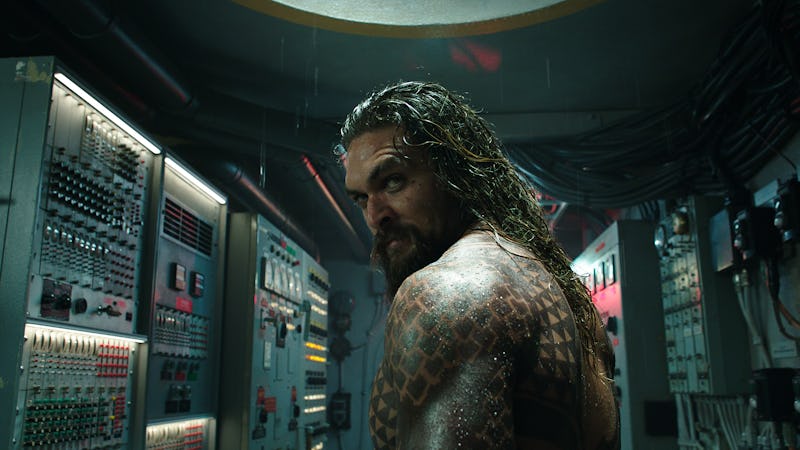 Courtesy of Warner Brothers Pictures & © DC Comics
It took a bit longer than fans would have liked, but thanks to the Warner Bros. panel at San Diego Comic-Con, the new Aquaman trailer is here. Fans knew this was coming of course, because star Jason Momoa literally dove off a cliff while on vacation with his family just days before to promote the fact that the trailer was coming out (as panel host Aisha Tyler pointed out, he was clearly born to be Aquaman). Luckily, the trailer was worth the wait.
Momoa, as one of the best parts of the largely iffy Justice League, is back in all his shirtless, wild-haired glory, along with his partner in crime and love interest, played by Amber Heard. The visuals are incredible, diving into the underwater world where turbo charged turtles are just like, you know, a normal thing, and finally giving us a glance of the one and only Nicole Kidman as the mother of Aquaman. (Flawless sea queen, bring it on.)
The trailer also sets up two distinct villains for Arthur Curry to face. In a Thor-style twist, he appears to be battling his brother, Orm, for control of their underwater world. Patrick Wilson, who plays Orm, is a Loki-type — regal and slight, compared to his hulking, quippy brother. Then there's Black Manta. The character shows up toward the end of the clip, and he's pretty hard to miss since he looks like a bug that can shoot laser beams from his eyes.
Black Manta is played by Yahya Abdul-Mateen II, and according to Variety, he's a mercenary and Aquaman's greatest villain. His strange suit actually serves a particular purpose. The man behind the mask is David Hyde, and he's a human. When he suits up as Black Manta, he not only gains strength, he's also protected from the pressure of the ocean. In the comics, he and his army's primary goal is to take over Atlantis.
With that in mind, it seems the character could act as a possible bonding force between Arthur and his half-brother, Orm. These two very different men have one thing in common: they both want the best for Atlantis, and allowing it to fall into Black Manta's hands would be a terrible idea.
Villains aside, Aquaman looks like a total departure from DC's usual formula. In the past, the studio has relied heavily on desaturated colors and dark themes. By comparison, Aquaman is a wonderland of color as the character zips through the underwater world of Atlantis. In extended footage shown only at Comic-Con, the vibe continues with a badass fight scene featuring Kidman's Atlanna, and an extended version of the rooftop chase featuring Momoa and Heard.
The only part of the trailer that isn't stunning may be whatever is going on with Heard's hair. It's eerily reminiscent of the CGI mane sported by the character of Medusa in Marvel's Inhumans series. But hey, hair aside, Heard appears to be rocking the role of the warrior woman Mera. Anyone who fearlessly jumps out of a plane sans parachute is a character that's destined to be beloved.
In addition to the Aquaman trailer, DC and Warner Brothers also debuted a first look at Wonder Woman: 1984 and the Zachary Levi fronted Shazam. The one thing these three movies all have in common? They look fun. Unlike the dire vibes that the Batman and Superman films have been sporting lately, heroes like Arthur make time to crack jokes and appreciate the cool worlds they inhabit.
Hey, when you can communicate with sharks and hangout in an underwater paradise, how much can you really complain? Aquaman may have the weight of two worlds on his shoulders, but in the first trailer he's taking it all in stride. And yes, his sheer cool factor alone will make you want to see more of this seemingly visually stunning film.
Additional reporting by Senior Entertainment Editor Kelsea Stahler