Pink's 2018 Grammys Performance Featured One Sweet, Inclusive Twist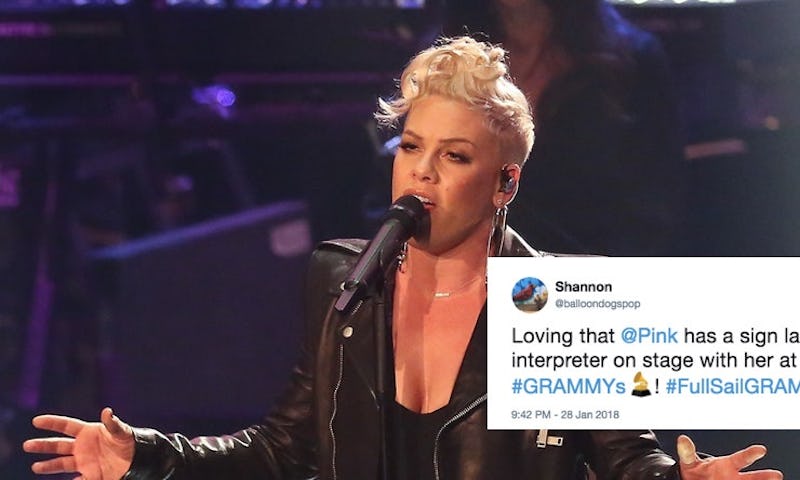 Adam Berry/Getty Images Entertainment/Getty Images; balloondogspop/Twitter
Pink's performance on Sunday night was unexpected in more ways than one. Not only was she singing as she stood still on a stage, and not flying through the air as we've become accustomed to, but Pink's 2018 Grammys performance featured a sign language interpreter, ensuring that even hearing-impaired viewers could receive the message of "Wild Hearts Can't Be Broken." Twitter quickly picked up on the fact that the interpreter was there, and people were so appreciative that the singer seemed to want people from all walks of life to be able to resonate with the message this song puts forward. Pink has spoken before about what the ballad means to her, and if there was ever a song for her to want to share with the masses in this way, this is the one that would likely be it.
Pink said in an Apple Music documentary, according to Billboard, that the song was originally written for the 2015 film Suffragette, though it ultimately didn't end up on the soundtrack. "The movie is about the suffragette movement which is women's right to vote," Pink said in the doc, Billboard reports. "You have to fight for what's rightly yours which is rights and respect and love and kindness and compassion and you have to be willing to die for it. These women were."
It's certainly a timely message amidst the creation and support of the Time's Up movement, and one that all women — regardless of ability — would be able to resonate with, making it that much more awesome that Pink chose to have a sign language interpreter behind her as she performed. The song details a person's will to speak out even when it's hard — something that hits especially hard after recent instances of women speaking out against harassment and mistreatment at the hands of people in power.
"I will have to die for this I fear / There's rage and terror and there's sickness here / I fight because I have to/ I fight for us to know the truth/ There's not enough rope to tie me down/ There's not enough tape to shut this mouth/ The stones you throw can make me bleed/ But I won't stop until we're free."
The accessibility of the performance also went along with Pink's general aesthetic as she belted out the song; she ditched her usual acrobatics, airborne antics and flashy outfits in favor of a pair of jeans and a relaxed white top. She could have been any of us, and that's what made the performance even more fantastic and accessible.
It's certainly not the first time Pink has used music to work through struggle. Her 2006 album, I'm Not Dead, featured the song "Long Way To Happy," which she said was about moving past abuse she'd suffered through earlier in life. "I know a lot of people that have been abused and/or molested and/or f--ked over by someone close to them. And I'm no exception. And that's that song," she told the Independent after that album's release.
The Grammys performance was stirring and meaningful to her fans, which is what, it seems, Pink is really after after all is said and done. She's no stranger to having an open heart, baring her soul for everyone to see. "I started to realize that when I am the most uncomfortable and the most vulnerable and saying the most honest, shameful sh-t, that's what's getting to somebody else," she said in an interview with the Guardian last year. "And I'm basically having therapy and somebody else is getting something from it. That's the only thing that was meaningful to me. I didn't care about winning awards or being on the cover of magazines or people liking me. That was never what moved my needle."
Pink's fans have always looked to her for inspiration to be their most badass selves, and in her Grammys performance, she didn't discriminate on who she would reach with that message.