Pink Addressed Her Fans In A Sweet Way During Her First Concert Back After Illness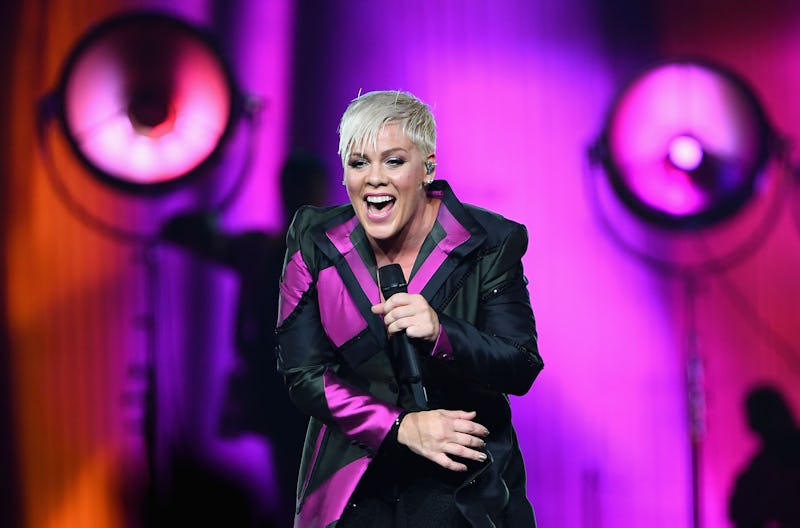 Quinn Rooney/Getty Images Entertainment/Getty Images
Finally, some good news for Pink: She's out of the hospital and back onstage. Pink's first concert after her health scare comes after a rocky week and a half, as the singer was previously rushed to a hospital in Sydney, Australia with what turned out to be a gastric virus.
True to her blunt, lighthearted nature, Pink was back onstage and joking about it all after her recovery. People reports she told fans, "A lot of you know how physical my shows are, and that I don't just stand in front a microphone and sing. I flip, dance, fly, harness, silk, and scream my way through a total sh*t show of awesomeness, no pun intended." (Get it? Because of she had a gastric virus condition?).
She continued: "Therefore, I need to be physically healthy and well in order to perform this show. I think all of you deserve the full show and me at my best."
Throughout the week, Pink addressed her fans directly on Twitter and Instagram — sparing no detail. She explained that "About 20 minutes before I left for soundcheck, I was rushed to the hospital, in excruciating pain. That was the reason for the late cancellation." Doctors at St. Vincent's Hospital in Sydney eventually diagnosed her with the gastric virus, which is likely about as enjoyable as it sounds.
Following a series of unfortunate events that began on Aug. 1, events producer Live Nation confirmed that the singer was ill on Aug. 6 and concerts scheduled for earlier in the week had been cancelled as a result. Their statement was concise, if somewhat concerning:
"Pink was admitted to hospital in Sydney on Sunday night, suffering from dehydration. She was treated and discharged. She was readmitted to hospital today and diagnosed with a gastric virus. Pink will remain in hospital overnight, continuing her treatment and recovery."
As People also pointed out, this is not the first time Pink has fallen ill ahead of a performance — even just in 2018. She came down with the flu prior to performing ahead of the Super Bowl, which the Philadelphia Eagles won. Was it Philadelphia area native Pink's strength and determination that fortified the team to bring home the Lombardi trophy for the first time in franchise history? It's hard to know for sure, but probably, yes.
Again, Pink's blunt description of her hospital stay is on par with her public persona, but it may have also been in response to an unkind article about her published by Australian tabloid The Daily Telegraph. The tabloid snapped photos of the singer recuperating on the beach with her children, suggesting that the performer was not as ill as she'd let on. Pink wrote the following in response:
"I don't need to clear this up, but out of respect for my fans I will attempt it. I scheduled this tour meticulously, trying to do what was best for my children, while also putting on the best and most physically demanding and beautiful show of my life."
She continued, "This break in Byron has been scheduled since 2017, as a way to get outside the hotel and the winter and have some time with my children."
As of Aug. 11, it seems that Pink is not just on the mend, but fully healed from the gastric virus. She's putting on the concerts she wants to and sassing every source that might say otherwise, and that's what matters the most.