Revisiting The Groundbreaking 'Pleasantville' Bathtub Scene, 20 Years Later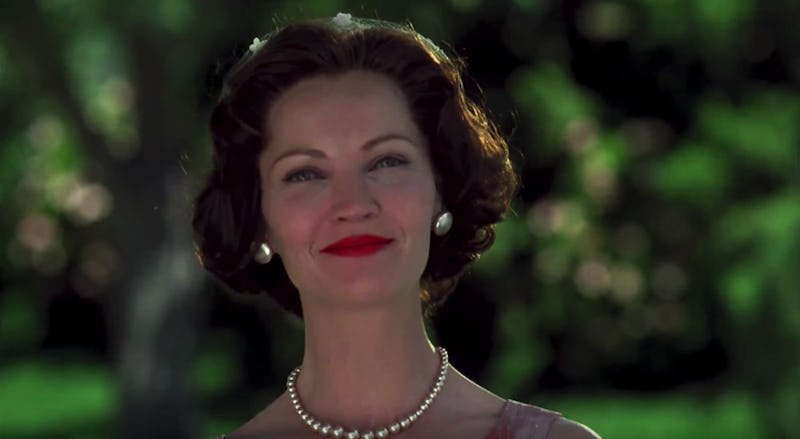 New Line Cinema
The 1998 movie Pleasantville, in which twin siblings in modern day America are somehow absorbed into a 1950s television show to live out as black and white characters, likely isn't the first thing that comes to mind when you think of female sexuality on-screen. But looking back on the film 20 years after its release, what stands out most is its take on female sexuality, specifically through the character of Betty, as played by Joan Allen.
In the movie, Betty begins as a character in a black and white 1950s family sitcom, also called Pleasantville. After twin siblings Jennifer (Reese Witherspoon) and David (Tobey Maguire) are magically transported from the real world of 1998 into the television show to become Betty and her husband's children, things start to change. As Jennifer introduces new subjects to Pleasantville, she also brings color to the black and white world, and soon Betty is asking questions — "What's sex?" she asks her daughter over a sink of dirty dishes. It is then that Betty truly begins her sexual awakening, embarking on a journey of self discovery that, as described by Allen over the phone when we speak in October, "takes her by surprise as much as anything."
Pleasantville doesn't just explore female sexuality — it emphasizes it. After learning about sex from Jennifer, Betty decides to take her pleasure in her own hands, literally, while taking an evening bath. The scene culminates in Betty's first orgasm, shown on the screen by aspects of the bathroom bursting with color — the wallpaper, once various shades of grey, become bright with color, as does the bird outside the window and the bottles on the counter. Her orgasm is so intense, it sparks a fire in the tree outside — the first fire Pleasantville has ever witnessed.
Looking back on the movie now, Allen, who is currently gearing up to star in The Waverly Gallery on Broadway, says that shooting that scene was anything but sexy. "What I remember mostly was how I was doing it in a scuba suit that was flesh-colored," the actor recounts, laughing. "And I remember thinking, 'You just gotta go for it.'" It might have been uncomfortable, but, as Allen says, "It just had to be part of the story."
To the actor, Betty's sexual awakening felt like just one of the ways the film explored how important it is to allow humans to be their full selves, and not just a role set out by society or gender. "I think that the point of the film is that people are reaching for their multi-dimensional aspects of themselves," she says. "And Betty, my character, was so repressed in that regard, she didn't understand her sexuality or what it even was."
By the end of the movie, though, Betty emerges fully formed as a woman who has embraced her sexuality, but also embraced herself. Her orgasm doesn't just bring color to her bathroom and fire to Pleasantville, it also brings color to her own face. And though her first instinct is to cover it up with grey makeup, she eventually embraces her technicolor self, just as she also embraces potentially having romantic relationships with two men.
"Ultimately, she can't stay covered up anymore. She's just not going to, she can't survive and stay covered up," Allen says of the film's colorful ending. "And so that's just part of her journey, and her path, and really being traumatized by it, and then going, 'I have to ultimately embrace this part of myself.'"
Pleasantville's unabashed celebration of female sexuality was, for better or for worse, ahead of its time. Upon the film's release, critics didn't know what to make of Betty's fire-causing orgasm. A review from Empire noted the scene as a "comic highlight" in the film, describing it as "Allen's pyrotechnic sexual awakening." Variety also noted the scene's comedic undertones, calling it "hilarious." All of this is not to say that critics were adverse to the scene at the time, simply that it was, perhaps, not taken as seriously as it deserved.
As things and people begin to present in color in Pleasantville, the town's fear of the other and biases come out, and while some of the film's positions on issues like racism, ignorance, sexual repression, and sexism have become dated (a movie about racism without any real non-white characters might have been OK in the '90s, but it's far from acceptable in 2018), its take on female sexuality has not. As Allen says, "In general, it [female sexuality] often isn't fully explored in films," making what Pleasantville did all the more special. It's clear that even after 20 years, the movie's bathtub scene and the message it relays remain just as relevant and important as ever.