Meet The 'Family' Of ABC's Newest Drama Series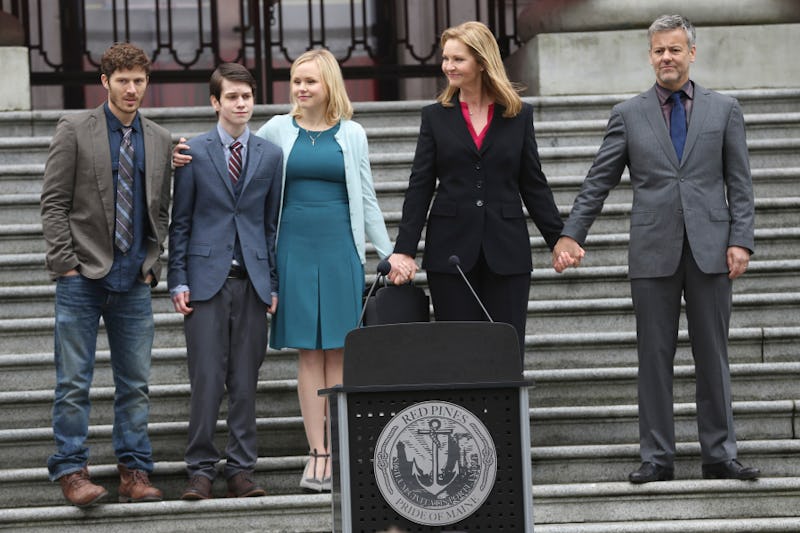 Leo Tolstoy once wrote that while "all happy families are alike, each unhappy family is unhappy in its own way." Well, the titular clan of ABC's new drama The Family is as unhappy as they come… and it's probably pretty safe to say that no one else is unhappy in quite the same way they are. Just as mom Claire is gearing up for a gubernatorial run, the Warrens learn that her youngest son, Adam, has been found after having been abducted and presumably murdered a decade ago. This discovery, along with the question of what happened to Adam in the meantime — as well as the question of whether this strange young man really is Adam — throws the Warrens into unhappy chaos.
That's probably a scenario not many people have to deal with (other than the subjects of the chilling 2012 documentary The Imposter , which bears an eerie similarity to the plot of this series). Thank goodness, then, that creator Jenna Bans — who cut her teeth working on Shonda Rhimes shows like Grey's Anatomy and Scandal — has stuffed her cast list with impeccable talent from the top down. Among the eight series regulars of The Family's inaugural season, you'll find Oscar nominees, alums from your favorite shows, and even a former '80s heartthrob.
Before you tune in to the premiere this Thursday night, meet all the members of The Family right here:
1. Joan Allen as Claire Warren
What better way to make viewers eager to watch your show in this day and age of too-many-options than by casting a three-time Oscar nominee as your star? Allen — who's also a Tony-winning stage actress — has earned three nods from the Academy for her roles in Nixon, The Crucible, and The Contender. But apart from those acclaimed dramas, she has also appeared in a variety of popular films, including Face/Off, Pleasantville, The Notebook, and all four Bourne movies so far. You may have most recently seen her as the mother of Brie Larson's character in the Oscar-winning Room .
On The Family, Allen plays icy matriarch and gubernatorial candidate Claire Warren. Although she has appeared in guest spots or TV movies sporadically throughout the years, this is only her third regular or recurring role on the small screen, following an arc on HBO's one-season wonder Luck and a leading role in the fourth and final season of crime drama The Killing on Netflix.
2. Liam James as Adam Warren
At a mere 19 years of age, James already has an impressive resumé stretching back 10 years, to his first role as the younger version of lead character Shawn Spencer on USA's Psych. Since then, his other TV roles have included guest spots on NBC's horror anthology Fear Itself and FOX's sci-fi series Fringe. In a strange connection with his future co-star, James' most recent television gig was as the son of Mireille Enos' detective in all four seasons of AMC's (and then Netflix's) The Killing. Prior to his role as Claire's abducted son, you may have caught James on the big screen in the monster movie mash-up Alien Vs. Predator: Requiem, the apocalyptic actioner 2012, or the indie dramedy The Way, Way Back.
3. Alison Pill as Willa Warren
As the unfortunately-named and devoutly religious daughter of the Warren clan, Pill comes to The Family straight from a role on Aaron Sorkin's HBO drama The Newsroom , on which she starred for three seasons as the hapless Maggie Jordan. Her other recent starring roles on the small screen include the HBO drama In Treatment and the Starz miniseries The Pillars Of The Earth. Her varied films roles include a lesbian activist in the Oscar-nominated Milk, an angry drummer in Scott Pilgrim Vs. The World, Zelda Fitzgerald in Midnight In Paris, a truly terrifying teacher in Snowpiercer, and, most recently, Josh Brolin's wife in the Coen Brothers' comedy Hail, Caesar!
4. Zach Gilford as Danny Warren
Gilford, who plays the Warrens' elder (and alcoholic) son Danny, is undoubtedly most famous for his role as beloved football player Matt Saracen on NBC's dearly departed Friday Night Lights . Since that show ended its run in 2011, Gilford has tried to find a new home on television with somewhat less success. First, he landed a starring role on medical procedural Off The Map, a rare failure for über-producer Shonda Rhimes, as it was cancelled after one season. Then he was cast on the FOX crime drama The Mob Doctor, which was similarly axed after only 13 episodes. Will The Family be the first project that sticks for Gilford since he left Dillon, Texas?
5. Rupert Graves as John Warren
Although the English actor who plays Claire's husband has appeared in a number of Oscar-nominated films — including A Room With A View, Damage, and The Madness Of King George — he will undoubtedly be most recognizable to American audiences for his role as Inspector Lestrade on the BBC's popular series Sherlock . In fact, his TV credits across the pond are quite extensive, including guest roles on the likes of Doctor Who, Emmy-nominated miniseries The White Queen, and even Law & Order: UK. (Yes, that exists.)
6. Andrew McCarthy as Hank
Given that he was most famous when he was a twentysomething in the '80s, you may not immediately recognize the actor who plays Hank, the man who is released after being convicted of murdering Adam Warren a decade earlier. McCarthy's breakout film role came in the 1985 coming-of-age movie St. Elmo's Fire; but his most iconic role came a year later as heartthrob Blane opposite Molly Ringwald's Andie in the John Hughes classic Pretty In Pink . Although he had a large number of small roles on both the big and small screen throughout the '90s and '00s, McCarthy has more recently turned to a new career: directing. Over the past eight years, he has helmed episodes for the likes of White Collar, Gossip Girl, Grace And Frankie, The Blacklist, and Orange Is The New Black.
7. Margot Bingham as Nina Meyer
On The Family, Bingham plays the police officer who built her career on her reputation as the woman who collared Adam Warren's killer. In real life, Bingham got her start on the Broadway stage in the 2011 revival of Rent before transitioning her musical chops to the screen as jazz singer Daughter Maitland on HBO's Boardwalk Empire. She also had a recurring part on the Spanish-language network El Rey's Matador; ABC's The Family will be her first series regular role.
8. Floriana Lima as Bridey Howard
Another strange connection between The Family cast members: Lima's most notable credit to date was as a series regular on The Mob Doctor, the same show Gilford starred on four years ago. They'll get to interact a lot on this show, too, as Lima is playing an ambitious local reporter getting close to Danny for the scoop on his brother's traumatic story. Lima's resumé features a plethora of guest starring roles on the likes of How I Met Your Mother, House, and Hawaii Five-0; her most recent credit is a recurring part on NBC's cancelled midseason drama from last year, Allegiance . Hopefully Lima's newest endeavor will stick around longer than that spy thriller.
The Family will air its pilot episode this Thursday at 9 p.m. ET before settling into its regular Sunday night time slot.
Images: Jack Rowand (7), KC Bailey, Giovanni Rufino/ABC