Polaroid Just Brought Back This Iconic Camera From 1996 — But For A SUPER Limited Time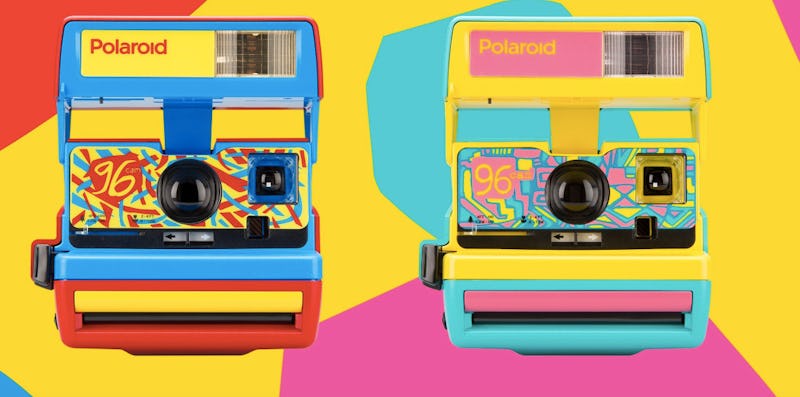 Polaroid
Chances are you've seen a few photos on Instagram that look like they belong in your parents' old vacation albums. You can thank the Huji Cam in the app store for this. The newest "big thing" in photography apps promises your snaps will "look just like the year 1998," by making all your selfies look like they were taken with a disposable camera. But Huji is merely one example of how companies are getting in on how captivated today's adults are with the era that preceded smart phones and Instagram. Apps like Huji are convenient, but let's say you want to go FULL '90s with your selfies. Enter: Polaroid Originals' 96 cam.
The 96 Cam is a special limited edition re-release of the traditional 600 Polaroid camera. You know, the one your parents relied on for years to document everything from babyhood to birthday parties, and beyond. But these vintage 600 format cameras have been refurbished, and dressed in brand new colorful shells reminiscent of the bold pattern and color schemes characteristic of '90s fashion. One's pink, yellow, and aqua palette calls to mind images of an neon aerobic garb. The other's more typical primary-colored outfit will bring you right back to your elementary school classroom. If you attention is piqued, be sure to act fast. These cameras are only available for a short period of time.
Polaroid Originals 96 Cam, $189.99, Polaroid
Millennials' enchantment with everything '90s has brought originally under appreciated aspects of the era back into the mainstream. Today's young adults — many of whom have limited (if any) memories of a time before Y2K — can often be found watching popular television from the time and listening to music that topped nineties Billboard charts. Type in the phrase "'90s kids" on Google and you will be met with three quarts of a million results. Lusting after the '90s isn't a hobby — it's a lifestyle.
But, don't think a millennial's love of the '90s is limited to entertainment. In the ever-expanding market for '90s-themed products, there's room for everything. Just recently Walmart dropped an adult version of everyone's favorite '90s DIY lunchbox dessert, Dunkaroos. Rihanna's newest addition to her popular Fenty Beauty line is revitalizing body glitter, a staple in the makeup bag of every '90s cool girl. Even the quintessential '90s organizer, the Caboodle, has found a new life in 2018. The '90s may be long over (almost two decades have passed if you can believe it), but evidence of their cultural impact isn't going anywhere.
In a press release, Polaroid explains the idea to release the camera comes from the desire to remind people of the magic of photography: "In today's fast-paced, digital world a tangible object outside of a smartphone or computer screen is a valued artifact. An analog instant camera can't connect to the internet or post to social media. But the 5,000 chemical reactions that take place every time the shutter clicks, create an original photo that is impossible to reproduce. It's an object you can hold in your hand, put on your fridge or share with a friend."
Recent advances in technology are inarguably vital. But, sometimes it's nice to remember a time when a smart phone wasn't a required to have a good time. Polaroid is on to something when they speak of the novelty of a physical photograph. It feels more permanent.
Who knows what will become of our Instagram accounts 50 years in the future, but I can definitely see showing my grandkids a polaroid I took in my twenties.
The 96 Cam is available now at polaroidoriginals.com and select other retailers (including Urban Outfitters.) The edition is limited to two thousand items worldwide, so you'd better move fast!