Polaroid Is Launching Pastel Filters To Give Your Summer The Dreamiest '90s Vibe Ever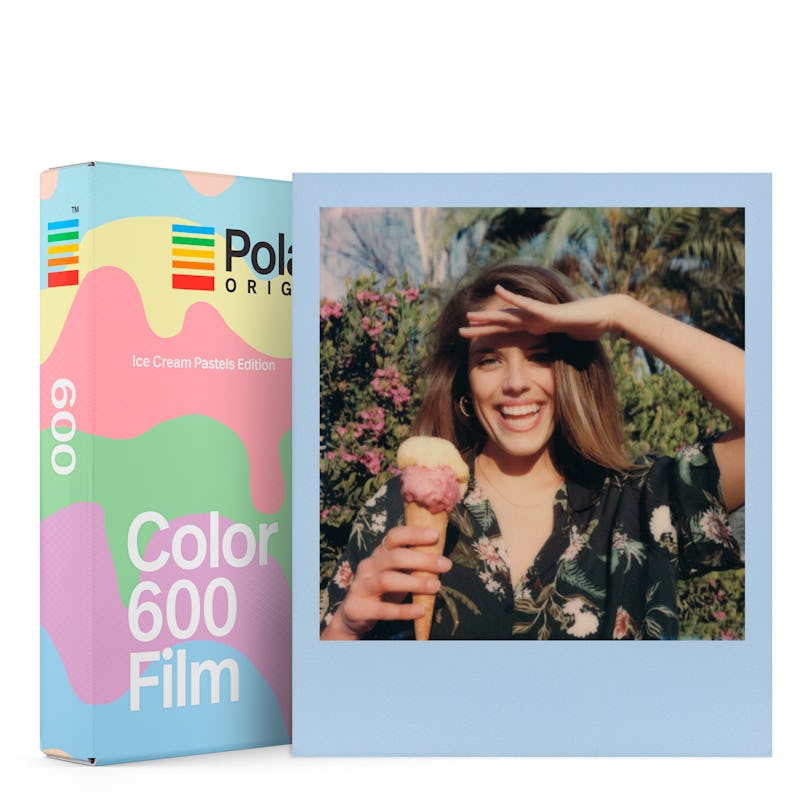 Courtesy of Polaroid
Before Instagram and Snapchat, before Facebook, people took pictures with cameras and then had them developed. If you're still rocking it old school with your instant, self-developing Polaroid, you're going to love the new Polaroid Originals limited edition summer frames. They come in three patterns: tropical, deep sea, and — brace yourselves — ice cream. The ice cream frames are #todiefor and come in a variety of solid pastel colors perfect for the summer season. Whether you're taking a road trip with your besties, planning a getaway with your lover, or exploring the globe solo, the Polaroid summer frames will beautifully capture every special moment — of course showing off that iconic, dreamy filter Polaroid is known for. I can almost hear the ice cream man coming down the street.
Now, for the logistics. The frames are available until August, and you can buy them for $19.99 a pack on the Polaroid Originals website. According to the site, each ice cream pack offers eight different ice cream-inspired frame colors, out of a possible 12, meaning you never know what flavor you're going to get. The summer-inspired frames are compatible with the new One Step 2 camera, in addition to vintage and refurbished 600 cameras.
It's going to be a tasty summer indeed. Check out these hues!
This isn't the first time Polaroid has released special frames that put a pretty twist on the classic white. Not all that long ago, we were blessed with a shiny, shimmery, gold frame which was like unicorns, magic, and Beyonce combined.
They also previously had a different set of colored frames, as reported by Design Milk, that were more vibrant and rainbow-esque, really making your Polaroids pop. There was yet another rainbow set that was metallic this time. Plus, Polaroid is always selling colored frames and cool filters on their site.
While Polaroid cameras have been around since the mid 1950s, according to their site, and the idea was actually conceived even earlier, to this day, it remains a familiar brand many of us use. In fact, they experienced a bit of a renaissance in recent years, becoming part of the "old things that became cool again" products, sort of like flip phones. (I'm looking at you, RAZR.) The technology has even received some sweet upgrades. Case in point: the Polaroid snap camera that prints without ink.
And I'd be foolish if I didn't mention how Polaroid brought back the 96 Cam — but before you race to buy it, they only had 2,000 to sell worldwide, and intuition tells me they flew off the shelves in the blink of an eye.
Polaroid is doing what all of social media is doing to stay relevant: giving people something that's not only functional but pleasing to the eye.
It's offering a more personalized, unique experience to anyone looking for a special way to record their favorite memories. Is it all that different from Instagram and Snapchat filters that let us look like bunnies and puke rainbows? How about the stickers and emojis and GIFs you can now customize your social media posts with? Facebook profile picture frames allow you to celebrate or acknowledge certain events, and live streaming — once a specialty of more niche websites — is now commonplace on most social media platforms.
While social media and technology move at the speed of light, though, nothing quite compares to your retro Polaroid. It was there for you before anything else was. Polaroid, you're the real MVP.
And the summertime ice cream frames are just the cherry on top. (Bah! Ice cream jokes!) Grab them before they're gone, because come August, these pastel dreams will make their exit.