Why Porsha & Dennis From 'RHOA' Aren't Going To Let Rumors Bust Up Their Relationship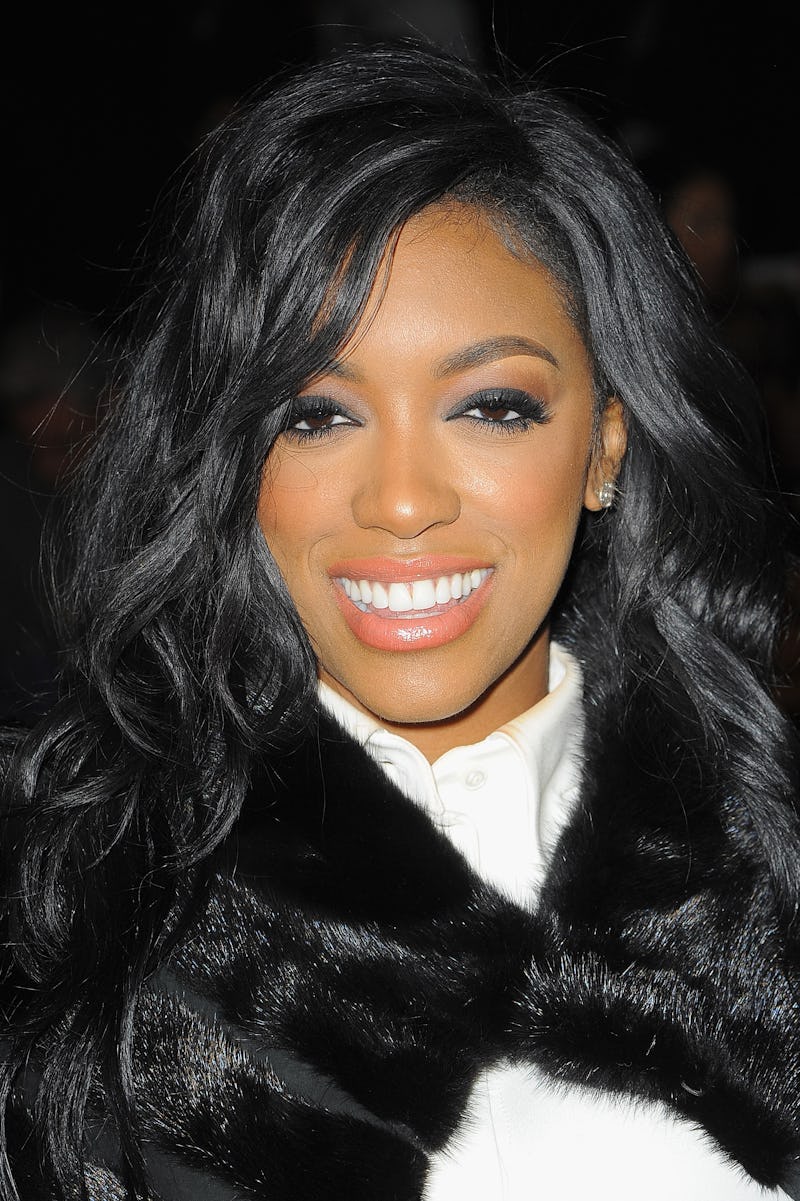 Chance Yeh/Getty Images Entertainment/Getty Images
Porsha Williams' love life has been explored on the Real Housewives of Atlanta for the past few seasons, including her very dramatic divorce from ex-husband Kordell Stewart in 2013. Now, she's realizing her dreams of falling in love and becoming a mother with her recent engagement in October and the upcoming birth of her first child – a girl – sometime in 2019. And, recent Porsha Williams and Dennis McKinley relationship updates show that the couple is still crazy in love despite swirling rumors about his past relationships.
The pair faced some recent scrutiny when fellow Housewife Kandi Burruss suggested that Porsha's fiancé might be a player who runs a very specific game on women. Burruss and her friends said McKinley has several tattoos of previous girlfriend's names (and even one face) on his body after falling in love quickly and heavily implied that he dates multiple women at one time.
Meanwhile, Porsha was gushing to her mom about Dennis tattooing her name, saying he truly loved her and was the one. It's no secret that Porsha and Kandi have had their share of issues, but Porsha thought their relationship was in a better place so she was disappointed to hear about the rumors.
So, she wasted no time coming to her man's defense by affirming to People that she hasn't seen anything to suggest that these rumors are true. She said her fiancé has a lot of tattoos but she hasn't seen any names nor faces on his body besides his grandma and mom. This kind of makes sense because she has obviously seen his body before considering she is pregnant after all but who knows what's really happening with reality stars.
And, she believes that even if he did have a tattoo in the past, it's not a problem because she's the special lady in his life right now. "Everybody has a past," said Williams. "I'm 37 years old. Are you kidding? Who hasn't dated other people before? Of course, he's going to have exes. But that's just who they are, exes! It's the past. Whatever happened before Porsha doesn't matter to me at all."
She also told People in the same interview that she feels secure, happy, and like the best version of herself with McKinley. The pair got matching tattoos of a heart, cross, and a dollar sign, which she said means spirituality, family, and prosperity, so they are definitely planning on being together for the long run.
Right now, there's no word on when the couple will actually tie the knot, but Porsha recently reaffirmed their love on Instagram with a sweet yet simple post. The couple was all smiles as they posed by a Christmas tree with Dennis cradling Porsha's growing belly as she rocked a gray sweater dress and long red locks. She posted a simple caption about them being in love with hashtags like #MeetTheMcKinleys so it looks like that wedding date may come soon after (or even before) she gives birth next year.
It looks like Porsha and Dennis aren't going to let anything stand in the way of their happiness together. It remains to be seen if any other skeletons or rumors will surface about the couple, but Porsha is determined to look to the future and live a life with a little less drama.