Porsha's Pregnancy Is Sparking So Much Support From Fellow 'Real Housewives' Stars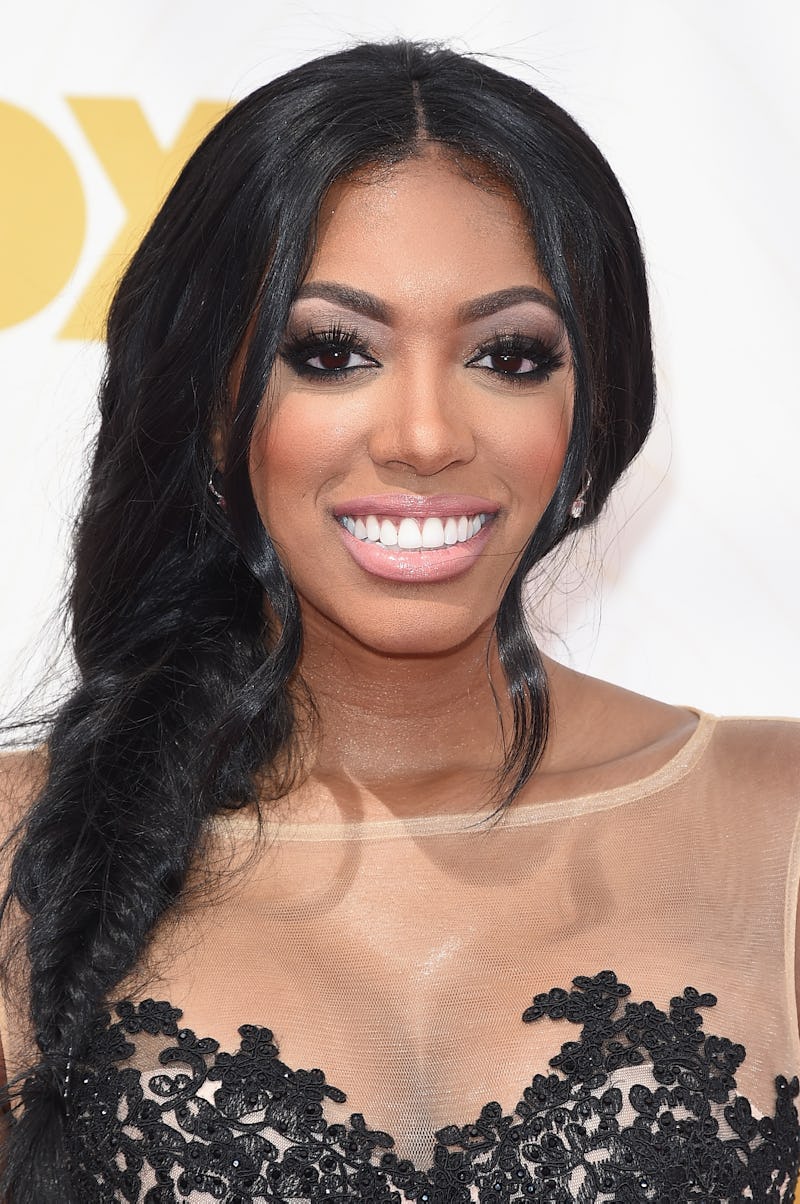 Jason Merritt/Getty Images Entertainment/Getty Images
Real Housewives of Atlanta viewers have heard about Porsha Williams' desire to be a mother for years. In one episode, she showed off a room in her house for the future twin babies she hoped to have and a playground in her backyard. Now it's all happening, Porsha Williams is pregnant with her first child with boyfriend Dennis McKinley, which she announced in an interview with People, and she could not be more excited.
At this moment, there's no word on whether she's pregnant with the twins that she dreamed about on the show, but you never know. Nevertheless, this pregnancy is extra special for the RHOA star, since she went through a miscarriage six years ago, which she discussed in the People interview.
Because of her previous miscarriage, Porsha admitted, "When I found out I was pregnant, I was excited [but] I had mixed feelings. The other feeling that I had beside excitement was fear." That makes a lot of sense and there are probably a lot of women who relate to that mix of reactions.
In that same interview, Porsha confessed,
"So just the fear of, 'Is the baby going to be okay? Will I make it full term?' All those questions that you ask if you've had a miscarriage before."
Real Housewives viewers haven't "met" Porsha's boyfriend Dennis on the show yet, but Instagram users have seen the posts of the two together. They've known each other for years, but they became a couple this past year. Porsha shared, "I believe he's probably shed more tears during the process than me."
As of this moment, Dennis has not spoken out about the pregnancy, but he did post a throwback photo of Porsha as a baby with the caption, "My favorite little girl" on Sept. 16. How sweet is that?
Meanwhile, Porsha posted about the pregnancy and the People article on Instagram, writing, "I am happy, healthy.... and pregnant! #BabyMckinley #DM #Blessed." The Dish Nation host's big announcement received a lot of support from her fellow Bravolebrities.
Real Housewives of Atlanta OG NeNe Leakes joked, "Bout time you said something! So tired of keeping a secret." She also commented, "We are so excited for our baby. Auntee can't wait to hold you." NeNe and Porsha have always talked about having a big sister/little sister relationship on the show, so it's sweet to see that NeNe views herself as an aunt to the baby.
Atlanta Housewife Cynthia Bailey wrote, "Congratulations to you & Dennis! Welcome to the mommy club. Can't wait to meet PJ." Does that mean that the baby's name/nickname will be PJ? Please explain, Cynthia.
Porsha's former sparring partner, and fellow expectant mother, Kenya Moore commented, "Congrats!" Sure, that's a rather brief comment, but these two have really come a long way since their days of constant shade throwing. Maybe Kenya and Porsha's kids will end up having playdates together. That seems farfetched, but you never know. Stranger things have happened.
Porsha's former RHOA costar Kim Zolciak also commented, "CONGRATS!!!!!!!!" with some heart eyes emojis.
Real Housewives of Beverly Hills star Kyle Richards wrote, "Congratulations !!!!" along with some celebratory emojis. Kyle has a daughter named Portia (with a different spelling), so it would make sense for her to have a soft spot for the Atlanta Housewife becoming a mother.
Married to Medicine's Toya Bush Harris told Porsha, "Congratulations!!! Motherhood is the Absolute Best!"
Shahs of Sunset star Golnesa "GG" Gharachedaghi posted, "Congratulations baby girl! Soooooo happy for you!!!"
Tiny Harris told Porsha, "Girl that is great news! Congratulations on beautiful Blessing."
Southern Charm New Orleans cast member Tamica Lee wrote, "Ahhhhhhhh. So happy for you!!!"
Shahs of Sunset alum, and another mommy-to-be Lilly Ghalichi commented, "Congrats!!"
Now that Porsha has shared her pregnancy news with the world, there's one big question: Will this journey be featured on Real Housewives of Atlanta next season? Well, that and whether or not Porsha ends up having those twin babies that she's mentioned on the show plenty of times.