You Can Finally Buy This Harry Potter Art To Transform Your Home Into Hogwarts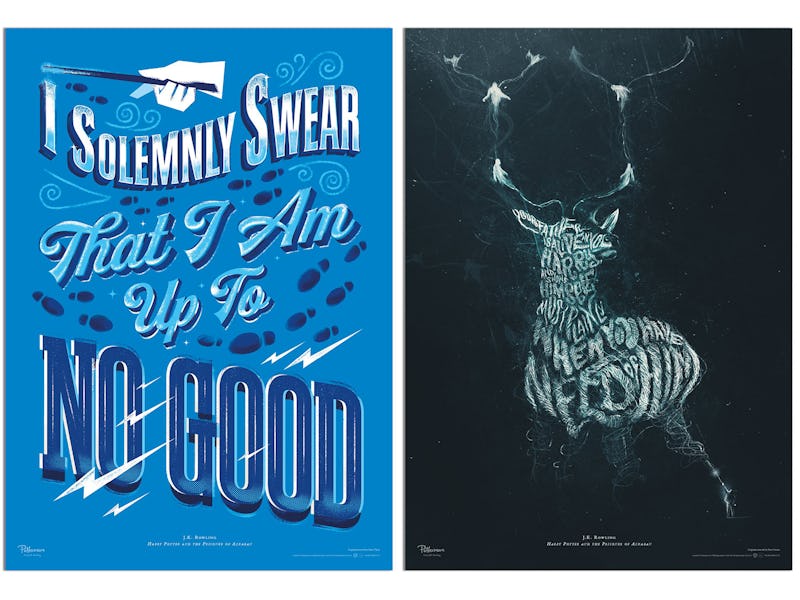 Pottermore
Rejoice, Potterheads! Just in time for the holidays, Pottermore's Harry Potter art collection is now available in the U.S. via the Pottermore Shop, and its offerings are just what you need to round out your home decor. Choose from more than three dozen posters and mounted prints, which draw from the series' most iconic moments and characters, and spread the magic around by picking up something for your favorite Potterhead. No one has to know you're shopping for yourself, I promise.
Pottermore's Harry Potter art collection features prints from artists Ahoy There, Atomhawk, Montse Bernal, Lesley Buckingham, Olly Moss, Wanissa Somsuphangsri, and Peter Strain. Fans will recognize Bernal as the artist behind the Young Marauders portraits that debuted on Pottermore earlier this year, and Moss as the illustrator responsible for producing those gorgeous Harry Potter e-book covers we have come to know and love.
The prints now available in the Pottermore Shop run the gamut from cool typography and beautiful watercolors to luxe landscapes and fully detailed versions of Moss' e-book covers. If you're all tapped out on merchandise for Harry Potter proper, but want to add more from Fantastic Beasts to your collection, Pottermore's Harry Potter art collection has you covered with a quirky Niffler print you're sure to love.
There are 32 unique designs in Pottermore's Harry Potter art collection, many of which are available as both posters and mounted prints. Each of the new posters will set you back $24.95, while mounted prints are available for $44.95. If you fall in love with one of Buckingham's fabulous watercolors, you'll have to pony up for the print. Young Marauders fans may be disappointed to learn that Bernal's quadruple portrait is only available as a poster, however.
Each poster and print "will be delivered safely in specially designed Pottermore packaging and wrapped in owl-printed tissue paper," according to the item descriptions. Tracking is available for all orders, so you won't have to worry about your Harry Potter artworks being mysteriously "lost" in the mail. Poster fans should note that, although the Pottermore Shop depicts those designs as framed, a frame is not included or available.
If you aren't a Potterhead yourself, but have a rabid Harry Potter fan on your holiday gift list, you should know that any of the prints in the Pottermore Shop would make an excellent present for the witches and wizards — and even some of the Muggles — in your life. Check out the five designs I've elected to highlight below, and take a peek at the full Harry Potter art collection over in the Pottermore Shop.