Powerful "Pray For Manchester" Memes To Share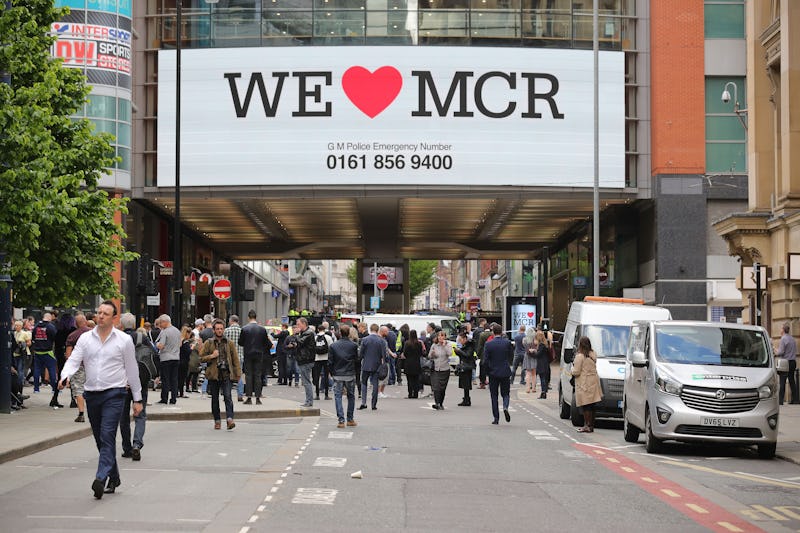 Christopher Furlong/Getty Images News/Getty Images
A deadly bombing at an Ariana Grande concert on Monday evening shook Manchester, England. Minutes after the performance ended, a bomb went off outside as concertgoers exited the 21,000-capacity arena. It killed at least 22 people and injured 59 more. As an outpouring of grief sweeps the United Kingdom, many people there and abroad have shared these powerful "pray for Manchester" memes to show support to the victims, their families, and the city at large.
Taken in the context of Grande's concert, the bombing seemed especially heinous — by targeting her fans, a large portion of whom are young teenagers. In fact, the first victim publicly identified in the attack, Georgina Callander, was a teenage girl who had eagerly tweeted to Grande a day before the concert, "So excited to see u tomorrow" in all caps. In the wake of the attack, parents whose children attended the concert have been scrambling to locate them; one local Manchester resident reportedly escorted 50 teenagers to safety at a nearby hotel, later sharing her phone number on social media for concerned parents to reach out.
Manchester police are currently investigating the incident as a terrorist attack. Early on Tuesday morning, President Trump responded to the bombing by calling the attacker an "evil loser." But there are more compelling ways to show support for the victims, including sharing these memes to show Manchester that you stand with them.
Please keep safe
Rest easy, rest well, rest in peace
Spread love
Deeply saddened by the tragedy
#Manchester
Sending healing thoughts and peace
Fear will lose
Hope is stronger than fear
It's time to stand together
Thinking of the victims, families and friends
Tragically sad attack
Just pray
Support to the victims' family members
While there are other concrete ways to help the victims and their families, an overwhelming show of emotional support, even through social media, could perhaps do its part to tamper the shock and grief the city is facing now.
Here are more ways you can help.