Here's When 'Keeping Up With The Kardashians' Will Show Kylie Jenner Pregnant — Finally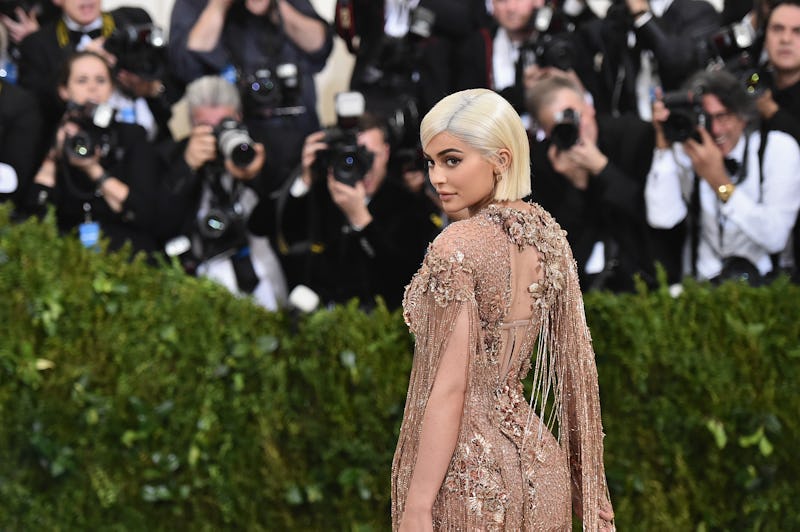 Mike Coppola/Getty Images Entertainment/Getty Images
Back when her pregnancy was still just a rumor, it was unknown youngest Kardashian-Jenner sibling's big news might be revealed. Well, finally, after a long wait, Kylie Jenner, pregnant, will be on the Keeping Up With The Kardashians finale. Sure, the 20-year-old gave birth to Stormi Webster, her daughter with rapper Travis Scott, a full month ago, but better late than never, right?
In a preview clip posted to E!'s Facebook in advance of the Mar. 4 finale, Jenner and Khloé Kardashian compare baby bumps. Jenner's is larger, of course, because she's about three months ahead of her half-sister, as they state in the video. (Kardashian announced recently that she's eight months pregnant — meaning she's due in the next few weeks — so that math checks out.) Both sisters talk about how excited they are to go through the process together, both for the first time, and Jenner in particular is glowing, even dressed down in a simple black-and-white hoodie.
The reality star is simply radiating happiness, which is wonderful to see, especially after her months-long TV hiatus. Her appearance on Sunday night's finale signals that Jenner is ready to allow the world back into her life now that Stormi is here. And not a moment too soon.
First, she took some baby steps (pun intended) on her social media, and now she's jumping straight back into KUWTK alongside the more public pregnancy of her sister Khloé. The elder sister had kept her growing family a secret too, at first. But when speculation became too heated, the workout enthusiast spilled the beans on Instagram — that she was expecting her first child with Tristan Thompson of the NBA.
That was all the way back in December, and Kardashian has posted many images since. But Jenner went about things in a very different way, which is why her reappearance in the finale is so exciting. After she gave birth, the makeup maven explained that she felt it was important to her to go through this stage of her life in private. She explained her reasoning to her followers in an Instagram post on Feb. 4, shortly after Stormi's birth, which read, in part:
"I'm sorry for keeping you in the dark through all the assumptions. I understand you're used to me bringing you along on all my journeys. My pregnancy was one I chose not to do in front of the world. I knew for myself I needed to prepare for this role of a lifetime in the most positive, stress-free and healthy way I knew how."
And, indeed, Jenner and her closest friends and family did an incredible job of keeping their lips zipped for nine long months. It was a move that many assumed was building up to a big reveal; perhaps on KUWTK, perhaps in the family's annual Christmas card. But the reveal never came. In Jenner's own words from that same Instagram post, "There was no gotcha moment, no big paid reveal I had planned. I knew my baby would feel every stress and every emotion so I chose to do it this way for my little life and our happiness."
Jenner embraced a quiet pregnancy behind closed doors and didn't return to public life until after Stormi's birth. Since then, of course, she's posted a few images of herself and the 1-month-old. But, by this point, fans are desperate for any glimpse into the pregnancy process, and that's what could make the Season 14 finale so special: that it gives outsiders the chance to share in the family's (literally) expanding joy.
It will also give you a chance to marvel at the fact that so many people kept their mouths shut during Jenner's pregnancy. An entire crew's worth of people knew that the young reality star was expecting, and they still let her do the reveal on her own terms. It's worth tuning in to the finale just to applaud that.