'PLL' Fans Will Absolutely Love 'Clara'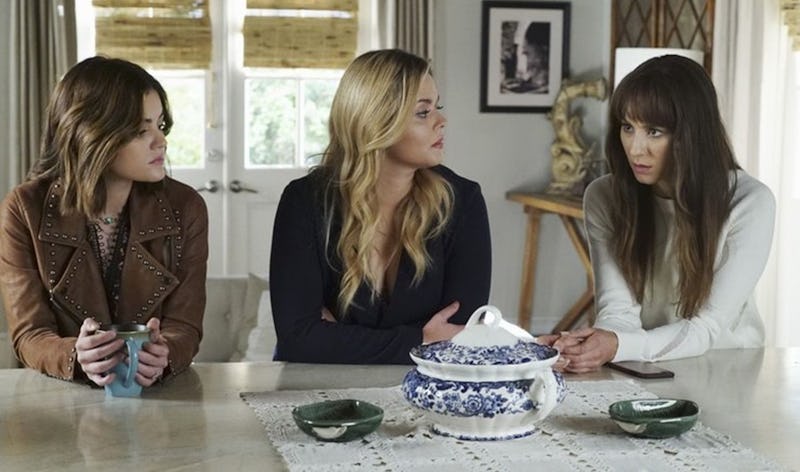 Ron Tom/Freeform
This year, that one show that glues your eyeballs to your laptop screens for a few months is back. But it's also the final installment of the final season. But if you're blue about losing the prettiest, falsest ladies of TV, don't despair. Because Spencer, aka Troian Bellisario's new movie Clara will be just like Pretty Little Liars in one key way. On the surface, this makes no sense whatsoever. Clara tells the story of Issac Bruno (played by Bellisario's real-life husband, Suits' Patrick J. Adams), an astronomer who refuses to give up on extra terrestrial life existing and who scours the galaxy for signs of aliens at the expense of his personal life. But then enter Bellisario stage right.
She plays an unqualified research assistant, Clara, who makes up for her lack of experience with ample quantities of moxie. The pair end up working as a team and, thanks to Clara, make a shocking scientific finding. Yes, OK. The science stuff and the aliens and looking outwards into the skies as opposed to inwards into the seriously unnatural stuff happening in suburban societies across America is not all that Pretty Little Liars. But something about Clara herself as a character sounds, well... awfully lot like a certain Spencer Hastings.
If you need a refresher course on the considerable quipping talents of Spencer, you need look no further than the above. Always armed with a quotable one-liner, Spencer was doing offline Twitter right long before the social media platform existed. So, yeah, she's always been tough and willing to call out the people around her on their absurdities. A spirited research assistant doesn't sound galaxies away from what Spencer has been doing on Pretty Little Liars all these years.
Then there's the fact that, despite all the character's inexperience in an academic setting, her analytic smarts means she triggers some great scientific discovery. Spencer has always been one of the sharpest characters on Pretty Little Liars, and it's been her quick thinking that triggers, OK, if not great scientific discoveries, then great A-related discoveries.
Then there's the little fact that it's heavily hinted that Clara and Issac will fall in love with each other. Director Akash Sherman said of the film:
"Clara is a film which aims to deliver on these elevated expectations, while telling a distinctly human and emotional story of self-discovery and love which we can all relate to."
I mean, who is Issac going to fall in love with if not Clara? An alien? Maybe. But LBR, probably not. Anyways, this too feels not just Spencer Hastings-esque, but very Pretty Little Liars, because all the characters ever seem to get a severe attack of the feels as soon as they're paired to work on something with another attractive human. Remember Emily falling for her co-swim teammate Paige or her coffee shop coworker Sabrina? And remember Spencer's crush for Toby getting really intense when they started sleuthing together? The Pretty Little Liars vibes are real.
So, if you're a little moist of eye at the thought of your time in Rosewood coming to an end, get set for Clara. It's going to be Spencer meets aliens and that can only be a good thing.