This Meghan Markle & Prince Harry Baby Update Will Make Fans Even More Excited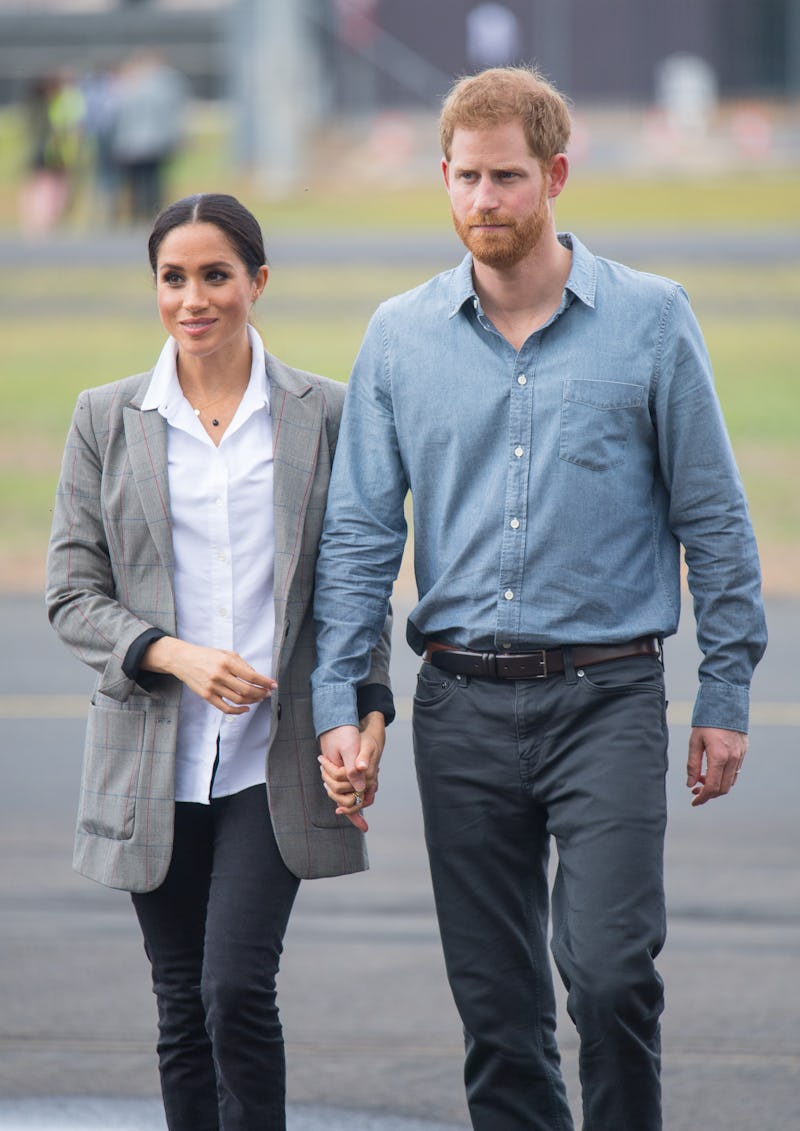 Pool/Getty Images Entertainment/Getty Images
That didn't take long. As reported by CNN, Meghan Markle and Prince Harry's baby name list is so long, they already have to sort through a bunch of options. During their royal tour stop in Melbourne, Australia, the Duke and Duchess of Sussex rode one of the city's famous trams on Thursday, where children, who accompanied the couple, asked them about potential baby names.
CNN reports that 12-year-old Charlie Wolf asked Harry and Markle what they wanted to name their first child. Wolf said Markle revealed,
"We've been given a long list of names from everyone, we're going to sit down and have a look at them."
According to E! News, 12-year-old Ella Burns said about Markle selecting a baby name, "She said that she hadn't thought of one as it was still quite early."
E! News also reported that after Markle and Harry chatted with a 5-year-old named Harriet, her mother, Jessica, said about the prince, "As soon as I introduced my daughter to Harry, he said, 'That's a great name.' Maybe they will choose it for their own child, which would be fun."
There's no doubt a lot of thought goes into picking a name for your child. It's a huge moment and you, of course, want to take your time in selecting the right moniker. Seeing as Markle is reportedly only 12 weeks along in her pregnancy, they still have plenty of time to pick a name.
On Monday, Markle confirmed her pregnancy in a statement released by Kensington Palace, which revealed she and Harry are expecting their first child together in spring 2019. "Their Royal Highnesses have appreciated all of the support they have received from people around the world since their wedding in May and are delighted to be able to share this happy news with the public," the palace shared.
Ever since the couple announced their exciting baby news, they've been in the spotlight even more than before. Naturally, most everyone can't help but wonder if they'll have a boy or a girl and what they'll name their child. Then, there's also questions about whether or not their child will have a title, and, if so, what title would their son or daughter be given. There's definitely a lot to think about, but even more so when a baby is born into the British royal family.
All that said, Markle and Harry seem to be at ease and overjoyed about becoming first-time parents. During a speech given in Australia on Tuesday, Harry mentioned Markle's pregnancy for the first time. He sweetly said, "We also genuinely couldn't think of a better place to announce the upcoming baby, be it a boy or girl, so thank you very much."
Knowing they're already thinking about baby names makes their news all the more exciting. They are going to make great parents and bring so much joy to the world with their child. Now all fans have to do is patiently wait until Markle gives birth and they announce their little one's royal name.