Prince George Calls Prince William An Adorably Old-Fashioned Nickname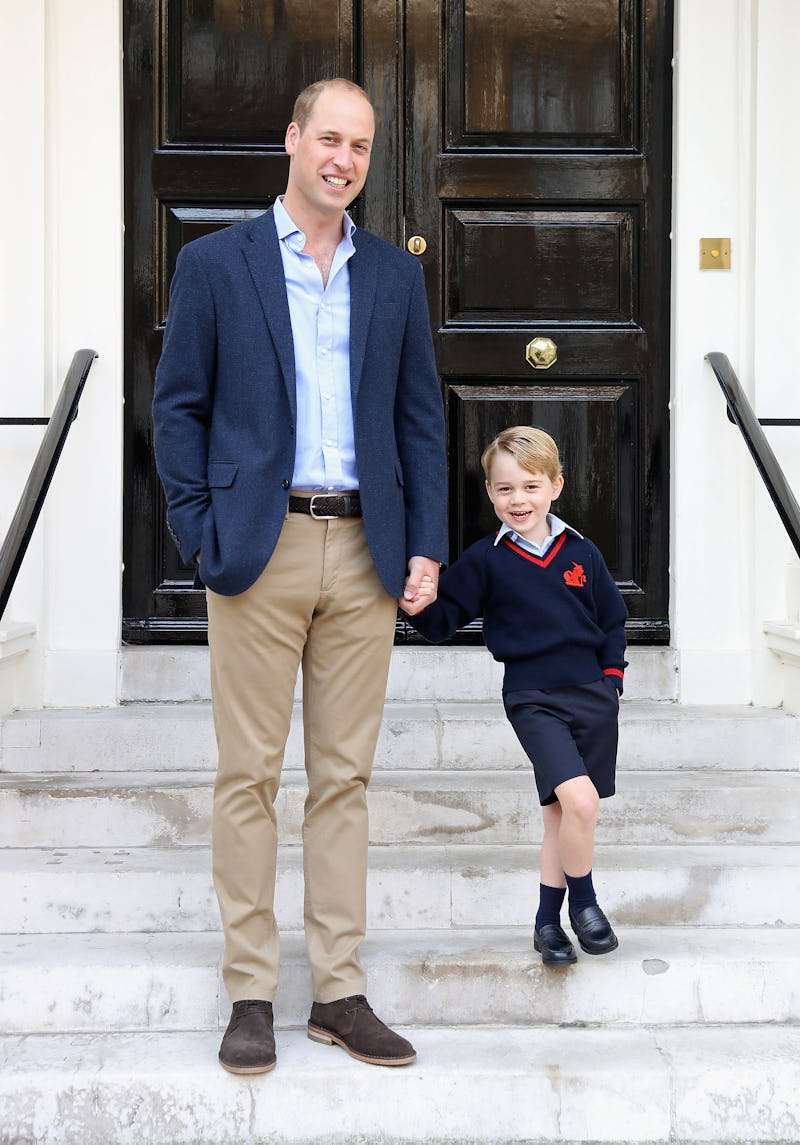 Handout/Getty Images Entertainment/Getty Images
The lives of the royal family appear to be very — in a word — proper. Everything they do is steeped in tradition, from the way they walk, talk, sit, and speak. It's kind of hard to imagine them ever really being casual, but Prince George's nickname for Prince William is exactly that, according to People: super casual, and also adorably old-fashioned.
On Nov. 28, Prince William and Kate Middleton traveled to Leicester to pay their respects to the late Vichai Srivaddhanaprabha, chairman of the city's football club. While they were there, Middleton chatted with volunteers at the event, People reported, and told one fan that their children — Prince George, 5; Princess Charlotte, 3; and Prince Louis, 7 months — were "great, thank you," when asked.
The Duchess then went on to reveal a sweet detail about one of her son's nicknames for his father, and you'll seriously never guess what George calls William. For real, though — guess. Father? Daddy? Dada? Papa? Dad? William? Wills? Willy? His Royal Highness? Nope. None of those.
Apparently, as per a source for People who spoke with Middleton,
"Kate said that William was playing football with the children last night and one of them said, I think it was George, 'Are you playing football tomorrow, Pops?'"
Are you dead? Dying? Buried in a grave? Prince George calls Prince William "Pops," and for some reason that is just endlessly hilarious. "Pops" is reminiscent of like, the name of a 1950s' American soda shop, diner, or drive-thru. Or maybe like, what a teen or college-aged son would casually call his father. "Hey, Pops? Can I take the car for a spin?" The fact that a 5-year-old British heir to the throne tosses that around to his super distinguished dad ... priceless.
To be fair, George kind of seems like he's already starting to march to the beat of his own drum. He's always full of show-stealing facial expressions whenever he and his family are out and about in public — see also: Princess Eugenie's wedding to Jack Brooksbank earlier this year, Pippa Middleton's wedding to James Matthews in 2017, George and his cousins at the Trooping the Colour parade, etc. —  he's apparently gotten to be quite good at dancing.
During a reception at Kensington Palace for the Radio 1 Teen Heroes finalists back in October, William told one of the attendees — a 14-year-old street dancer named Junior — all about George's new favorite hobby. "George is doing dancing as well, he loves it," Wills told the teen.
"My mother always used to dance, she loved dancing," he continued. "And if it's something you love, you do what you love. Don't let anyone else tell you otherwise. Keep at it."
Ugh, so sweet. So encouraging. So totally something that a father — er, a "Pops" – would say to his doting son. Remember that time you found out that Prince George calls Prince William "Pops"? That was a fun time, wasn't it?