Twitter Is Emotional Over How Prince Harry Looked At Meghan Walking Down The Aisle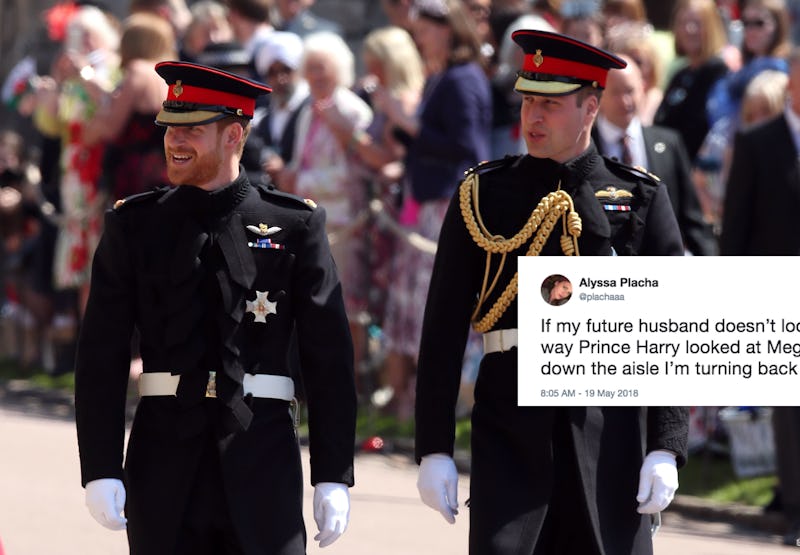 WPA Pool/Getty Images Entertainment/Getty Images; plachaaa/Twitter
The big day is here. Prince Harry and Meghan Markle are finally getting married, and the ceremony at Windsor Castle is as lovely a moment for the British royal family as any. Sure, there's a lot of pomp and circumstance and ceremony and all that, but what matters is that these two people love each other, and they've vowed to love each other forever. That's beautiful. And what's also beautiful is that you can see at the wedding how much they care for each other. The way Prince Harry looked when he saw Meghan in her wedding dress for the first time was amazing, and Twitter had plenty to say about it. Future grooms, beware — you have a lot to live up to.
There was never any doubt that Harry was going to marry for love — he's a modern royal, and that's what his brother, Prince William, the Duke of Cambridge, did as well. Those days of marrying out of convenience are way over for the British family, and people knew that Harry and Meghan felt very, very deeply for each other, since, you know, they were getting married. But when Harry saw Meghan make her way down the aisle toward him, his face lit up like nothing the world had ever seen. They had so many cute moments together up on that altar, and Twitter noticed. Oh, Twitter noticed hard.
Harry Made Some Look At Their Own Lives
Any other groom has a lot to live up to.
Others Thought It Was The Most Romantic Thing Ever
It was like there was no one else in the room.
Some Were Jealous Of The Couple
Don't worry — there's a match for everyone out there.
No One Could Deny They Were Meant To Be
All of it was just so sweet.
Harry's Tears Brought Tears For People At Home
It was really, really dusty out there.
All in all, Harry and Meghan's wedding day was lovely, and it's so them. Harry and Meghan chose St. George's Chapel at Windsor Castle because it's a little smaller, a little more intimate than, say, Westminster Abbey, where William got married in 2011. The fact that Harry is the "spare" in the phrase "the heir and the spare" actually helped him out here, because although Harry could technically ascend to the throne (he's sixth in line following the birth of William's second son, Louis), his wedding is less of a big thing than William's was. William will be king, and so he needed a wedding fit for a king.
The fact that Meghan is American also helped — the wedding was filled with personal touches from her life, from Episcopalian pastor Michael Curry delivering a spirited sermon on love and why the world needs more of it, and Karen Gibson and The Kingdom Choir sang stirring renditions of "Stand By Me" by Ben E. King and "Amen/This Little Light Of Mine" for the guests. It was so full of life and spirit, just like the new royal couple.
According to Sky News, there will be an afternoon reception for all 600 wedding guests, but following that, 250 of Harry and Meghan's closest friends and family will attend an evening reception that Prince Charles, Duke of Cornwall, is hosting at Frogmore House. That's the real party, the one where Meghan and Harry can cut loose and really celebrate the fact that they're married now. There will be dinner and dancing and cake, just like any other wedding, and hopefully, the celebrations will go well into the night. One thing is for sure, though — Harry and Meghan clearly love each other very much, because you can see it in their faces.