Meghan & Harry Want Their Future Child To Do Normal Things, Like Riding The Subway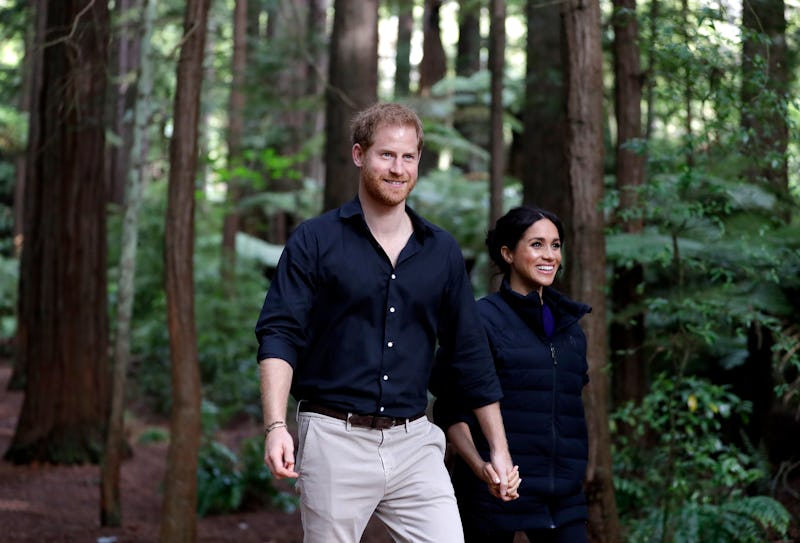 Pool/Getty Images Entertainment/Getty Images
Meghan Markle and Prince Harry lead no ordinary life, that's for sure. But looking to the next generation of British royals, it seems the pair is set on staying grounded, even amid their lavish circumstances. According to a new report from Us Weekly, Prince Harry and Meghan Markle want to teach their children about the value of "normal things" in life, despite the family's above-average way of living.
Per some new comments from royals reporter Omid Scobie (included in Us Weekly's Wednesday report), Markle intends to "bring up children who know the values of normal things in life." So, which regular ol' childhood activities will the littlest forthcoming royal baby be engaging in? (Hint: They're ones the rest of us commoners are probably familiar with.) Scobie told the magazine that Markle wants to raise her family the same way anyone might:
"Meghan will take her kids on a subway. They'll have chores, and jobs one day. They won't be spoiled."
As if fans needed another reason to adore Markle, whose remarkably down-to-earth disposition (not to mention refreshing penchant for doing the "royals" thing her own way) has earned her boatloads of respect and admiration since joining the royal family earlier this year. And with the exciting baby news, now, she's adding to it.
On Oct. 15, Kensington Palace announced Markle and Prince Harry are expecting their first child together, due sometime next spring. The news came just about five months after the couple tied the knot back in May, during 2018's first royal wedding.
According to the traditional royal rulebook, Markle and Prince Harry aren't technically supposed to find out the sex of their child ahead of the baby's birth. (Seems Harry's hoping for a girl, though.) "Knowing the sex in advance is more American than British," explained royal historian Marlene Koenig to Harper's Bazaar last month. Continuing, Koenig told the magazine she'd be "surprised" if Markle and Prince Harry learned the baby's sex in advance. But if they do, she said, "They will not be telling the world. I cannot think of any British or European royal announcing the sex of a child before the announcement is made."
Honestly, most expecting parents would probably prefer at least some semblance of privacy during such an exciting, personal time anyway — let alone ones in the royal spotlight. And since we're already getting ahead of ourselves, let's circle back to Markle's reported parenting schema. So, the duchess plans to take her future children on the subway, huh? (Who else is currently fixated on a very sweet mental picture of the tiniest royal riding the Tube with Mom and Dad?) Of course, even though they'll know "the values of normal things in life," it's no secret that the life of Markle and Prince Harry's royal baby still won't be totally normal.
Royal protocol outlines a bunch of "rules" children of the British monarchy are expected to adhere to — whether mom enforces the chore wheel at home or not. The rules range from simpler stuff (i.e. no sparkly nail polish, per the Queen's request) to considerably loftier expectations, like the fact that royal children must learn to properly bow or curtsey before the Queen by the age of 5 and learn at least one foreign language.
Not the most widely-practiced early childhood lessons, but hey, this is the royal family we're talking about. And even though Markle and Prince Harry's baby will probably be expected to follow at least a chunk of royal traditions, here's to hoping the child's parents (and their championing of public transportation, not to mention the merits of hard work) will continue doing their part to keep them connected to the rest of the world, too.