Prince Harry & Meghan Markle's Plane Had To Abort Its Landing In Australia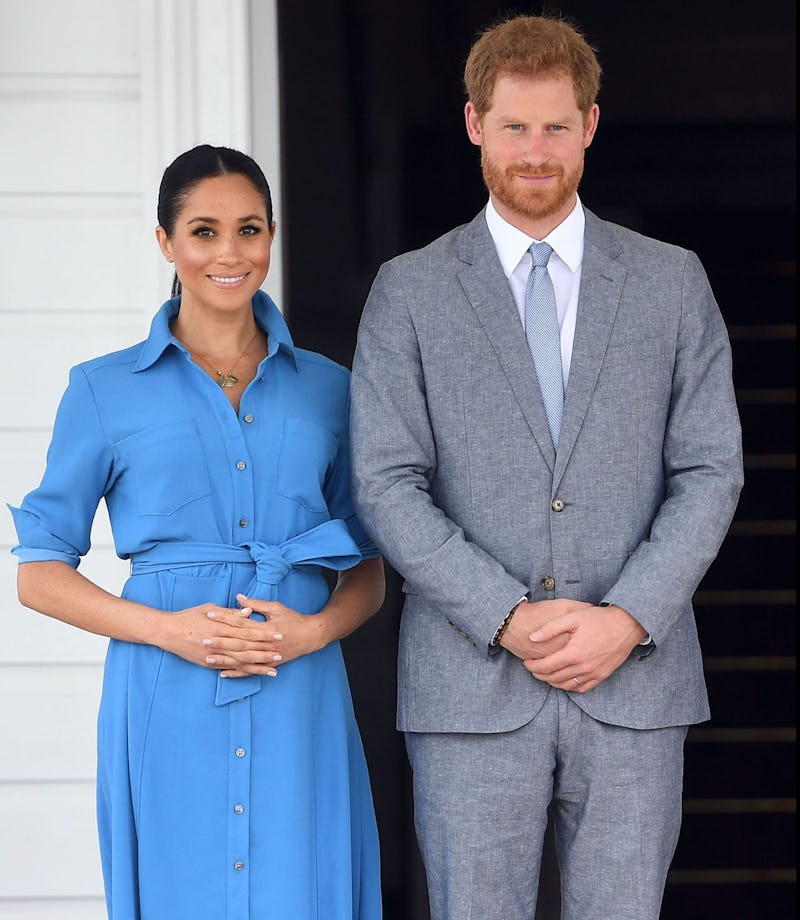 Shutterstock
The Duke and Duchess of Sussex had a minor issue when it came to their plane landing in Sydney, Australia after their visit in Tonga. Prince Harry and Meghan Markle's plane aborted its landing on Friday, Oct. 26 the Evening Standard reported. Their Qantas plane charter was also carrying staff and journalists. As scary as the situation may sound, there's nothing to be concerned about and everyone is absolutely fine.
The Qantas plane's captain, Nigel Rosser, told the Evening Standard the incident was nothing but a "missed approach" due to another aircraft on the runway. According to the publication, a message from the flight deck was announced stating, "Unfortunately there was an aircraft that was a little bit close too slow to roll. The decision was decided to abort the landing."
Royal correspondent Rhiannon Mills from Sky News, who was aboard the plane, also reported on Friday that Rosser was "forced to pull up — moments before the plane was meant to be coming into land." Mills said the captain also "joked that we would again have some great views of Sydney as we eventually landed on a second attempt."
Sky News' royal producer Valerie Hamill, who was also on the plane, said, "It was quite early in the descent that the pilot decided to go back up. We circled around and were on the ground within 10 minutes." She continued, confirming the incident wasn't alarming whatsoever, "It was not scary, it was fine. No one was concerned, the move was jovial on board. We'd all had a lovely flight. At no point was there any question of our safety."
As you can see above, BBC's Simon Atkinson posted a video of the aborted landing on Twitter, and it doesn't look scary at all. He also tweeted, "Pilot described it as a 'missed approach' and we landed safely a few minutes later. And it was true - views of Sydney were just as good second time around."
BBC royal correspondent Jonny Dymond also echoed the other reporters in saying, "Such aborted landings are not extraordinary events. At no point was there any risk to safety of the Duke and Duchess."
It seems like the plane aborting its landing has caused much more alarm than there really was. It's just good to know it wasn't anything serious and that everyone is well.
Earlier in the week, there was excitement when Markle faced a security risk during her short visit to the Suva Municipal Market in Fiji. On Oct. 24, the Associated Press reported a Kensington Palace spokesperson revealed that Markle was escorted from the market earlier than intended due to "crowd management issues." Markle reportedly handled the situation calmly, according to People.
As reported by the AP, "Meghan chatted with one vendor and briefly greeted others at Suva Market, where throngs of people spilled into surrounding streets. She spent only about half of her allocated 15 minutes there as she was whisked through by security personnel in the enclosed and relatively dark market."
Despite their plane aborting its landing and that security risk, overall, it seems like Markle and Harry's first royal tour as a married couple is going well.