Meghan Markle Broke Another Royal Rule & The Photo Will Make You So Happy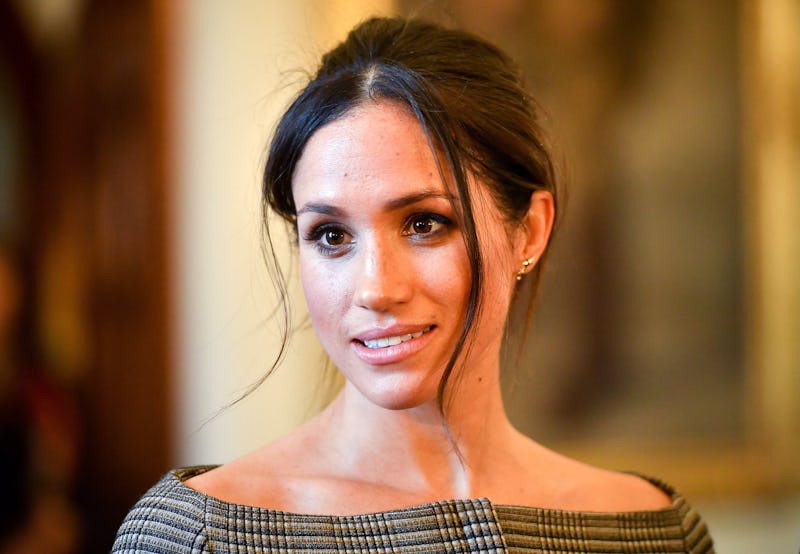 WPA Pool/Getty Images Entertainment/Getty Images
Joining the royal family comes with its own set of rules that even the newest members must follow, but on Thursday, Jan. 18, Meghan Markle broke royal protocol for a noble reason. According to Entertainment Weekly, Prince Harry and Markle met with a crowd of people outside of Cardiff Castle in Wales, and one eager fan asked Markle for an autograph. Much to the delight of 10-year-old Caitlin Clark, Markle agreed.
Markle signed an autograph for the young girl that reportedly read "Hi Kaitlin," alongside a heart and smiley face. Even though the soon-to-be royal misspelled Clark's first name, she was too delighted to have a rare royal autograph to care. According to EW, Clark told reporters this about Markle's spelling mishap:
"I don't really care. My heart is still racing. I've never got a royal autograph before. This is going to make everyone jealous."
Clark's pals should be jealous, because the chances of Markle signing many autographs in the future are slim. In 2016, Glamour U.K. reported that anyone seeking Kate Middleton's signature was out of luck for one very important reason: members of the British royal family don't sign autographs. The reason behind this rule actually makes sense. It's not about a lack of appreciation for the people who adore them, it's about protecting their identities.
If you think identity theft is a nightmare as a commoner, just imagine the scandals that could arise if you were a member of the royal family. By not offering their signatures to fans, the royals are actually making it much harder for forgers to copy their handwriting. If their signatures aren't readily available, potential thieves won't have much luck pretending to be William, Middleton, Harry, or Markle. In the long run, this anti-fraud policy is a wise move for the royals to follow, especially when it comes to stopping people from creating nonexistent dramas.
However, as an actor, Markle comes from a world where offering up an autograph is the natural thing to do, and surely even the Queen couldn't fault her for bending the rules on behalf of a young fan. Clark should treasure her note from Markle though, because unless the future princess intends to buck the trend, she probably won't be signing much in the years to come. Even now it doesn't sound like Markle actually signed her name for Clark — which means she only slightly broke the rules.
Of course, Markle's career as an actor means that whether she follows the royal protocol or not, there are probably at least a few Suits (series costume design: Jolie Anna Andreatta) fans out there who have her autograph. As an actor, signing things is part of the gig, and those lucky enough to have Markle's autograph should know they possess something that's even more special than they originally thought. Not only do they have one of their favorite actor's autographs, they'll also soon be among the select few people in the world who possess a royal signature.
This is far from the first time Markle has broken royal rules. The soon-to-be royal is earning serious cool points for the ways in which she's adhering to some traditions, while bringing a few into the 21st century — especially where her clothing and hair choices are concerned. Not only did Markle sign an autograph during her trip to Wales, she also wore her hair in a messy bun.
According to People, all royals are supposed to have sleek hairstyles at all times — that's why you're unlikely to see Middleton with a single hair out of place. It seems Markle is bringing a bit of her California cool with her to England, and that extends to her hair and clothing choices. She's also been spotted carrying a purse instead of a clutch to meet and greets, and she — gasp — didn't wear tights when her engagement was announced.
Markle going rogue to make Clark's day is just one more example of how she seems to be a princess set on making her own rules, which is a practice that will surely only make her fans love her more.