This Is What REALLY Went Down On Harry & Meghan's Secret Trip To Amsterdam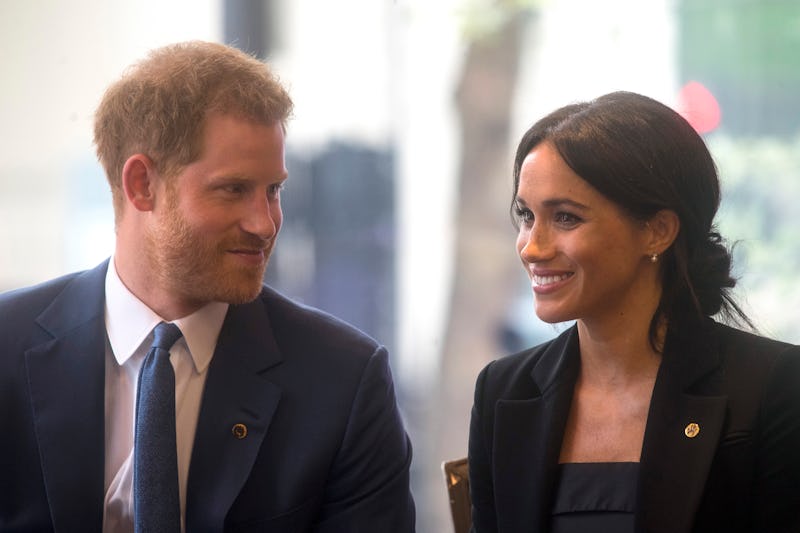 WPA Pool/Getty Images Entertainment/Getty Images
Being the most famous couple in the world must come with its fair share of agg. I mean, it must be hard to travel somewhere unannounced without being noticed by at least one person, right? Wrong. Turns out, the Duke and Duchess of Sussex have nailed the art of flying under the radar. Have you seen any pics of Prince Harry and Meghan Markle's trip to Amsterdam? No, of course you haven't. It was a secret getaway for the newlyweds and nobody knew about it until now because they are masters of going unnoticed when it suits them.
Whilst Prince William and Kate Middleton attended the wedding of close friend Sophie Carter, with Prince George and Princess Charlotte in tow, Harry and Markle set off to the Dutch capital to celebrate the launch of the new Soho House in the centre of the city.
If the name Soho House isn't familiar to you, there's a reason. Now a chain of over 20 private clubs in locations like London, Malibu, Barcelona, and Hollywood, you have to be a pretty big deal to enjoy the luxuries they offer — or at least know two members of the club. You see, the only way to get membership is for two existing members to nominate you. And even then, you have to pay a pretty heft membership fee to access the private clubs.
According to a guest who spoke to Variety, Markle and Harry arrived in Amsterdam on Saturday night and "were very low-key, and there was no fuss about them being there." There was a guided tour planned of the city's red light district, but the Duke and Duchess opted out of that one, reports People.
Instead, they decided to stay within the club, when they reportedly mingled with the likes of Eddie Redmayne, Jenna Colman, and Simon Pegg, as they danced the night away to the "Atlantic Soul Orchestra, the cover band who played on their wedding night," according to Vanity Fair.
Totally not jealous, not all at.
Soho House is a pretty important place for Markle and Harry. You see, the couple met on a initial blind date at one of the club's locations in 2016, reports Vogue, which was set-up by Markus Anderson, members' club executive for the Soho House. It has also been reported that Markle had her bridal shower at the Soho Farmhouse in the Cotswolds, according to Elle.
Since then, the two have been frequent guests at a number of Soho House locations, including a reported Halloween date at the Toronto location in 2016, according to the Evening Standard. The aforementioned Farmhouse is apparently their most frequent haunt, thanks its close proximity to their rented Gloucestershire Cottage, as reported by Vanity Fair.
Harry and Markle were back in the UK on Monday to attend an awards ceremony at Loughborough University for Coach Core, "a program that trains young people to become coaches," as reported by People. After the royal couple took the train home to London — yes, I'm not kidding — Markle had the Internet ablaze at her first solo event on Tuesday after *gasp* closing a car door by herself. I know.
Next on the couple's to do list is their upcoming first royal tour as husband and wife, which kicks off on Oct. 27 in Sydney. In addition to Australia, they will be visiting New Zealand, Fiji, and the Kingdom of Tonga.
Yeah, not jeal at all.