Khaleesi Just Reunited With Khal Drogo In Real Life & Their Photo Together Is Beyond Perfect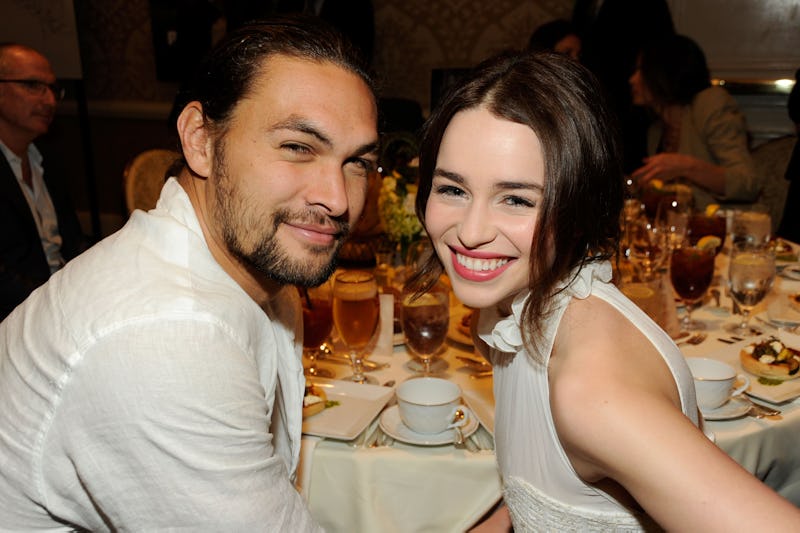 Frazer Harrison/Getty Images Entertainment/Getty Images
Emilia Clarke's Instagram account is a constant source of joy. The star of HBO's Game of Thrones is known for posting hilarious selfies, adorable pictures of her dog, and behind-the-scenes photos of the cast goofing around. On Sunday, Nov. 5, she posted the most epic snap of all: Khaleesi reunited with Khal Drogo IRL, and the resulting Instagram photo is incredible. Emilia Clarke and former Game of Thrones co-star Jason Momoa reunited for the pic and it's so smile-inducing (for them and fans).
It's not the first time Mr. and Mrs. Drogo have reunited since wrapping Game of Thrones Season 1; the two shared a brief scene in a Season 2 episode, and Momoa crashed a Comic-Con panel in 2013 to plant a big smooch on Clarke. Clarke and Momoa also reunited for a few snaps back in 2015. They're rarely photographed together, and as they're both working actors, it's unlikely their paths would cross. Still, it's beyond exciting when they do. Dear Khaleesi explained how the whole thing went down in the caption. "When life is so good that your sun and stars is in your city," the actor wrote, referencing Khaleesi's nickname for her late husband, "You lose [sic] your eyes and gain five grins!" She goes on to explain that the two were impossibly excited to cross paths in London. Also, of course Momoa is wearing a light tank top in England in November. Why wouldn't he?
Knowing Clarke loves Momoa so much also eases the guilt of being Team Khal Drogo Appreciation. Khaleesi and Khal Drogo had a controversial relationship on-screen, one that didn't exactly mirror the more consensual one Dany and Drogo experience in the books. Nevertheless, Momoa's Drogo came to be a fan favorite on the HBO series. Seriously, though. If Game of Thrones fans thought they were excited to see Khaleesi reunited with Khal Drogo on Instagram, they should take one look at Clarke's photo of the moment.
Look at those precious faces! Has anyone in the history of Earth or Westeros ever been happier? Unlikely. Their cozy chemistry and beaming faces didn't require any explanation.
As usual, Clarke's Instagram hashtags were lengthy — and almost as good as the photo itself. "#LookOutJonSnowDrogosGotYourNumber," she wrote, followed by "HappinessIsHere," and "#HawaiianHakaHunkoffShutsDownLondon." It's unlikely that Momoa was indeed in town for a Haka Hunkoff event, but the image is delightful nonetheless. Considering Clarke has also showcased her Kit Harington appreciation, one can only hope she'll be able to take a photo with both of Khaleesi's men before the series wraps in 2019. Is "happiness is here" a low-key reference to Game of Thrones' iconic "Winter is coming" phrase? One can certainly hope that's the case.
Jason Momoa, who played Khal Drogo in Season 1 of Game of Thrones, has stayed busy since the untimely death of Khal Drogo. He's about to star in the Justice League film as Aquaman, and he married Lisa Bonet in secret several years ago. Momoa's Instagram photos are an excellent mix of fun, and family. Emilia Clarke, meanwhile, is also living a rockstar life. The actor recently went full Khaleesi blonde, and when she's not flying dragons or bedding the King in the North onscreen, she's attending music festivals, walking her dog, and starring in blockbusters like Terminator: Genisys and the upcoming Han Solo Star Wars spinoff. If franchises were Pokemon cards, Clarke's certainly caught them all.
While it's unclear what finally brought the great Khal and Khaleesi back together, one thing's for sure: It was a miracle. Or, was it sorcery? Did the Red Woman have anything to do with this? No, no. Definitely a miracle.