The Reason Kate Middleton Is Jealous Of William's Africa Trip Is SO Relatable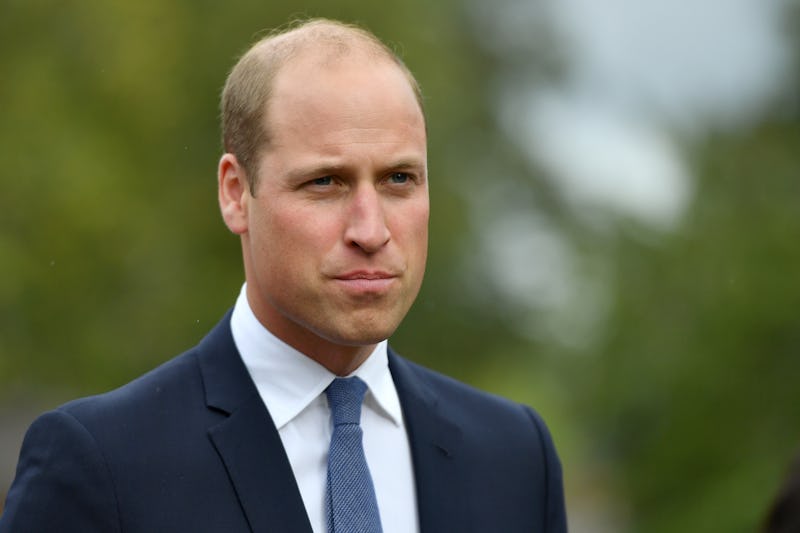 Anthony Devlin/Getty Images Entertainment/Getty Images
Prince William is currently in Africa on a week-long working private trip. The Duke of Cambridge has been focusing on conservation while on his tour of Kenya, Namibia, and Tanzania, yet has been doing so on his lonesome, as wife Kate Middleton has been staying at home looking after their three children. If we were Kate we might be a little miffed about missing the trip, but Prince William said Kate Middleton is not only miffed but in fact "immensely jealous."
The reason? Because Wills will be having uninterrupted sleep without any children around. Aaaah, bliss. While at the British High Commissioner's residence in the Namibian capital Windhoek earlier this week, the Prince commented: "I'm delighted to be visiting Namibia for the first time. I'm only sorry that my wife Catherine is not able to join me — she is immensely jealous." He then explained the reason: "Particularly as I'm looking forward to a few good uninterrupted nights' sleep this week away from my wonderful children." LOL.
Kate is currently on maternity leave, returning to royal duties on Tuesday. She has the help of a Nanny, but it is commonly acknowledged that the new era of royals are very involved in their children's lives. Prince William has been focusing his trip on conservation, and has been visiting varying regions to learn more about — and to help crack down on — the smuggling of animal parts such as rhino horns and ivory from Elephant tusks. He witnessed firsthand the work of the Save The Rhino operation, commenting:
"I was humbled by the dedication of the rangers who protect the unique population of desert rhino from poachers. Despite all the valiant efforts of so many across southern Africa, there are places where levels of poaching remain unsustainably high.
"The latest figures show that a rhino is killed every seven hours. The illegal wildlife trade is an international problem that requires determined leadership," he continued.
Later this year, Prince Charles and his wife the Duchess of Cornwall will also be visiting Africa. Between 31 October and 8 November, they will be visiting Gambia, Ghana, and Nigeria, Clarence House announced.
Prince Harry and Meghan Markle are also off on an official trip to Australia in October. As well as the land of down under, they will be visiting New Zealand, Fiji and Tonga on their fifteen day tour, in what marks their first overseas trip as husband and wife. Their trip coincides with the Invictus Games, which run between 20 October and 27 October and will heavily feature in the couple's schedule while away.
Prince William and Kate Middleton also visited Australia and New Zealand during their first overseas trip as a married couple. The pair spent 18 days away and brought young toddler Prince George with them, who provided endless entertainment to all he met. If you can't remember what I mean, perhaps this corker — where he hilariously throws his new Aussie toy to the ground — will refresh your memory:
Oh George. Never change.