Prince Charles Is So "Brilliant" As A Grandfather, He Reads 'Harry Potter' In Different Voices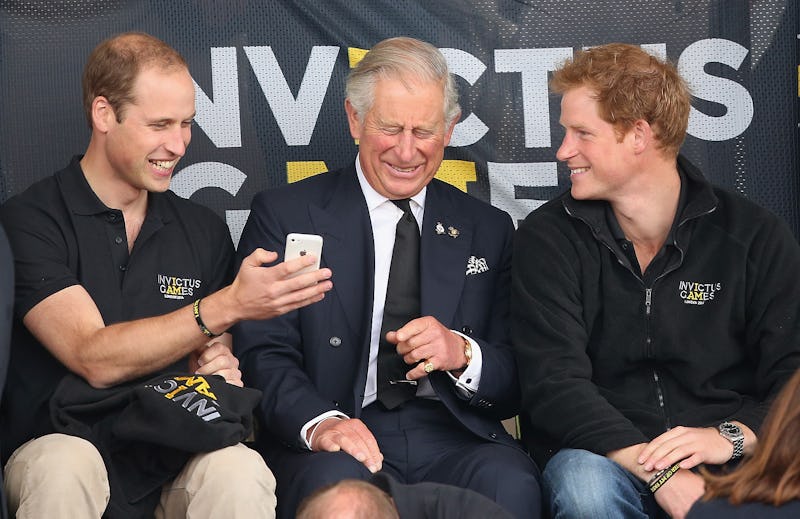 Chris Jackson/Getty Images Entertainment/Getty Images
Here's a piece of British royal family trivia you might not know: The Prince of Wales is an amazing grandfather. Prince William called Prince Charles a "brilliant" grandfather in Prince, Son & Heir: Charles at 70, the new BBC One documentary celebrating Charles' upcoming 70th birthday. As reported by Entertainment Tonight, both William and Prince Harry reflected on how fabulous their father is that they wish he would spend more time with family.
William said his soon-to-be 70-year-old father is so great with children that he wishes Charles would make more time for Prince George, Princess Charlotte, and Prince Louis. And with Harry and Meghan Markle expecting their first child together next spring, the Duke of Sussex also wouldn't mind for his father to schedule more family time.
William said in the documentary about Charles,
"I would like him to have more time with the children. Having more time with him at home would be lovely, and being able to, you know, play around with the grandchildren. When he's there, he's brilliant, but we need him there as much as possible."
Camilla, Duchess of Cornwall, also gushed about her husband and his presence around children, including her own five grandchildren,
"He reads Harry Potter and he can do all the different voices and I think children really appreciate that. He will get down on his knees and crawl about with them for hours, you know, making funny noises and laughing, and my grandchildren adore him, absolutely adore him."
Can you imagine Charles reading the Harry Potter book series in different voices? He sounds like a wonderful, silly, and fun, grandfather. It's no wonder William wants his three children to get to know their grandfather better.
Harry also expressed in the documentary how hard of a worker Charles is, but he wishes his dad would take more time for himself and his family.
"He does need to slow down," Harry said. "This is a man who has dinner ridiculously late at night, and then goes to his desk later that night and will fall asleep on his notes to the point where he'll wake up with a piece of paper stuck to his face."
Harry continued,
"The man never stops. When we were kids, there were bags and bags and bags of work that the office just sent to him. We could barely even get to his desk to say goodnight to him."
Despite Charles apparently working nonstop (he is heir to the British throne after all), there's no denying he loves his grandchildren greatly. During his November visit in Ghana, Charles said he wants a better future for his grandchildren. According to The Telegraph, Charles attended a meeting about plastic pollution, where he said,
"I am about to have another grandchild actually. I suspect quite a few of you may too have grandchildren or will do soon. It does seem to me insanity if we are going to bequeath this completely polluted, damaged, and destroyed world to them. All grandchildren deserve a better future."
Also, in the BBC One documentary, Charles revealed he planted trees for George after his first grandson was born in July 2013. While gesturing to a group of trees at his Scottish home of Birkhall, Charles sweetly shared, "This is George's wood. As I get older, all I really long for is to plant trees. I hope it will be quite amusing for George, as they grow up, and he grows up."
Like William said, Charles truly sounds like a "brilliant" grandfather who will, no matter what, continue to impact his grandchildren's lives greatly.