This New Photo Of Princess Charlotte Is Too Adorable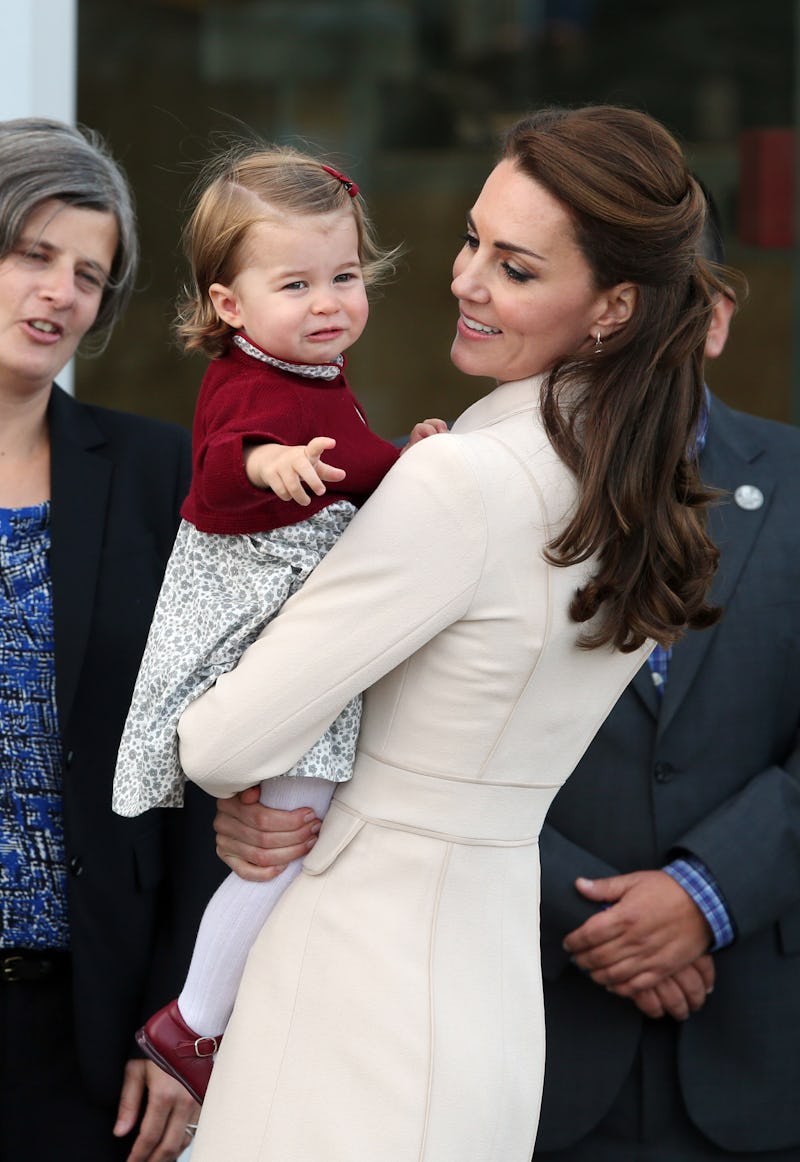 Pool/Getty Images Entertainment/Getty Images
Kensington Palace might not share every detail of the royal family's lives with us, but when they decide to grace us with a new picture, they don't disappoint! It seems impossible, but somehow, this week, Kate Middleton's second kiddo will turn two years old. And if you keep up with the palace's traditions, you know what that means: It's time for an updated portrait. On Monday, Princess Charlotte's 2nd birthday photo was released, and it is now more obvious than ever that she's basically the queen's twin.
In the photo — which was taken by Middleton herself — Charlotte is posing outside the family's Norfolk home in a yellow and blue sweater, pensively smiling at the camera, and it's uncanny how much she looks like her great grandmother. The similarities aren't just in her DNA, either; the expression on her face is very much Queen Elizabeth. Since it's not like Middleton has her own Instagram and is sharing photos of Charlotte as she grows, this is a rare glimpse into her life as a toddler, and definitely a welcome one.
And with her perfectly combed hair and pretty blue eyes, she practically looks like a doll. Is it just me, or is it totally crazy how grown up she looks already?
According to The Telegraph, along with the picture, Kensington Palace released the following statement:
The Duke and Duchess are very pleased to share this photograph as they celebrate Princess Charlotte's second birthday. Their Royal Highnesses would like to thank everyone for all of the lovely messages they have received, and hope that everyone enjoys this photograph of Princess Charlotte as much as they do.
Oh, don't worry — we all do.
People adds that Charlotte's birthday will be celebrated "privately" at the family's home, and although it's unlikely, my fingers are crossed that they decide to share a photo of the event. May's already stacking up to be a busy month for this tiny royal, between her birthday and her Aunt Pippa Middleton's wedding, where she'll act as a bridesmaid on May 20. So much excitement!
It seems like just yesterday that Charlotte was born — how was that possibly two years ago? — but it's been so much fun seeing her grow up so far. Hopefully, there are plenty more photos to come in the future. I have a feeling that the older she gets, the more she's going to look like the queen. Maybe she'll grow up to own her own pack of corgis?