Jack Whitehall & Jamie Redknapp Attended Eugenie's Wedding & Twitter Is Obsessed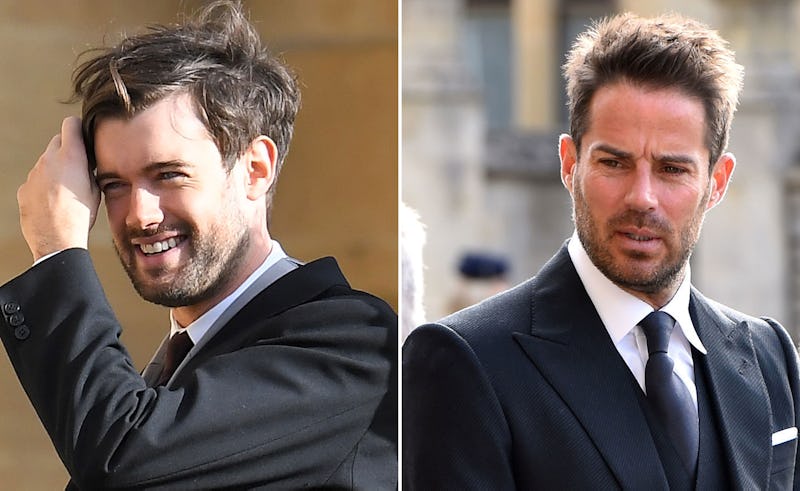 James Gourley/Shutterstock/WPA Pool/Getty Images Entertainment/Getty Images
The guest list of a royal wedding is always sure to be bursting with A-list celebrities — and the wedding of Princess Eugenie and Jack Brooksbank was certainly no different. Stars including Kate Moss, Naomi Campbell, Robbie Williams, and singer-songwriter Ellie Goulding all showed up in their finest attire to celebrate the nuptials of the happy couple. And it turns out, Princess Eugenie invited Jack Whitehall and Jamie Redknapp too.
An event such as the royal wedding isn't exactly where you would expect to find both Whitehall and Redknapp, who usually appear on our TV screens performing stand-up comedy and dissecting the latest football news. However, it seems that Princess Eugenie extended wedding invitations to more of her celebrity friends than expected, making sure nobody was left out.
Whitehall and Redknapp found themselves in the company of many other esteemed guests at the ceremony, including Hollywood superstar Demi Moore, fashion icon Naomi Campbell, who showed up in a monochrome Ralph & Russo outfit, and catwalk queen Cara Delevingne, who opted for a more daring suit and top hat look. Despite being known for his acting skills and sense of humour, Whitehall wasn't the only comedian or actor to have bagged an invitation to the second royal wedding of the year. Comedian Jimmy Carr, known for his work on Channel 4's 8 out of 10 cats, and national treasure Stephen Fry also showed up to celebrate the big day.
After the ceremony finished, Whitehall and Redknapp were seen walking along together out of the church, enjoying what appeared to be a good catch up. Judging by Whitehall's Twitter account, the pair had a few laughs at the expense of other guests by playing a prank on them.
While I probably shouldn't laugh, apparently, Whitehall decided it would be hilarious to tell Eugenie's American guests that Redknapp was a "dignitary called Rupert Redknapp, The Duke of Hampton."
This isn't as random as it may seem. You see, these two are actually good friends IRL. The comedian and Sky Sports pundit starred alongside each other on the hit Sky One show A League Of Their Own presented by James Corden. Although Whitehall quit the series after it's 13th run on air, the pair continued to work together and went on to appear in the A League Of Their Own U.S. Road Trip spin-off.
As well as gushing over the bride, groom, and other notable attendees at Eugenie's big day, like her cousin Prince Harry and his wife Meghan Markle, the onlooking public seemed to welcome the attendance of both Whitehall and Redknapp. In fact, they loved it so much, many took to social media to express their excitement:
Redknapp arrived at St George's Chapel with QPR chairman Amit Bhatia alongside the other 850 invited guests, many of whom struggled with the wind brought on by Storm Callum. The winds wreaked havoc during the arrivals of the wedding attendees, including six year-old page boy Louis de Givenchy, who took an unfortunate tumble on the steps of St. George's Chapel at Windsor Castle.
It wasn't just the children who struggled to keep their balance in the midst of the powerful winds, as earlier on in the day, Robbie Williams' mother-in-law, Gwen Field, suffered an awkward moment when her wedding hat appeared to blow away. Luckily, a member of security was on hand to go and retrieve it.
But no matter what obstacles faced the happy couple during their wedding day, it appeared as though nothing could put a damper on this beautiful ceremony.