Eugenie's Maid Of Honour Choice Will Seriously Reignite Your Royal Wedding Fever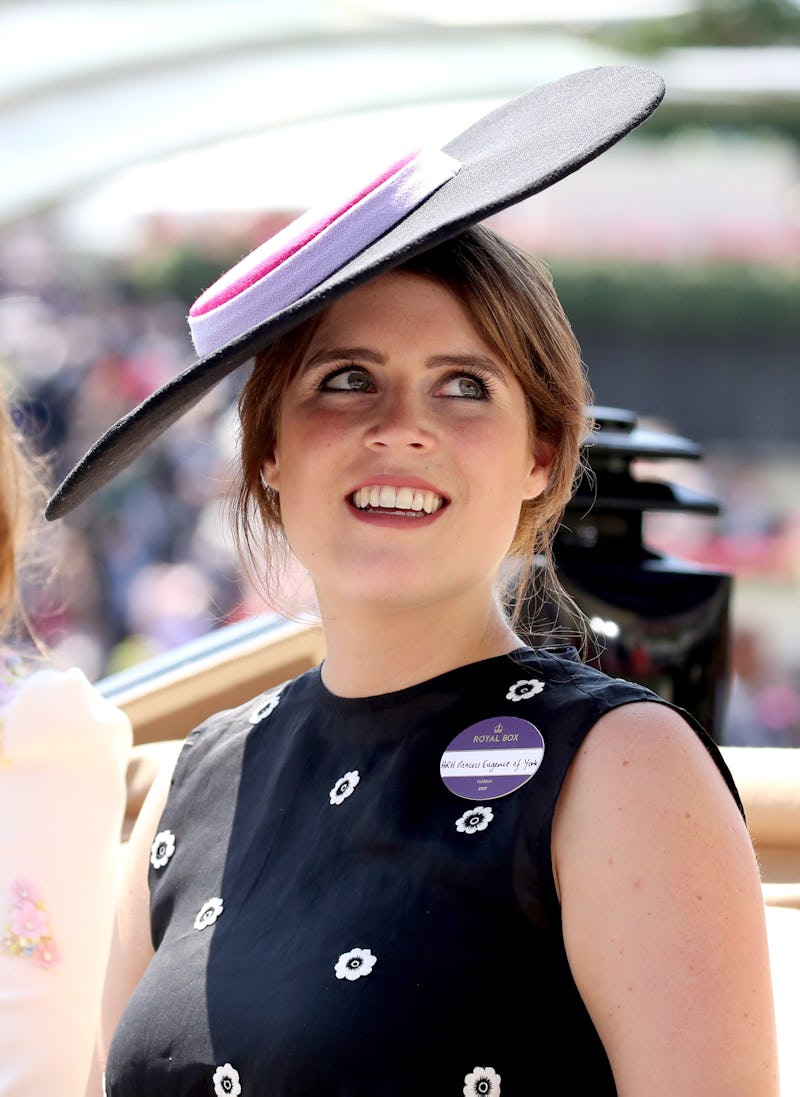 Chris Jackson/Getty Images Entertainment/Getty Images
Royal weddings are a go this year. First there was Prince Harry and Meghan Markle's big day, and now, it's time to get excited about another royal walking down the aisle — Princess Eugenie. She is set to marry fiancé Jack Brooksbank on October 12, and slowly but surely, details of their upcoming nuptials are being released. Most recently, Princess Eugenie's maid of honour was announced for the first time. But who has she given the privilege to?
According to People, the granddaughter of the Queen revealed in an interview with Vogue that her only sibling, 29-year-old Beatrice, will be her maid of honour. Seriously, how cute is that? What better person than her sister, whom she is clearly very close to, to do the job? By asking her sister, Eugenie is following in the footsteps of Kate Middleton, who chose her sibling Pippa as her maid of honour when she married Prince William in 2011.
Opening up about her upcoming wedding, Eugenie told Vogue: "I'm not stressed at all. It's very nerve-wracking because you want it to be perfect but then you realise that you're going to be with the person you love forever and nothing else really matters." Very sweet. But I would be terrified considering more than 1,000 people have been invited to Windsor Castle to watch the couple's big day.
Elsewhere in the interview, Beatrice and Eugenie come across incredibly down-to-earth. Eugenie even admitted to using Pinterest for wedding cake inspiration and has pledged to live a plastic-free life. "My whole house is anti-plastic now — and Jack and I want our wedding to be like that as well," she added.
Princess Beatrice also opened up about what their lives are really like behind closed doors, and the reality of being modern-day princesses. The pair admitted that they behave just like normal sisters, helping each other out and arguing in equal measure.
"One of the biggest fights we ever had was about a pair of Converse trainers," Beatrice joked. "We have the same size feet and both of us had identical pairs. One pair got trashed and the other sister may have swapped them." Sigh, I guess we'll never know who the Converse culprit was.
The sisters also spoke about the difficulties of being young working members of the royal family. Eugenie, who is the associate director of an art gallery, and Beatrice, who works as a business consultant according to the BBC, explained to British Vogue that "it's hard" being the first to do something:
There is no precedent, there is no protocol. We are the first. We are young women trying to build careers and have personal lives, and we're also princesses and doing all of this in the public eye.
But back to Eugenie's wedding. All eyes are now set to be on the wedding party as well as the bride and groom. Maid of honour Beatrice is set to be joined by Prince George and Princess Charlotte as page boy and flower girl, reports the Daily Express.
The world got a glimpse of the royal children in these roles in May as they stole the show at Markle's wedding to Prince Harry. I can't wait to see their adorable little faces all dressed up once again.