Princess Eugenie's Blush Engagement Ring Is The Perfect Mix Of Trendy & Classic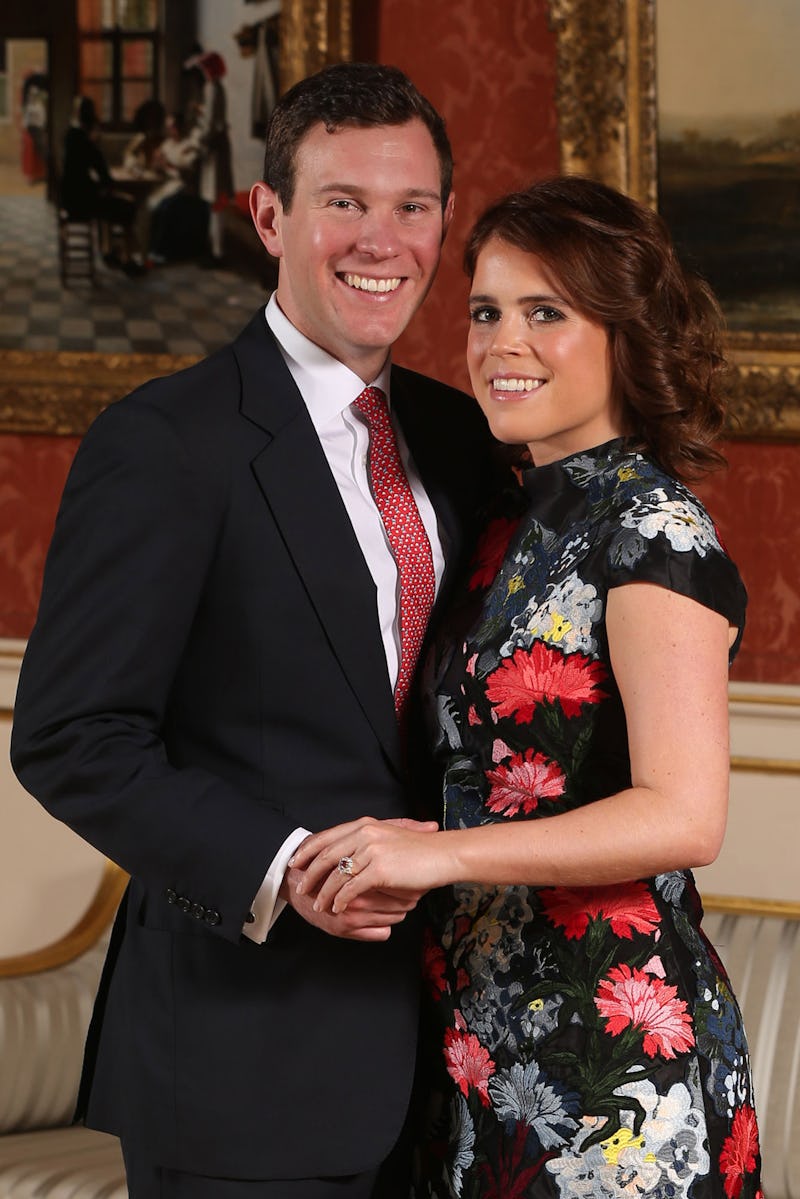 WPA Pool/Getty Images Entertainment/Getty Images
Move over Kate Middleton. There's a new sapphire ring in town and it's wrapped around a finger belonging to Princess Eugenie. Following the announcement of her engagement to long-time boyfriend Jack Brooksbank, Princess Eugenie showed off her engagement ring in newly released photos.
The freshly engaged couple were all smiles while posed in the Picture Gallery at Buckingham Palace. If you get too caught up in how lovely they looked together, you'll miss the dazzling rock now making itself at home on Eugenie's hand. Even with a strapping beaux at her side, a beautiful floral dress by Erdem, and Jimmy Choo shoes on her feet, the highlight of the photos is her new hardware, a collection of jewels that could blind any onlookers.
A couple for seven years, Eugenie and Brooksbank got engaged in Nicaragua earlier this month. According to a statement released from Buckingham Palace, the wedding will take place in autumn at St. George's Chapel in Windsor, with further details to be announced. If that location sounds familiar, it's because Eugenie's cousin, Prince Harry, and Meghan Markle will wed at the same spot on May 19.
But it looks like Markle's engagement ring won't be the only rock blinging up the place now that Eugenie has her sparkle.
Surrounded by diamonds, the blush-colored padparadscha sapphire is nothing short of immaculate. It may not be the first royal sapphire — ahem, there's Kate Middleton's sapphire ring passed down from Princess Diana's personal collection — but it's a stunner in a lane of its own when pit against other royal jewelry making headlines.
There's no denying that Meghan Markle's bling is a jaw-dropper. Prince Harry used diamonds from his mother's stash to compliment the center stone, giving the ring added sentimental value.
But Eugenie's ring takes a unique approach when compared to a more traditional, diamond-only design like the one belonging to Markle. With such a vibrant hue that mirrors the ring belonging to her mother, one has to wonder if Brooksbank took a page from Prince William and Prince Harry's notebook when choosing jewelry for his bride.
As highlighted by Majesty magazine, Euegenie's new sparkle bears a striking resemblance to the engagement ring belonging to her mother, Sarah, Duchess of York. While the ring from Prince Andrew used to propose to Sarah Ferguson in 1986 was a Burmese ruby stone, it has a salmon hue similar to Eugenie's unique sapphire.
This mother-daughter duo also rocks gems surrounded by multiple diamonds. The Duchess of York's stones are set on a yellow gold band, while Eugenie's has more of a rose gold hue. Still, there is a definite resemblance between the two rings, whether the princess' soon-to-be husband meant to emulate her mother's design or not.
Princess Eugenie's parents were "delighted to announce the engagement", made even more evident by a string of photos of the couple embracing, posted by the Duchess on her @SarahTheDuchess Twitter account. "They float with laughter and love..." read one tweeted photo, while another featured a "Total joy!!" caption.
"I was over the moon," said Eugenie in an interview with BBC's The One Show, spilling details of how she cried during the proposal. "It was the perfect moment. We couldn't be happier," she added.
From the sounds of it, the couple had a fairytale proposal scene, with the sun setting in the background, birds flying, a sparkling lake, and even a volcano in the midsts.
Now, the wait for the ceremony is on. To satisfy your craving for all things royal weddings until the big day arrives, there's always drooling over Eugenie's impeccable ring.