Princess Eugenie's Wedding Dress Has A Much Deeper Meaning Than You May Realise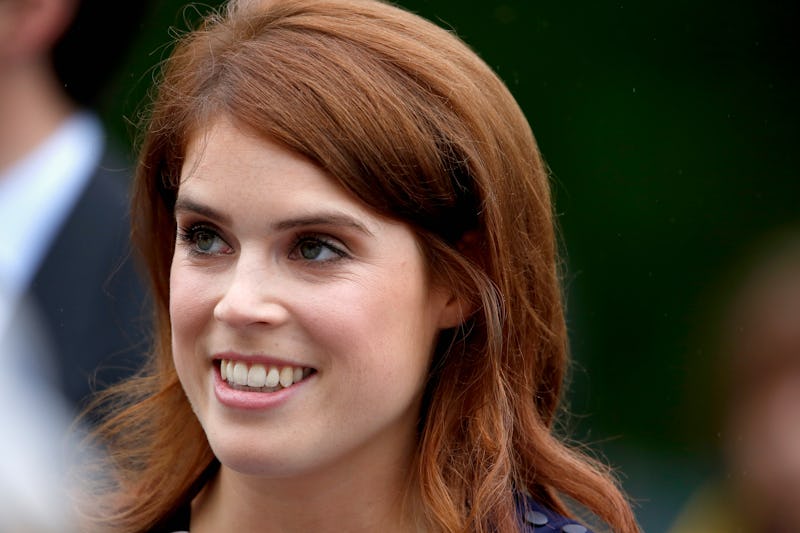 Alan Crowhurst/Getty Images Entertainment/Getty Images
The day of the royal wedding is finally here and talk has turned to what Princess Eugenie will be wearing. In a new interview, it has been revealed that Princess Eugenie's wedding dress will show off her back scars in support of the NHS and other young people who have experienced life-changing operations.
"I think you can change the way beauty is and you can show people your scars and I think it's really special to stand up for that," Eugenie told This Morning's Eamonn Holmes and Ruth Langsford. Explaining that she had an operation when she was 12 and is now patron of the Royal National Orthopaedic Hospital's (RNOH) appeal, the royal added: "It's a lovely way to honour the people who looked after me and a way of standing up for for young people who also go through this."
As the Mirror reports, Eugenie was diagnosed with scoliosis at the age of 12. The condition — which is characterised by a curvature of the spine — can require surgery if deemed as severe by doctors. Later that year, the royal had surgery at RNOH to fix the problem. Two titanium rods were inserted in her back, requiring her to stay in intensive care for three days immediately afterwards and a further week in hospital after that.
"We thought it was a small curvature but it was mammoth," Eugenie's mother, Sarah, Duchess of York, told You magazine a year later. "Her bones had oscillated to such a degree that by the time she reached 18 she would have been a hunchback. It was horrendous."
As well as choosing a dress that reveals her scars, Eugenie has also decided to pay tribute to the doctors and medical staff who changed her life. The Sun reports that the 28-year-old has invited her surgeon Jan Lehovsky and other RNOH staff to her wedding ceremony.
"It's just very important that they get a chance to be honoured for the work that they do constantly, so it's lovely that I can share this special day with them," Eugenie told This Morning. The event will take place inside St. George's Chapel at Windsor Castle later this morning with 800 guests receiving invites to the ceremony itself.
This won't be the first time Eugenie has shown her scars. In 2011, the royal visited RNOH, revealing the faint marks to a teenager who had also been diagnosed with scoliosis. "It was a huge part of my life when I was 12 — so young children can see me and know that [the operation] works," The Telegraph reported Eugenie said at the time. "[I've got] good memories coming back even though I'm slightly scared of hospitals. I wouldn't look the way I do, my back would be hunched over. I wouldn't be able to talk the way I do about it and help other children who come to me with the same problem."
There's still no confirmation as to which designer is behind Eugenie's wedding dress. In an interview appearing in Vogue's September issue, the royal said it would be a British designer, adding: "[The dress] is the one thing that I was really decisive about. As soon as we announced the wedding, I knew the designer, and the look, straight away. I never thought I'd be the one who knew exactly what I like, but I've been pretty on top of it."
Betting agency Ladbrokes has currently listed Erdem as the favourite. Other names in the running include Preen, Jenny Packham, and Stella McCartney. Whatever and whoever Eugenie has chosen, her dress is sure to be a delight, sending an important message that beauty doesn't come in one size, shape, or look.