Princess Eugenie's Wedding Reception Served Pizza & Margaritas — Yes, Really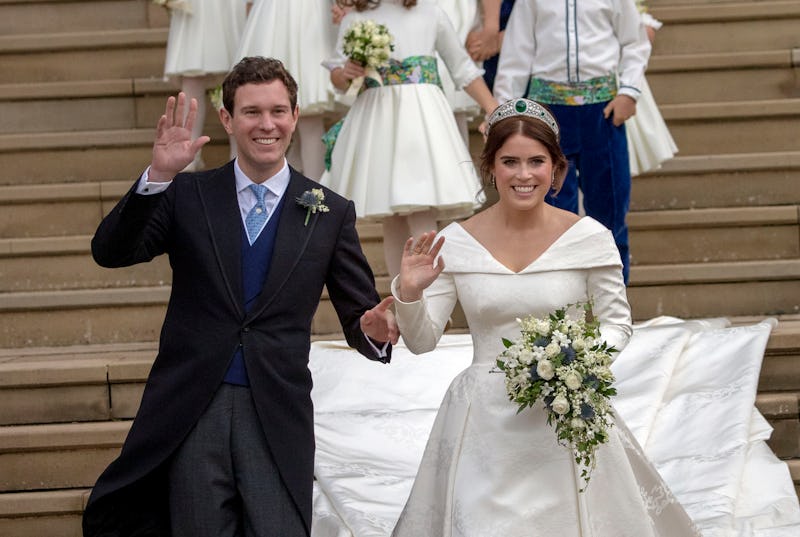 WPA Pool/Getty Images Entertainment/Getty Images
On Oct. 12, Princess Eugenie tied the knot with her longtime love Jack Brooksbank in a romantic ceremony in front of royals, famous friends and family. But even after that unforgettable kiss and a carriage ride through the streets of Windsor, there was still plenty for guests and royal watchers to keep their eye on, thanks to Princess Eugenie and Brooksbank's wedding receptions and after-party, according to People.
First, guests were invited to a stand-up lunch reception, which, according to People, was similar to Prince Harry and Meghan Markle's. (The Duke and Duchess of Sussex tied the knot at the same location as Eugenie and Brooksbank, St. George's Chapel at Windsor Castle, back in May.) Hosted Eugenie's grandmother, Queen Elizabeth II, the lunch reception featured finger foods like like mini bites of beef in Yorkshire pudding and little Scotch eggs, champagne, and the couple's five-tier, autumn-themed red velvet wedding cake.
But it was the couple's evening, black tie reception at the Royal Lodge in Windsor (a residence that Eugenie's father, Prince Andrew, shares with the bride's mother, and Andrew's ex-wife, Sarah Ferguson), where guests really got to let loose and celebrate. After making an unforgettable exit from their luncheon in an Aston Martin DB10 — which was featured in a James Bond movie — the happy couple kicked up their heels at an evening event that sounds like the coolest party in royal history.
Naturally, since Brooksbank is the U.K. ambassador for George Clooney and Rande Gerber's Casamogos tequila, the evening reception featured a variety of tequila drinks made with the famous liquor, including margaritas (Which, yes, means that the Queen was probably drinking a margarita last night.) In addition to signature cocktails and margaritas, People reports that Eugenie and Brooksbank treated their guests to pizzas from a gourmet food truck.
After eating and drinking their fill, everyone enjoyed a performance from English pop star Robbie Williams, whose 6-year-old daughter, Theodora, served as one of Eugenie's bridesmaids. Williams sang his iconic single, "Angels," as well as classic pop numbers "from different artists that the crowd sang along to," as reported by a party source to People.
And, lest you worry that Eugenie and Brooksbank didn't celebrate quite enough, the newlyweds still had plenty of partying to do on Saturday, Oct. 13. First, Eugenie honored royal tradition by laying her wedding bouquet at the Grave of the Unknown Warrior at Westminster Abbey in London. First started by Queen Elizabeth's mother, Elizabeth Bowles-Lyon in 1923, every royal bride since has laid their bouquet at the tomb, whether they were married in Westminister Abbey or not.
After paying tribute the unknown warriors who fought for the United Kingdom, Eugenie, Brooksbank, and their friends and family kept the party going with and after party that was described by the Sunday Times as "a relaxed party," to counteract Friday's "more formal celebration."
"There will be dodgems and funfair rides, coconut shies, lots of food stalls, loads of cocktails, bloody Marys for the hangovers and a festival vibe," the Times reported.
One thing is certainly clear from all of the details about Eugenie and Brooksbank's receptions and after-party: These two certainly know how to have a good time. As is befitting of someone who works for a tequila company, this royal wedding had everything that a couple could possibly look for in a good event, and it quite possibly establishes this royal wedding as the most fun royal wedding in recent history. Pizza, margaritas, fairground rides — suddenly brides everywhere have all kinds of new, fun things to add to their wedding Pinterest boards to ensure that they, too, can celebrate their big day just like a princess.