Priyanka Chopra Admitted It Didn't Take Long To Realize Nick Jonas Was The One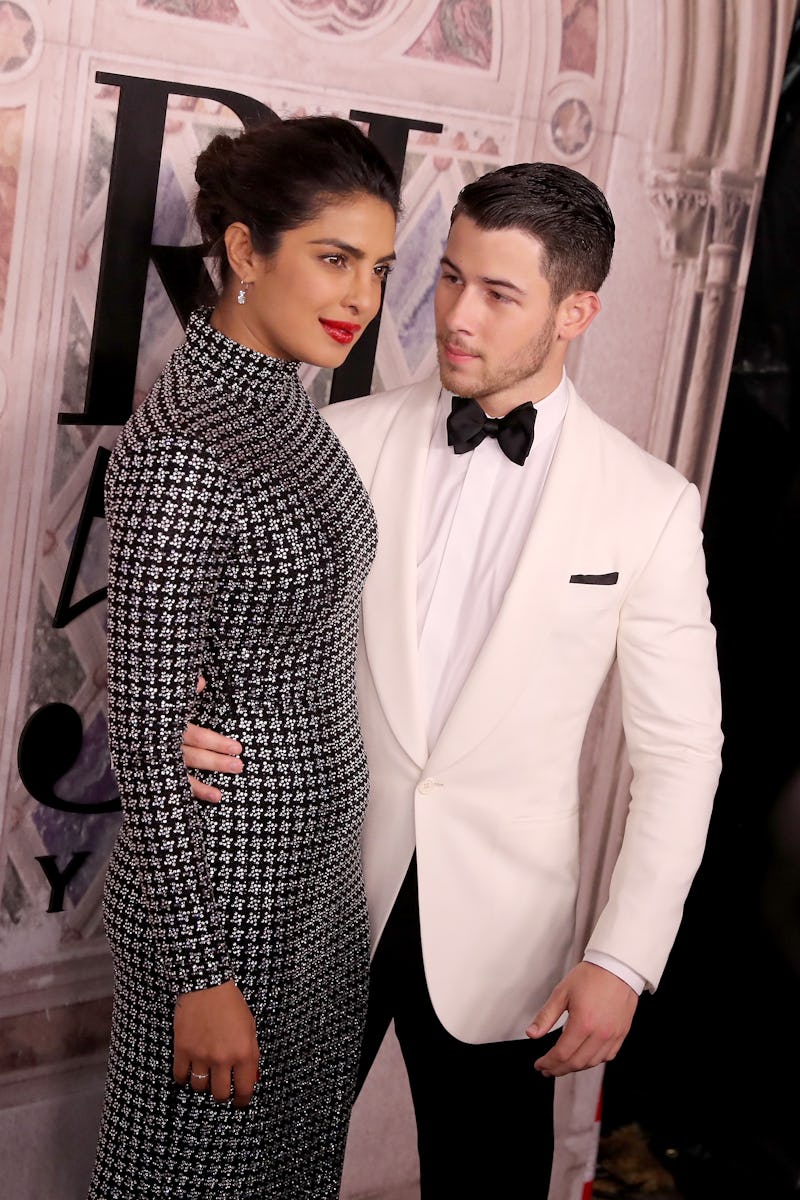 Rob Kim/Getty Images Entertainment/Getty Images
While chatting with E! News on Tuesday in New York City, Priyanka Chopra discussed her engagement to Nick Jonas. The former Quantico star admitted that it didn't take them that long to realize they were meant to be. Actually, two aspects of their lives influenced their connection and brought them even closer together.
"We've known each other for a couple of years but we dated for just a little while," she said with a laugh before adding, "But I think that's the one thing we really connect on is our love for family and knowing faith is so important to us."
If you don't know already, Chopra and Jonas got engaged after only two months of dating, People reported at the end of July. It wasn't until Aug. 18 that they confirmed their engagement on Instagram with a sweet photo of Chopra staring into the singer's eyes with her diamond ring on full display.
However, like Chopra mentioned, she and Jonas have known one another for more than just a couple months. Last May, they attended the 2017 Met Gala, where they both wore Ralph Lauren. This was the first time they ever walked a red carpet together.
During a May 2017 appearance on Jimmy Kimmel Live!, Chopra talked about going to the event with Jonas. After host Jimmy Kimmel asked if they were dating and joked about the "Right Now" artist being "11 years old," she said, "We were both wearing Ralph Lauren, and we decided to go together because it was fun…yeah, I didn't ask his age." She also said at the time that they "know each other."
It's unclear if they felt an immediate connection walking at the Met Gala, but, either way, here they are engaged to be married.
Like Chopra, even Jonas has admitted he knew she was the one pretty much right away, and thanks to their strong faith and love of family. After Jason Kennedy asked Jonas on the Today show in September how he knew he wanted to spend the rest of his life with the Baywatch actor, the former Jonas Brothers singer said,
"I can go into all of it and get all mushy, but I think the thing that really connected both of us is our love for family and faith and the importance of being connected to those that are always going to be there for you. We found that in each other as well, which is a beautiful thing and I'm excited to start our lives together."
Yes, Chopra said the same thing to E! News about their faith and close-knit families. "We have that in common very much," she told the outlet.
Chopra also told E! News about what it's like being engaged. "I'm excited," she gushed. "It's a very different feeling. I never realized that having a boyfriend and having a fiancé are completely different." She explained further, "It just feels different. There's gravitas. You feel like family, which is just so different."
One might not completely understand how one could get engaged so fast, but, hey, you can't argue with love. Plus, only Chopra and Jonas know how they feel and that's all that matters.