Priyanka Chopra's Bridal Shower Location Was A Sweet Throwback To Her Engagement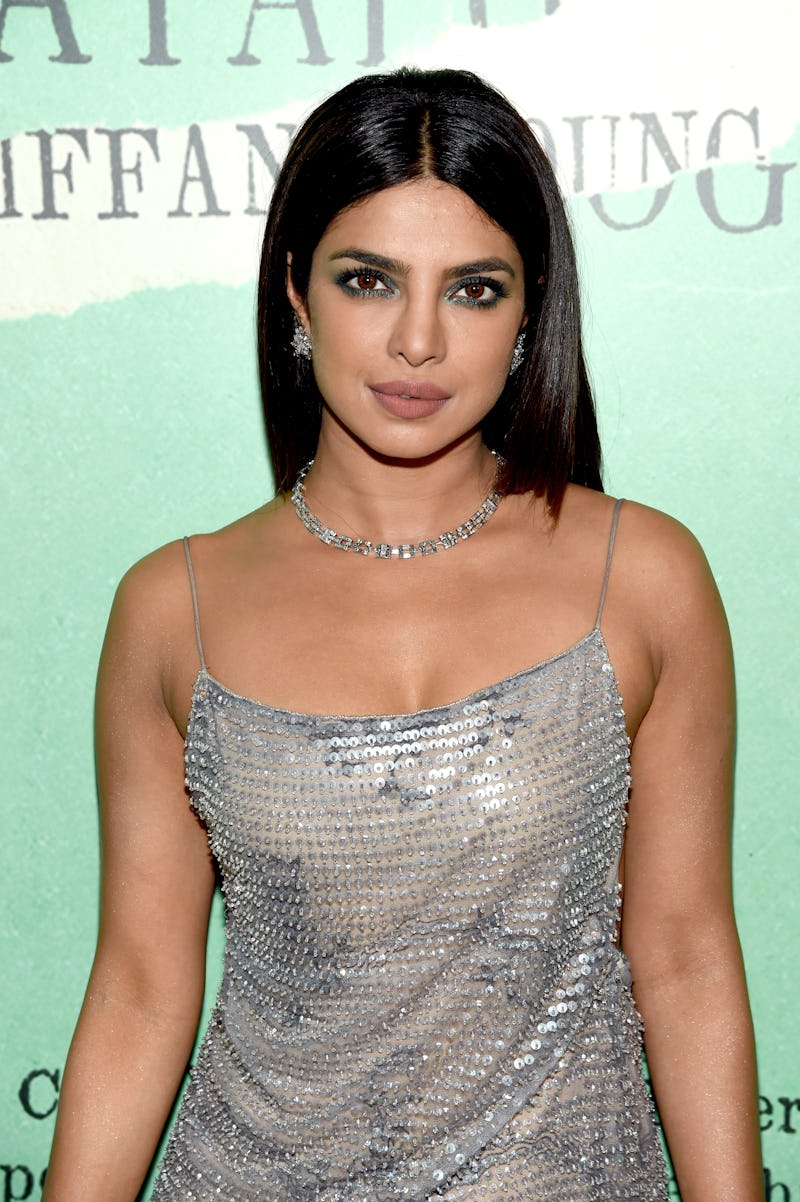 Dimitrios Kambouris/Getty Images Entertainment/Getty Images
It's been about three months since news first broke of Priyanka Chopra and Nick Jonas' engagement, and now, it seems like the wedding events have officially begun. Chopra celebrated her bridal shower on Sunday, and according to the details reported by Us Weekly, it sounds like it was a very classy event — and the location was a very sweet throwback to the way that Jonas proposed.
The party — which was planned by her bridesmaids Mubina Rattonsey and Anjula Acharia — was held at Tiffany's Blue Box Cafe, which is the perfect venue because Jonas popped the question after reportedly shutting down a Tiffany's store to pick out a ring for Chopra. The cafe has a view of Central Park and everything inside it is Tiffany blue, so based on that alone, it seems like it was a beautiful affair. The bride-to-be wore a Marchesa dress (along with a pair of Christian Louboutin heels and a Tiffany necklace, per NDTV), and she was surrounded by friends and family, including famous guests like Kelly Ripa, Lupita Nyong'o, and Kevin Jonas (and his wife, Danielle).
Chopra's stylist, Mimi Cuttrell, shared this photo of the bride-to-be all dressed up for the occasion, and even though this is the only glimpse of the party fans have so far, it's hard to deny the elegant vibe this picture gives off.
Before the event, Chopra shared a photo on her Instagram Story of her and her friends getting ready for the shower, writing, "My girls r in town" along with the hashtags "#anyreasontoparty" and "#preweddingcelebrations."
Us Weekly also added that there was plenty of dancing and even speeches given by her bridesmaids — and of course, guests left with a Tiffany gift bag that included a bottle of champagne and a gift. Sounds like a pretty sweet bridal shower.
This isn't the first wedding-related event that Chopra has participated in since getting engaged. In August, Chopra and Jonas celebrated their engagement with a party in Mumbai with their friends, family, and plenty of dancing.
And even though it feels like Chopra and Jonas just got engaged, there could be a pretty important reason she's already had her bridal shower: they might be getting married sooner than you think. According to a report from Us Weekly that came out last week, they may be getting married in December in India, although a source told Entertainment Tonight that the couple has been telling their friends that the wedding probably won't be until 2019 because of their busy schedules. So far, they have yet to confirm or deny these rumors.
But no matter when Jonas and Chopra choose to get married, it's sure to be a special event — especially if this bridal shower is any indication. Hopefully, Chopra will choose to share more photos from her day... and maybe even what that gift was she handed out to her guests? If you're in Chopra's life, it definitely sounds like a party you wouldn't want to miss.