Nick Jonas Pulled A 'Sweet Home Alabama' To Buy Priyanka Chopra's Ring At Tiffany's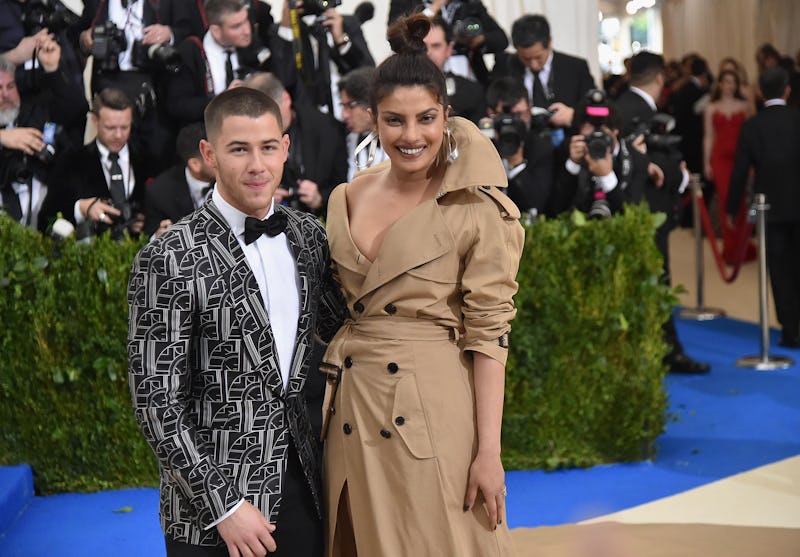 Mike Coppola/Getty Images Entertainment/Getty Images
In case you haven't heard (but it is trending on Twitter), Nick Jonas and Priyanka Chopra are allegedly engaged. While you may be mourning the loss of your celebrity crush on Jonas or Chopra, the way the "Chains" singer bought Priyank Chopra's engagement ring may just make you weep. Reportedly, he went full on Patrick Dempsey in Sweet Home Alabama, and yes, you can swoon now.
In case you haven't been paying attention to the latest Jonas or Chopra news, the pair began dating roughly two months ago according to People. Since then, they've met one another's parents and been the subject of much celebrity gossip. Now, it's happening again thanks to these engagement rumors.
However, there seems to be a fairly substantial reason for these rumors, and they're from the director of Chopra's (former) film project. Ali Abbas Zafar tweeted out that the actor would no longer be attached to the film Bharat. While that doesn't mean a lot on its own, Zafar's tweet included more than a few puns about Chopra letting the team know "in the Nick of time" and that the reason is "very special." Suspicious, right?
While that's all well and good, what about the ring? This is a celebrity engagement, after all.
While Chopra was allegedly kept in the dark about her ring, details have begun to circulate that Jonas went full Sweet Home Alabama when shopping for his new fiancé's engagement ring. According to People, Jonas shut down a Tiffany & Co. in London in order to shop for Chopra's new bling. Yes, her ring is from Tiffany's because this may actually be a real life fairy tale.
There is one unfortunate part of this whole engagement story, though. Currently, no picture of the ring exists. Neither Chopra or Jonas have confirmed their rumored engagement, so it kind of makes sense that there's no ring photo yet, even if it is a disappointment for jewelry fans.
Right now, however, fans just seem to be in shock over the engagement as a whole. After all, it is the latest in a string of somewhat unexpected celebrity pairings. First, there was Justin Bieber and Hailey Baldwin. Then, Pete Davidson and Ariana Grande came along. Now, there's Nick Jonas and Priyanka Chopra. Clearly, there's something in the water in Hollywood.
Some fans of the couple are stoked about their engagement.
Others, however, are mourning the loss of their first celebrity crush. RIP to the idea of marrying a Jonas Brother.
Now, it's time to sit in a dark room and listen to your old Jonas Brothers albums on repeat to both celebrate and mourn the news.
While new photos of Chopra's rumored engagement ring have not emerged yet, the world can bask in the romantic glory of Jonas shutting down an entire Tiffany & Co. to find the perfect ring for her. If you weren't swooning enough over the singer and actor, go ahead and grab a pillow to break your fall because this shit is romantic AF.