Priyanka Chopra's Reported New Movie With Chris Pratt Could Be Her Biggest Role Yet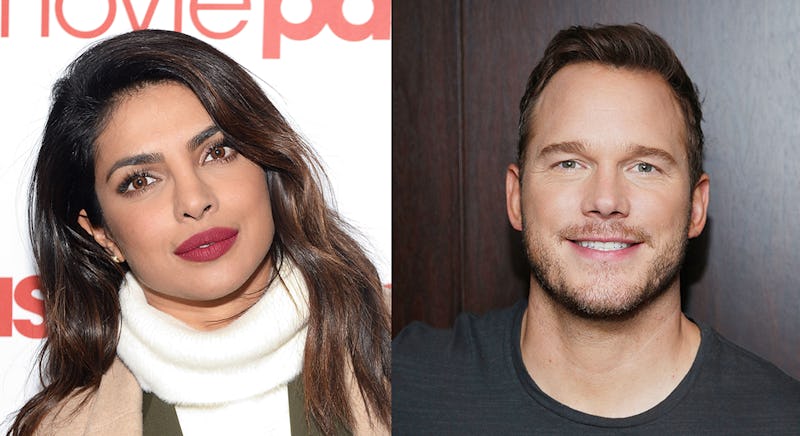 Daniel Boczarski/Getty Images Entertainment/Getty Images; Lars Niki/Getty Images Entertainment/Getty Images
On the heels of her recently rumored engagement to Nick Jonas, Priyanka Chopra is reportedly in talks to star alongside Chris Pratt in Universal Picture's adaptation of Cowboy Ninja Viking, according to a statement from the studio. Although details surrounding the film's development still remain scarce, Variety shared that Chopra became filmmakers' top choice after completing a chemistry test with Pratt that went "extremely well." (A Universal Pictures spokesperson confirmed to Bustle that Chopra is in talks for the role; Bustle reached out to Chopra's rep for comment, but has not yet heard back.)
The possibility of Chopra joining the cast is certainly great news for fans who will get to see the Baywatch star alongside Pratt in the cinematic feature. While her addition may feel like a surprise to some, the film's inception has been underway for some time now with The Verge reporting Pratt's attachment to the comic adaptation way back in 2014. The Guardians of the Galaxy has, in the past, confirmed his involvement on social media once referring to the movie a "passion project" for himself.
The film, which is scheduled to be released on June 28, 2019, is based on an Image Comics graphic novel by A.J. Lieberman and is being directed by Breaking Bad, Game of Thrones, and Westworld director Michelle MacLaren. A ten issue comic, which was originally debuted in 2009, Cowboy Ninja Viking surrounds a counter-intelligence task force that turns patients with multiple personalities into super-agents, called "Triplets" due to the fact that they possess three separate personalities.
When the unit of patients is dismantled, it members are later turned into hired killers. The series' titular character Duncan, who takes on the ego of a cowboy, a ninja and a viking is the deadliest assassin to come from the system and uses his skills to put an end to the rogue Triplets. Although it seems clear that Pratt will play the role of Duncan, it seems to be unclear whether or not he will star as all three versions of Duncan. However in 2014, Collider revealed that the original script could manifest onscreen as three different people when Duncan morphs into the varying personas.
News of Chopra's involvement in the film arrives just as she wraps the final season of her ABC series Quantico, which comes to an official end on August 3, 2018. The Indian actor recently made major headlines when it was reported that she became engaged to 25-year-old Nick Jonas, on her 36th birthday July 18. (Bustle reached out to their reps for a comment on their reported engagement and has not received a response). People recently reported that a source revealed that the 11-year "age difference is not a big deal to them whatsoever. Nick loves dating older women, and if anything it makes Priyanka even more attractive to him."
On July 26, filmmaker Ali Abbas Zafar cryptically tweeted that Chopra would not be taking part in his upcoming film, Bharat, because of a "very very special" reason. In his tweet, Zafar appeared to tease the engagement news, writing: "She told us in the Nick of time about her decision and we are very happy for her." People reported that Jonas closed down a Tiffany & Co. in New York City to purchase Chopra's engagement ring.
Between the recent engagement news and the debut of Cowboy, Ninja, Viking less than a year away, it seems that the next year could be Chopra's biggest ever.